Ambala Jail Radio To Have Women Inmates As RJs
By Pavani Chandhok
Central Jail, Ambala will soon give a new identity to some of its women inmates and that will be of Radio Jockeys. With 10 inmates selected as radio jackets in the second round of  Tinka Jail Radio, these inmates will join the jail radio soon.  Women inmates have been  expressing their desire to be trained as Radio Jockeys for a long time now. These inmates will be trained by Dr. Vartika Nanda. These jail radios are based on Tinka Model of Prison Reforms.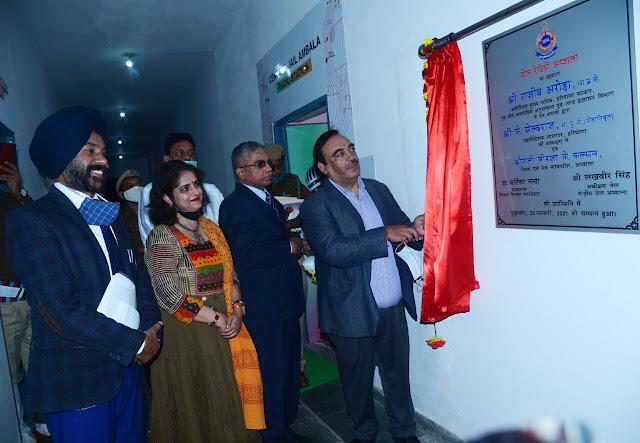 Launch of jail radio
Jail radio Ambala was inaugurated by Shri Rajeev Arora, IAS, ACS Home & Jails, Shri K. Selvaraj, IPS (Retd), Director General of Prisons, Haryana and Shri Lakhbir Singh Brar, Superintendent of Ambala Jail and Dr. Vartika Nanda, Founder, Tinka Tinka on 26th February 2021. Central Jail Ambala is a historical jail which witnessed the execution of Nathuram Godse, the assassin of Mahatma Gandhi in the year 1949.  Jail radio was launched in the jails of Haryana with an aim to promote art, creativity and harmony among the inmates.
From the desk of Jail Superintendent:
According to Shri Lakbir Singh Brar, Superintendent, Ambala Jail, During one year of jail radio, we have seen a positive impact on the behaviour of inmates. Stress and anxiety has reduced during the past one year. They are more energetic and interested in creativity.
On the occasion of the first anniversary of jail radio Ambala, Dr. Vartika Nanda said, "When one door of happiness closes, another opens, but often we look so long at the closed door that we do not see the one that has been opened for us. As the doors of society are closed in the present, doors of creativity are always open. A new story of jail radio  for inmates has been written in the history of jails of Haryana. This has  given the inmates the necessary space to open up and be creative. It has been started with an aim to rehabilitate the inmates and help them to express their creative side by way of songs or writings."
Earlier, this jail radio came into news with the song sung by Sheru, an inmate lodged in this jail. He had written and composed a song in Punjabi on Coronavirus. The song was released on Tinka Tinka Prison Reforms YouTube Channel in Podcast No. 16 on 24th May 2021. Sheru became an overnight star with the release of this song. His song was liked, and shared by the Union Minister of Health and Family Welfare, Dr. Harsh Vardhan. Earlier Sheru was selected as Radio Jockey for Jail Radio in December 2020 along with 47 inmates from jails of Haryana.
About the Founder of Tinka Tinka:
Dr. Vartika Nanda is a prison reformer and media educator. She has initiated a movement on prison reforms in India under the banner, Tinka Tinka.  President of India, Shri Pranab Mukherjee, conferred the Stree Shakti Puraskar on her in 2014. Her work on prisons was taken cognizance by the Supreme Court of India in 2018.  Her name has also been included in the Limca Book of Records twice for her unique work on prison reforms. Her recent research on the "Study of the condition of women inmates and their children in Indian Prisons and their communication needs with special reference to Uttar Pradesh" has been evaluated as 'outstanding' by ICSSR. Currently, she heads the Department of Journalism, Lady Shri Ram College, Delhi University.
#tinkatinka #vartikananda #vartikanandaprisonreformer #jail #prisonreforms #prisons #tinkamodelofprisonreforms #jailradio #prisonradio #jailatm #jailreform #prisonreforminindia #jailinmates #HopeBehindBars #PrisonLife #PrisonReforms #TinkaTinkaFoundation