Kangana Ranaut Declares Brahmastra Disaster, Accuses Ranbir-Alia Of Buying Tickets In Advance Bookings!
The much-anticipated visual spectacle of Ayan Mukherjee, Brahmastra has finally come out. From audiences to critics, everyone is busy reviewing the movie made on a record-breaking budget of Rs 400 crore. And joining them recently is brutally honest actress Kangana Ranaut. She has given her piece of mind through her social media handle.
According to Queen actress, the makers of Brahmastra have bought movie reviews besides spending a huge amount on buying corporate tickets in bookings.
She first took a dig at the producer of the film, Karan Johar, with whom she shares cold vibes. Slamming Dharma's head, Kangana wrote on her Instagram story, "People like Karan Johar should be questioned for their conduct. He is more interested in everyone's sex life than in his film scripts. He self admittedly buys reviews, stars, and fake collection numbers and tickets. This time around he tried to ride Hinduism and the south wave. They will do everything but not hire competent writers, directors, actors and other talents… why not in the first place hire those they went begging to fix this disaster called Brahmastra."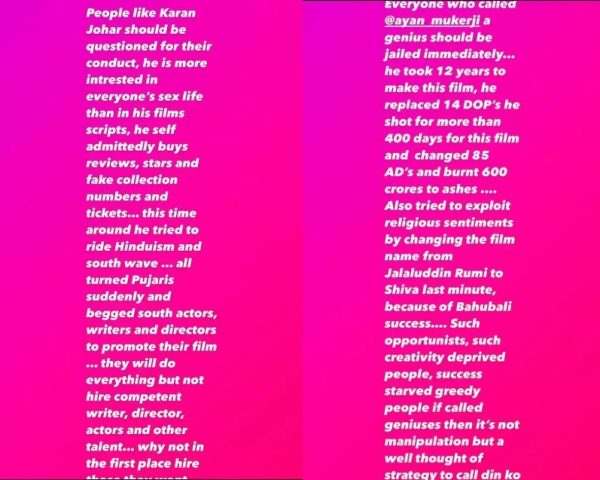 Moving on to take a class of the director of Brahmastra, Ayan Mukherjee, Ranaut claimed that he has wasted 600 crores and that he changed his film name from Jalaluddin Rumi to Shiva after he saw Prabhas' Shivudu in Baahubali smashing the box office. "Everyone who called Ayan Mukerji a genius should be jailed immediately… He took 12 years to make this film, he replaced 14 DOPs he shot for more than 400 days for this film and changed 85 ADs and burnt 600 crores to ashes. Also tried to exploit religious sentiments by changing the film name from Jalaluddin Rumi to Shiva last minute, because of Bahubali's success…. Such opportunists, such creativity deprived people, success-starved greedy people if called geniuses then it's not manipulation but a well thought of a strategy to call din ko Raat and raat ko din…" she penned.
Brahmastra stars Ranbir Kapoor and Alia Bhatt in lead roles. It has garnered mixed reviews and is said to have collected Rs 40 crore on its opening day.