What! Rakhi And Ritesh Had A Liplock In Front Of The Camera In Bigg Boss House? Contestants Clapped To Cheer Them
Rakhi Sawant is known as the Controversy Queen in the film world. Wherever she goes, she somehow manages to get limelight. These days Rakhi Sawant is seen as a contestant in season 15 of Bigg Boss. Rakhi is also seen with her husband Riteish, who has come in front of the world after two years of marriage. In this show, everything is seen between Rakhi Sawant and Ritesh from laughter to fight and due to this reason people also cannot stop reacting to them. Till now many people have told Ritesh as fake husband of Rakhi. At the same time, now Rakhi and Ritesh are seen getting romantic in Bigg Boss house.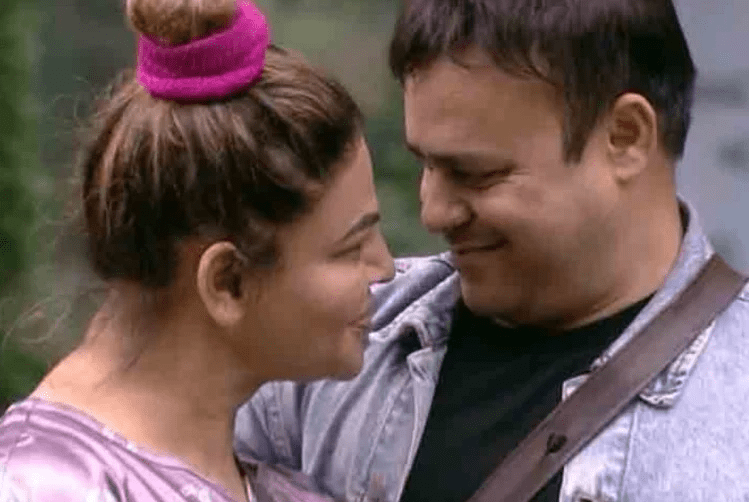 Rakhi and Ritesh
Actually, Rakhi Sawant has kissed Ritesh in front of everyone in the house. Ritesh and Rakhi locked lips in front of the camera. Rakhi looked quite surprised seeing this romantic side of Ritesh. Rakhi is known for her bold style but when Ritesh kissed her, she was seen shyly for the first time on National TV. Seeing this form of Rakhi, everyone in the house was surprised for a while and then everyone applauded for both of them.
Rakhi and Ritesh
What happened in the last episode is that the morning song is played in Bigg Boss house and when some members do not got up, Rakhi tries to lift everyone with a broom. She talks about going to everyone's bed and hitting her with a broom. After this Rakhi comes to the garden area. During this, the family members are also present there and Ritesh is also sitting there. Meanwhile, all the family members cheer, 'Kiss, kiss kiss' and then Ritesh kisses his wife Rakhi.
During this, the family members are shocked to see Rakhi blushing. Seeing this form of Rakhi, Karan Kundra says that she is blushing, the whole of India could not make it blush. Let us inform that Ritesh's first wife, Snigdha Priya has come in front of the media and has made serious allegations like domestic violence against Ritesh. Not only this, Snigdha Priya has said that if she is called in Bigg Boss, she will show Riteish's real face in front of everyone.