Are Karan Johar's Cryptic Posts A Sly Jab At The Ongoing Nepo Debate And Kangana Ranaut?
The issue of nepotism in the film industry has been a contentious topic, spearheaded by Kangana Ranaut's vocal opposition to it. Karan Johar has often come under fire from Ranaut for his involvement in promoting nepotism. Ever since Kangana Ranaut and Bollywood's beloved director Karan Johar are not seeing eye-to-eye. It all started when Kangana labelled KJo as the "flagbearer of nepotism".The latest twist in their saga is Kangana pointing fingers at him for Priyanka Chopra's recent statement about being cornered in the industry. Accusing Johar of being 'obnoxious, jealous, mean and toxic' after Priyanka Chopra's comments gained traction on social media. Johar has since posted cryptic messages on Instagram, leading to speculation about his stance on the whole debate.
And in midst of all these indirect allegations, Karan John might have seemingly taken a royal dig at Kangana Ranaut. KJo has been killing it on his Insta stories lately. The day after rubbing shoulders with fashion elites at the Christian Dior Fall 2023 event in Mumbai, the dynamic filmmaker Karan Johar took to his Instagram Stories to express his overflowing thoughts about the esteemed affair. With his creative flair, he shared a series of intriguing posts, which seemed to tease the outspoken Kangana Ranaut playfully. But how will she respond to his cryptic messages? Only time will tell.
Besides that, he appears to have answered the nepotism debate, stating that he liked several looks from the Dior show but wasn't going to reveal them. In multiple ways, he tangentially mentioned NEPO in caps. "I loved so many of the looks at the Dior show! But, mentioning them may be a nO….#iykyk, "He wrote.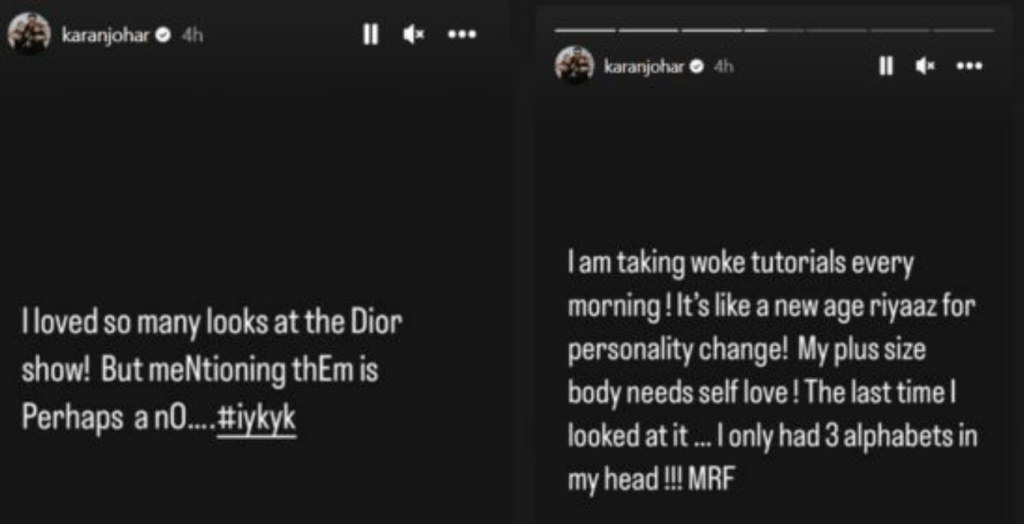 In another post, he hilariously quipped that the airport has turned into a runway and a press conference venue. He joked about the possibility of trailer launch events happening there too. All this comes after a viral video of Kangana Ranaut questioning the annoying paparazzi at the airport.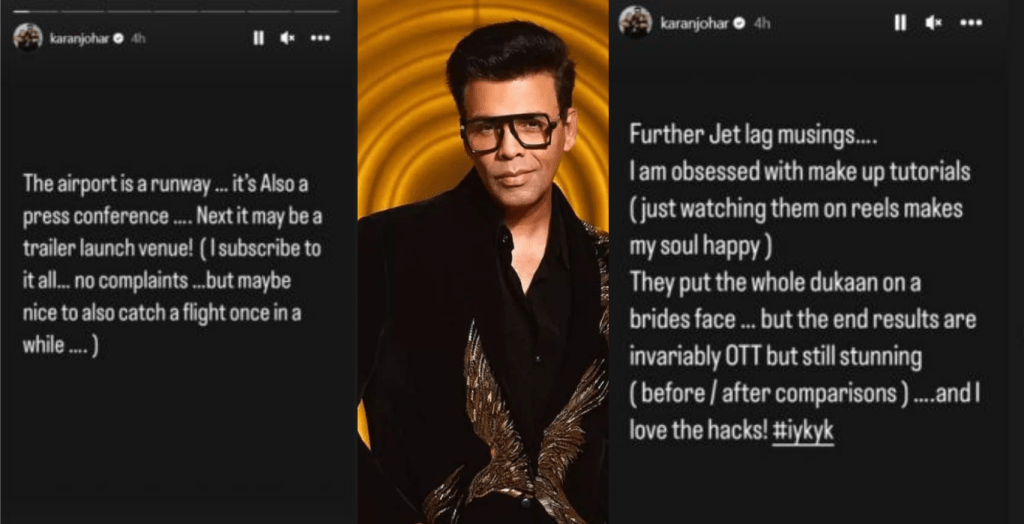 The fearless actress called them 'chalak' and expressed her frustration at being hounded by them over petty controversies while the 'film mafia' gets off scot-free. Is the recent exchange between Karan Johar and Kangana Ranaut will mark the beginning of a new feud, or Kjo is simply taking a royal dig at her?