How To Fake Glowing Skin, According To A Beauty Expert
Skincare? Fake it till you make it! Then, you can bask in the glory of glowing skin.
Make it up as you go because, honestly, you shouldn't be counting on expensive face masks to change your life. If you have dry, dull skin, fine lines, or hyperpigmentation, you'll need to get serious about your skin.
Get real: if you want better skin, stop waiting for a miracle in a jar and get to work. With just a few simple steps and the right products, you can totally transform your complexion. Introducing Mariyam, a beauty expert with over eight years of experience and blogger at Beautyholic, revealing how to fake glowing skin.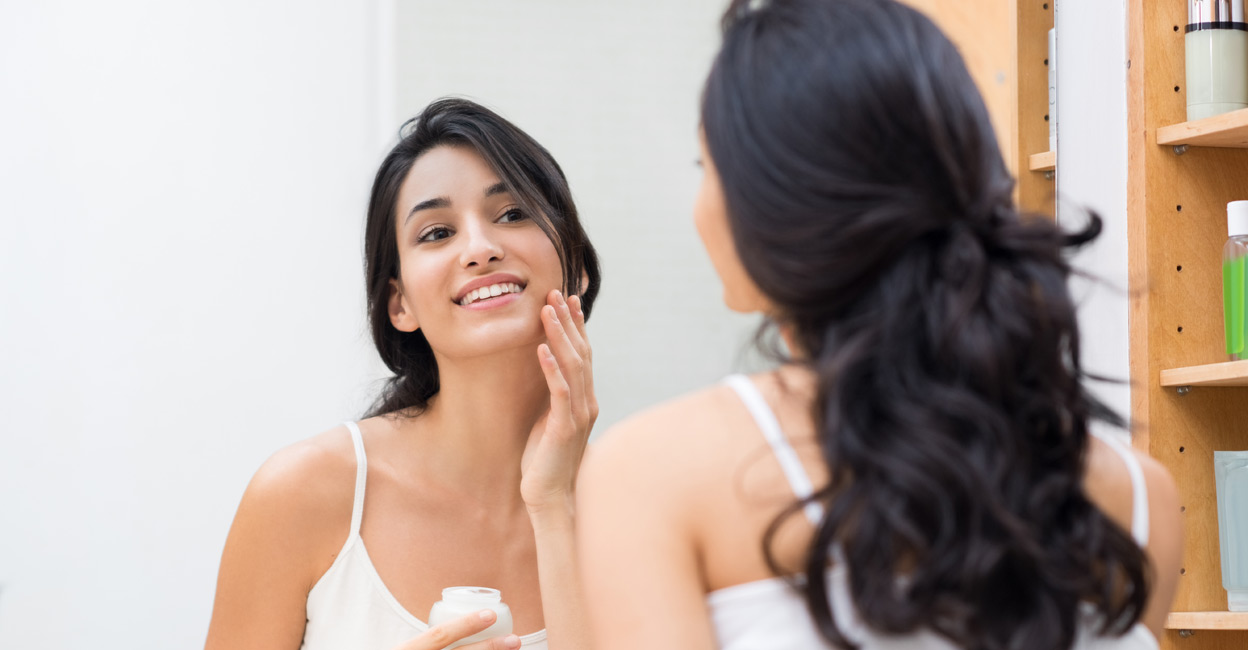 But, why does glowing skin matter?
Getting flawless skin isn't just for beauty queens. When you look great, you can feel good, too.
Glowing skin is the perfect canvas for your makeup and helps you score that dewy slay glow.
Not to mention, it feels amazing when your skin is hydrated and looking its best. So really, who wouldn't want to have glowing skin?
Many factors can contribute to skin imperfections, including genetics, diet, stress, hormones, medications, and lifestyle habits. Some of these factors can be changed, but others are beyond our control.
Follow a skincare routine
To start, it's important to have a daily routine for glowing skin naturally. Identify your skin type. Are you oily, dry, or somewhere in between?
Oily Skin: "Try products that control oil production. Choose oil-free, non-comedogenic cleansers, toners, and moisturizers. Ingredients like salicylic acid, benzoyl peroxide, and tea tree oil can help keep your skin matte and shine-free," says Mariyam. At least once a week, apply clay masks to absorb excess oil.
Dry skin: focus on products that replenish the skin. Invest in products loaded with hyaluronic acid, ceramides, glycerin, or vitamin E. Pair it with a face oil or serum for extra hydration.
Combination skin: use a combo of products to treat your oily and dry spots. Ideally, ingredients should control oil production while also hydrating the skin. Azelaic acid, niacinamide, peptides, and vitamin C all benefit combination skin.
Knowing your skin type allows you to establish a routine that is right for you.
Drink enough water
Drinking lots of water keeps everything (including your skin) lubricated and, in turn, makes your skin appear less wrinkled and dried out.
Just as a car needs oil to work, your skin needs water to look its best. Always carry a bottle of water around. If you have a desk job, bring a water bottle to work, so you don't get into the habit of drinking soda or dehydrating drinks.
Also, Use a hydrating mask once a week to deep-cleanse your skin and remove any debris or impurities from your face, neck, and hands.
Slough away dead skin
Exfoliating removes the outer layer of dead skin cells, preventing grime particles from clogging pores and causing pimples and other blemishes.
Exfoliating also helps keep your skin moist and free of dryness and flakiness, leaving your skin softer and more glowing.
Use a facial oil
When it comes to faking glowing skin, one of the best products you can use is facial oil that's non comedogenic. Just a few drops can help smooth out your skin, give it a healthy sheen, and reduce the appearance of pores. 
The market is full of different facial oils, each with its own benefits:
Rosehip oil has plenty of vitamin C, which can help to brighten the skin and reduce the appearance of dark spots.
Argan oil is abundant with antioxidants and essential fatty acids, which help to nourish and revitalize the skin.
Jojoba oil closely resembles the skin's natural sebum, making it an excellent choice for those with dry or sensitive skin.
If you are using a facial oil for the first time, start with a small amount and work up as you need. Make sure you don't end up looking like an oil slick!
Mix up your makeup
Whether it's for an evening out in the town, a big event, or for everyday use, you're looking for a product that only makes your features stand out while enhancing your skin's natural beauty.
Apply a foundation that matches your skin perfectly. Try one that's medium in coverage, just enough to cover any blemishes and dark circles.
Next, apply a highlighter to the brow bones, under the eyebrows, and on the cheekbones to create a luminous, dewy look.
When choosing products for glowing skin, opt for those with shimmer or light-reflecting particles.
Wear light colors
A good way to fake out your skin's luminosity is to wear light colors. Lighter shades reflect the light just like your skin and can make your skin appear more healthy.
From pretty pastels and white to sunny yellows and cream, there are lots of ways to work light colors into your wardrobe. And bonus: these shades are perfect for spring and summertime. So if you're ready to add a little glow to your life, start by donning some light colors.
Choose an illuminating moisturizer
This will help to create a natural-looking glow and can be applied all over the face or just in areas where you want to add a bit of extra radiance.
To use, simply apply the moisturizer to your clean skin and then use a brush or your fingers to blend it in.
Also, you can add a little highlighter to truly make your skin look glowy. Just be sure to use a small amount, so you don't end up looking like a disco ball!
To find the best pick for you, look for an illuminating moisturizer with SPF—that way, the sun won't damage your skin while you're fake-baking it.
Give yourself an ice facial
Yes, that's right, ice cubes can actually do wonders for your skin. An ice facial is a great way to eliminate puffiness and fake naturally glowing skin. 
Plus, it's super easy to do: simply take a few cubes of ice and massage them over your face for about two minutes.
The ice will help to stimulate blood flow and give your skin a healthy glow. You'll instantly feel your skin tighten and your complexion glowing without any products.
Bottom line
Just because you weren't born with perfect skin doesn't mean you can't have it. Following these tips from our beauty expert will help you fake glowing skin instantly.
Remember that skin care is a marathon, not a sprint, so don't get discouraged if you don't see results overnight. Don't rush it, and be consistent with your routine, and you will soon see results.