Tinka Tinka India Awards 2021: Creativity And Contributions To Be Honoured On Human Rights Day
Tinka Tinka Foundation will release national awards for inmates and jail staff on 9th December. The theme for awards this year is Telephone in Jails. This is the 7th year of celebrating and honouring creativity in jails. Nominations for these awards were invited in September this year,with 10th November as the last day for accepting the forms.
This year there were three categories, namely Painting, Special Mention, and for the jail staff. Foundation received more than 400 nominations for these awards.  From 2021, Tinka Tinka Bandini Awards have also been merged with these awards, with 2 women chosen under this category.
Names of the awardees will be announced on 8th December, and the awards will be given the next day on the eve of Human Rights Day.  The program will be a mix of online and offline modes.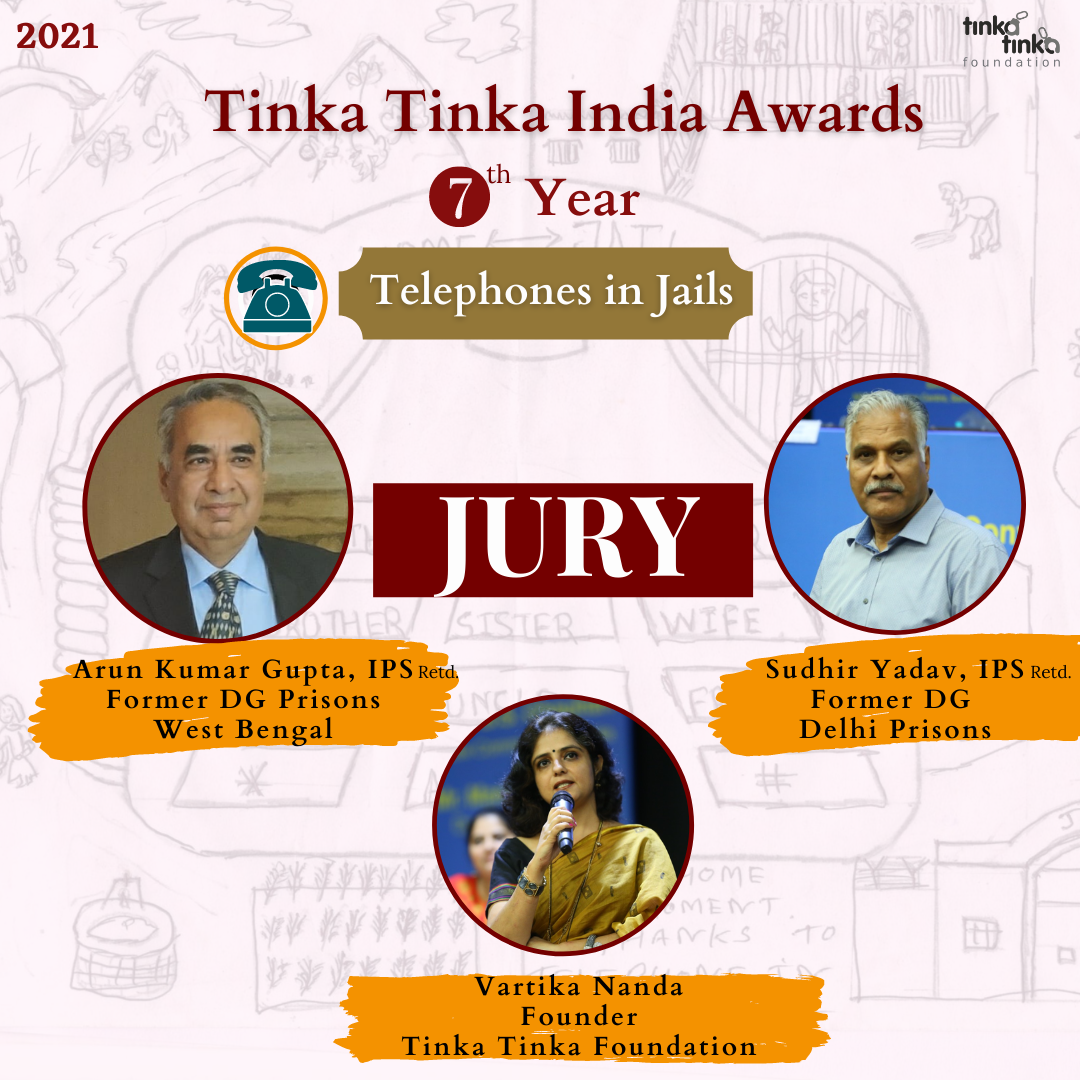 This year, the jury consisted of Shri Sudhir Yadav, IPS (Retd.) and former DG, Delhi Prisons, Shri Arun Kumar Gupta, IPS (Retd.), former DG, West Bengal Prisons, and Dr. Vartika Nanda, Founder, Tinka Tinka.
In 2020, awards were released by Shri K. Selvaraj (IPS) DG, Haryana Prisons, Shri Ajay Kashyap (IPS) Former DG, Tihar Prisons, Shri Anand Kumar DGP, and IG Prisons, Uttar Pradesh.
Background: Tinka Tinka Foundation has curated two national awards exclusively for prisons, Tinka Tinka India Awards and Tinka Tinka Bandini Awards. These are the only awards that are solely dedicated to inmates and jail staff. Started in 2015, this is the 7th year of celebrating creativity in jails, through these awards. Every year, a prison-related subject is chosen as the main theme. In 2019, the theme was 'Radio in Jails,' and in 2020, the chosen theme was 'Covid-19 and Prisons'.  More than 110 inmates and 37 jail staff have received Tinka Tinka India Awards between 2015 to 2020.
About Vartika Nanda: Dr. Vartika Nanda is a prison reformer and media educator. She has initiated a movement on prison reforms in India under the banner, Tinka Tinka.  President of India, Shri Pranab Mukherjee, conferred the Stree Shakti Puraskar on her in 2014. Her work on prisons was taken cognizance by the Supreme Court of India in 2018.  Her name has also been included in the Limca Book of Records twice for her unique work on prison reforms. Her recent research on the "Study of the condition of women inmates and their children in Indian Prisons and their communication needs with special reference to Uttar Pradesh" has been evaluated as 'outstanding' by ICSSR. Currently, she heads the Department of Journalism, Lady Shri Ram College, Delhi University.
#vartikananda #tinkatinka #jail
 Contact
Vartika Nanda: 9811201839