Tinka Tinka Jail Radio Podcasts: Redefining Prison Life In India Through Vartika Nanda
By Anushree Mukherjee and Samridhi Chugh
Tinka Tinka Podcasts have left an indelible mark on the mind and souls of its listeners. It is the first and exclusive podcast series in India about life in jails. These episodes are conceptualized, narrated, and hosted by Dr. Vartika Nanda, founder of the Tinka Tinka Foundation, a movement to reform India's prisons. The podcast series completed 40 episodes on 31st June, 2022, highlighting the many initiatives of the Tinka Tinka Jail Radio initiative and the impact of Tinka Tinka Jail Radio on the lives of inmates.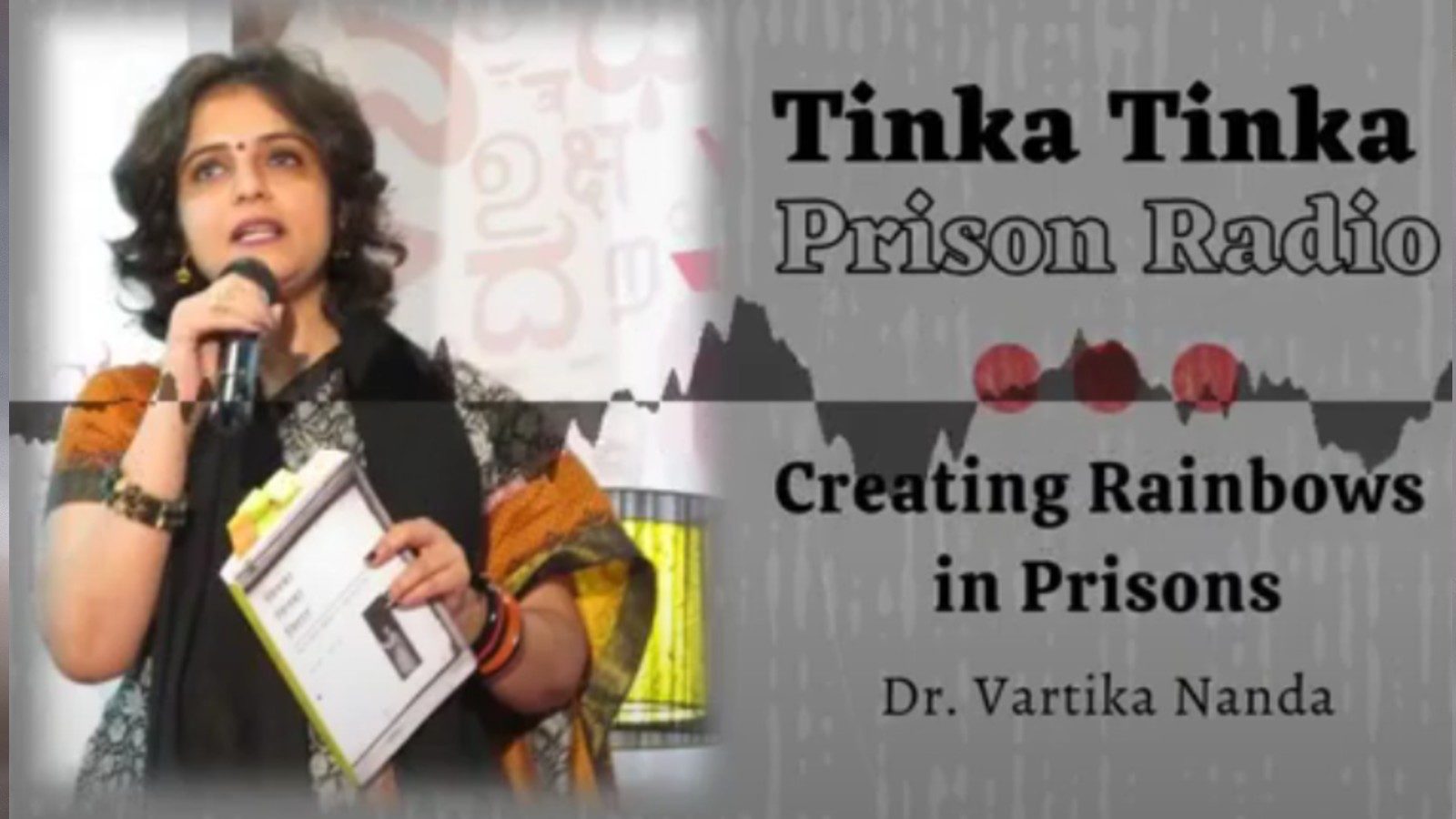 The series picked momentum during the pandemic, with the aim to improve the lives of the inmates during these tough times. With no in-person visits and a complete lack of group activities, inmates were left to feel isolated and lonely in the jail premises. The podcast series helped them reconnect with the outside world, featuring not only the struggles, heartaches, and concerns of the prison inmates but also their triumphs and dreams.
The series started on 14th November, 2020 with its first podcast on children in jails. This was released by Shri Dyaneshwar Mulay, IFS (retd.) and Member, NHRC in November, 2022. These podcasts have included varied topics concerning jails, including the living conditions of women inmates, musical experiments in jails, and the birth and growth of prison radio in India through the Tinka Tinka Jail Radio. It has successfully documented and voiced prison life through special stories, original songs, voices, and tunes from the artists of Tinka Tinka Jail Radio.
The episodes are freely available for everyone to listen to and acquaint themselves with the revolution proliferating the jails in India. They are released and broadcast across Tinka Tinka's various social media platforms, including Google Podcasts, Spotify, and its very own YouTube channel – Tinka Tinka Prison Reforms.
A glimpse of these podcasts was presented at the opening ceremony of the 7th National Conference of Heads of Prisons, organized by the Bureau of Police Research and Development (BPR&D), MHA, conducted on 7 – 8 October 2021 in New Delhi.
So far, Dr. Vartika Nanda has selected and trained more than 80 inmates from different jails into Radio Jockeys through her initiative. With no financial support whatsoever, Tinka Tinka is creating rainbows in prisons through Tinka radio and Tinka podcasts. These are coming forth as testimonials of prison life, which has never been thought of before. Dr. Vartika Nanda has also authored three books – Tinka Tinka Tihar, Tinka Tinka Dasna, and Tinka Tinka Madhya Pradesh. These books are considered eye-opening and authentic sources of prison life and reforms in India.
It may be noted that the inception and development of Haryana Jail Radio and Agra Jail Radio were undertaken by Tinka Tinka Foundation under the aegis of Dr. Vartika Nanda.
Link to the 40th Episode – https://www.youtube.com/watch?v=5cNWtHslGwU
Vartika Nanda heads the Department of Journalism in Delhi University. She is the recipient of Stri Shakti Puraskar, conferred upon her by the President of India Shri Pranab Mukherjee for her contribution in media & literature in 2014. Her name has been included twice in the Limca Book of Records (2015 & 2017) for introducing innovative concepts related to creative expressions of inmates in the field of prison reforms. She is the founder of Tinka Tinka Foundation that is dedicated to prison reforms. Her Tinka Tinka series of books on prison reforms are considered to be authentic sources on Indian prisons. Her podcasts- Tinka Tinka Prison Reforms- on YouTube are the only podcasts in India that are dedicated to prisons.
The authors, Anushree Mukherjee and Samridhi Chugh, are final-year students of Journalism at Lady Shri Ram College for Women, University of Delhi.