Twitter Proves To Be A Boon for this Pattachitra Artist Amidst the Pandemic; Read To Know His Story
Odisha is known for its mesmerizing and beautifully designed art forms as well as for splendid and talented artists. One of the biggest names in sand art i.e. Sudarshan Patnaik belongs to Odisha. Not only him, but Odisha has also produced many small artists who with their consistency are proving to be inspirational to many.
One such artist who has made it big and that too during the times of pandemic is Bipin Das. Das belongs to a small village near Raghurajpur, Odisha. He dedicated his life to preserving the art of Pattachitra, which is dying a slow death in the state due to people switching careers. The art form is identical to the state of Odisha.
The last two years threatened Bipin a lot as he was scared of losing his livelihood during the pandemic. But thanks to Social media. Yes, you heard it RIGHT. Bipin found his solution through Twitter.
The 43-year-old is a skilled senior Pattachitra artist based in a small village near Odisha's Raghurajpur, which is home to almost 150 artisan families. He with his two brothers supports a family of 10 members by earning through Patta paintings. For the last 26 years, Das has been working day and night to keep the traditional artform of Pattachitra alive. He spends hours painting the intricate mythical stories on various art surfaces like canvas paper, coconut shells, etc. But even the bold and bright colors that give life to his paintings cannot paint the gloomy reality that Bipin and many artists in his region have endured in the past two years.
The past two years have been difficult for artists living in Odisha. In 2019, the state was hit by cyclone Fani, which destroyed the artisan villages of Puri district. With the destruction of homes, the art pieces which took years to get completed and had worth in lakhs were also ruined. This left the families utterly helpless. Bipin's family was one of them.
While the artists were still struggling with the loss caused by the cyclone, they got hit by another disaster and this was the COVID-19 pandemic.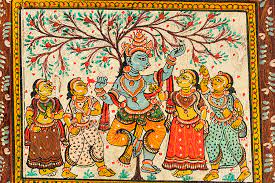 In an interview, Bipin shared the same and said, "We had incurred losses amounting to lakhs of rupees, which even the government compensations could not cover. Tourism is a big source of income for us, as it helps us sell our art. But with the lockdown, we even lost this scope of recovering from the devastation of the cyclone. Unlike others, we have dedicated our lives to this art and don't know any other skill like farming or labor work, which meant that during this time we had no income."
Like Bipin, hundreds of families of Pattachitra artists suffered the massive consequences of these disasters. But then came help from God in the form of Dipika Bajpai.
Dipika Bajpai, Karnataka-cadre IFS officer and Pattachitra connoisseur herself got to know about the troubles of the artists back in 2020 after which she decided to post photographs of Patta paintings by these artists on her Twitter handle. With Dipika's help, Bipin was able to change his ever so turbulent destiny. He could now use the power of social media to solve problems and revive the incomes of many artisans of his community.
While talking about this social media initiative, Bipin said, "I don't think we could've sailed through this if not for some selfless people who came forward with a helping hand."
Dipika who promoted Patta paintings online to support the artisans of Odisha explained how she found out about the plight of artisans. She stated, "In 2020, I came across a message from a neighbor, seeking help for a Pattachitra artist called Bipin Das. Being born and brought up in Odisha, the state and its art is close to my heart and so I wanted to help. I decided to buy a painting of their local deity Lord Jagannath, but soon I realized that I could do more."
Soon after, the intricate marvels began to get noticed, orders began to flow. At this point, Bipin shared about this initiative with 35 artisan families from the neighborhood, while Dipika launched a dedicated handle on Twitter to directly connect the artists with the buyers. Once the orders were received online, the artists began to paint and courier the pieces directly to the buyers.
Bipin is extremely grateful to Dipika and social media. He said, "Through social media, we are now connected with the entire world and orders have begun to come in from all over India and abroad as well. This online marketing that I was unaware of before, has helped connect the artist to the buyers, which ensures that we get the right price for our labor of love. Now thanks to social media our sales are much better even than the usual times."
The rate of Patta paintings starts from Rs 1,500 and goes up to lakhs."Some paintings can even take years to complete," revealed Bipin whose has sold his most expensive painting for Rs 2.1 lakh. Through this online platform, these artists have been able to sell almost 200 pieces, including both large and small paintings. The online initiative has proved to be a glimmer of hope. It has the potential for massive growth in the coming years.