'CUTEST Thing On Internet': Sharmila Tagore Getting Kisses From Her Grandchildren Taimur & Inaaya On Birthday
The veteran actress Sharmila Tagore celebrated her 78th birthday today. She celebrated with her family in Jaisalmer. From Saif Ali Khan and Kareena Kapoor to Soha Ali Khan and Saba Ali Khan all flew to Rajasthan to celebrate the special day with Sharmila.
Bollywood's Bebo Kareena took to Instagram to share an adorable picture of her mother-in-law cutting the cake. On the other hand, Sharmila received kisses from her grandchildren- Taimur Ali Khan and Inaaya Naumi Kemmu. Fans reacted to Kareena's post on Sharmila's birthday.
In the photos, Sharmila wore a white shirt. She wore black pants. Her grandchild Taimur Ali Khan wore a white full-sleeved t-shirt. On the other hand, Soha Ali Khan's daughter wore an orange dress with a matching hairband. In one picture Sharmila's grandchildren kissed her. This is the cutest thing ever. In another, Sharmila cut her chocolate cake with them. They celebrated at a cafe. She smiled at the camera with her birthday cake.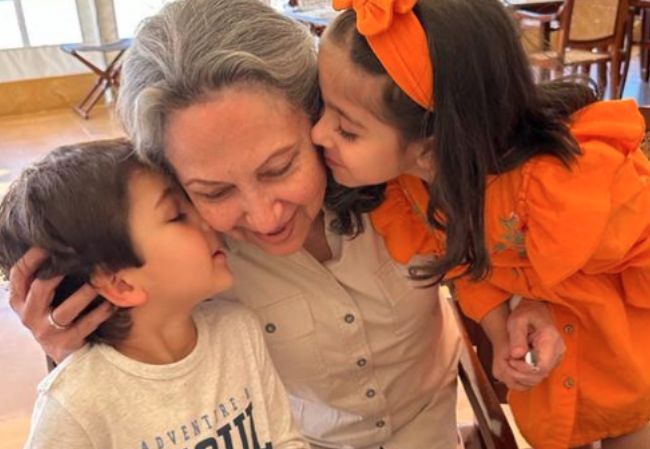 Kareena captioned it, "Dessert in the desert….Badi Amma (mother, red heart emoji) TimTim (red heart emoji) Inni (red heart emoji). Caption-@sakpataudi Jaisalmer 2022 (red heart emoji)."
Fans commented, "Ma'am (Sharmila) is ageing so gracefully (red heart emoji) Best wishes," "Such beautiful pictures. It says all," "Love this (red heart emoji)," "She is so beautiful, Sharmila Tagore (red heart emoji)," "Dear mam, always best wishes to you. Eat full cake (cake emoji)…God bless you all…so much love to kids (red heart emoji)" etc.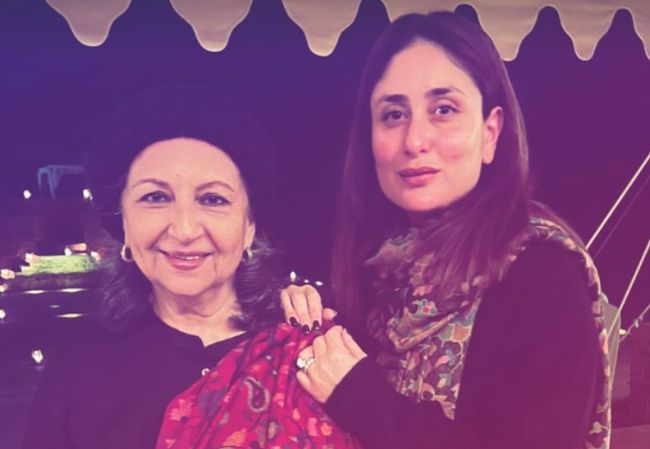 In 1966, the veteran actress got married to Mansoor Ali Khan Pataudi in 1966. They have three children together. Their son is Saif Ali Khan. They have two daughters. One is Saba Ali Khan and the other is Soha Ali Khan.