'Hijacked By…', Kangana Ranaut Slams Wikipedia For Publishing Wrong Info About Her!
Bollywood actress Kangana Ranaut always remain in headlines for giving statements that gives audience her piece of mind. The actress speaks her heart out on almost all the issues- be it about films, glamor or politics. Recently, Kangana issued another statement accusing 'Wikipedia'. She said that the personal information-fetching site has 'distorted' information about her including her birth date and background.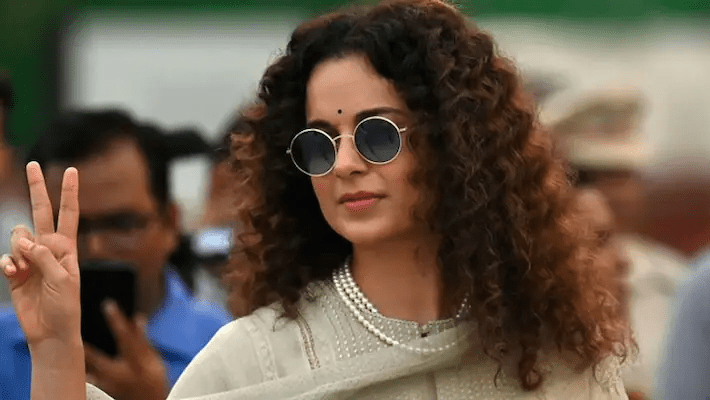 Kangana Ranaut reacts on wrong information about her on 'Wikipedia'
Taking to her Instagram stories, Kangana clarified that her birthday is on March 23 and not March 20. She also said that Wikipedia is 'completely wrong and misleading'.
Kangana wrote, "Wikipedia has been completely taken over by the leftists. Most of the information about me like my birthday or my background is completely wrong. No matter how much we try to correct it, it's still wrong again. Anyway, many radio channels, fan clubs and well-wishers start sending birthday wishes on 20 March."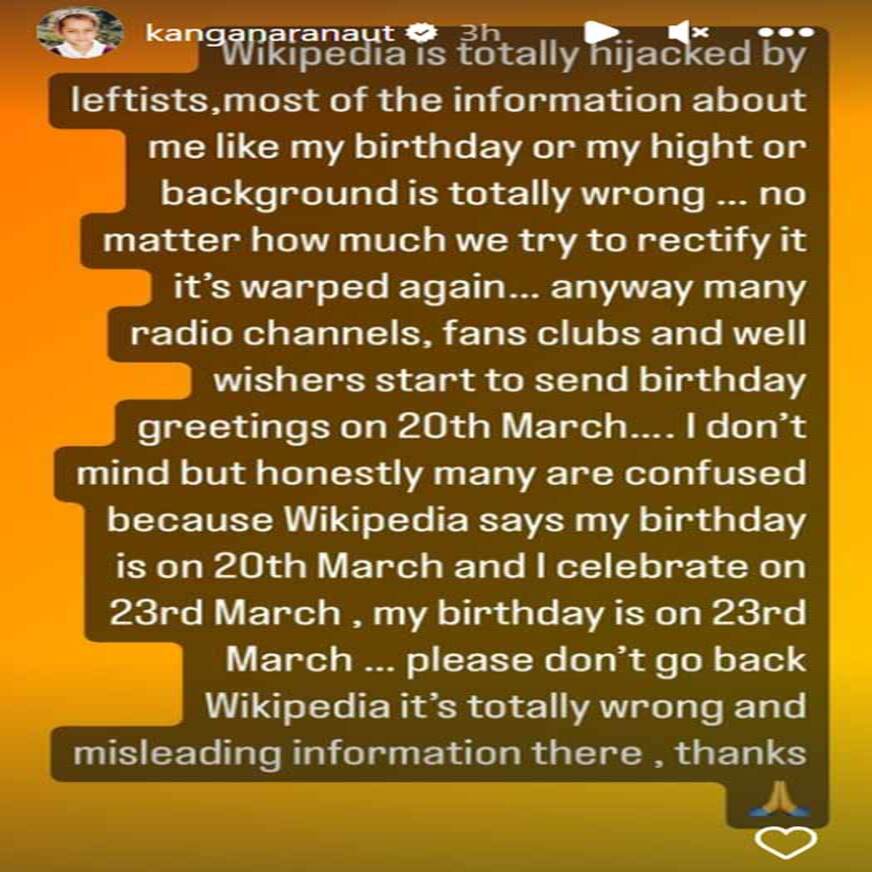 Furthermore, Kangana stated, "I don't mind but honestly speaking many people are confused because 'Wikipedia' says my birthday is on 20th March and I celebrate my birthday on 23rd March, so my birthday is on 23rd March. Please don't go to Wikipedia. It's completely wrong and misleading information out there, thanks."
Kangana Ranaut's upcoming projects
Kangana will be seen in the upcoming period drama 'Emergency'. The film also stars Anupam Kher, Mahima Chaudhary, Randeep Hooda, Visakh Nair and Shreyas Talpade. Besides this, Kangana will appear in 'Tejas' in which she will be portraying the role of an Indian Air Force pilot and 'Chandramukhi 2'. P Vasu has directed the film. It is sequel to blockbuster hit Tamil horror comedy 'Chandramukhi' which starred Rajinikanth and Jyothika in lead roles.
In the coming months, the audience will also see Kangana in 'Manikarnika Returns: The Legend of Didda' and 'Avatar: Sita'.