Madhavan On Being Called Vedaant's Father; Says, "That Feels Very Proud Too"
R Madhavan is making news for a variety of reasons. From his upcoming film Rocketry to his son smashing it and representing India at the recently held Danish Open 2022 swimming championship, he has a lot to be proud of. Not just from fans, but also colleagues in the film industry, the actor has been inundated with good wishes on social media. Wishes have been pouring in from Priyanka Chopra to Akshay Kumar, and rightfully so.
Among the many greetings, columnist and writer Anand Ranganathan sent one to the actor. He wished Madhavan well and announced his next film Rocketry, addressing the actor as his son Vedaant Madhavan's father. "Looking forward to this upcoming film of Vedaant Madhavan's father," he tweeted.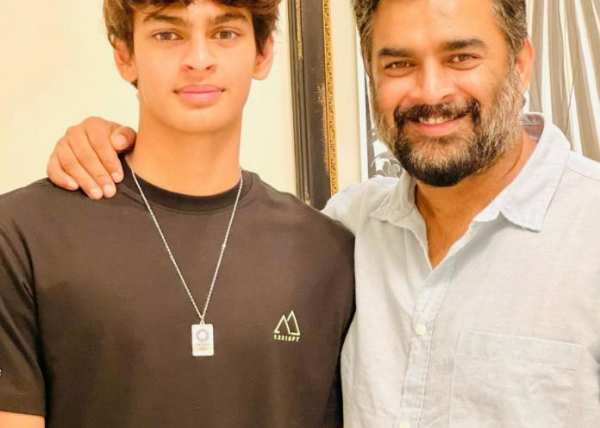 R Madhavan was naturally thrilled and honoured by Ranganathan's post. He replied saying, "Ha ha ha somehow that felt very proud too. Thank you chief. See you on July 1st with Rocketry in theatres." The tweet also included Rocketry's poster. Take a look at this:
Ha ha ha somehow that felt very proud too. Thank you chief . See you on July 1st with Rocketry in theaters . https://t.co/Oe7CTsAhTI

— Ranganathan Madhavan (@ActorMadhavan) April 19, 2022
Wishing Vedaant on his fantastic achievement, Priyanka Chopra tweeted, "Wohooo! Congratulations @VedaantMadhavan! That's an amazing feat! Keep trailblazing! Congratulations @ActorMadhavan and Sarita (heart emoji)." Replying to PeeCee, Madhavan said, "Wow … thank you so so much .. don't know what to say.. we are so thrilled and excited .gods grace and thank you for your kindness once again @priyankachopra.. you are the very best."
Kangana Ranaut, who worked with Madhavan on Tanu Weds Manu and its sequel, also posted a photo of Vedaant on her Instagram Stories. She wrote, "Congratulations @actormaddy, Sarita, and Vedaant," along with a smiley with three hearts emoji, hands joined emoji, and tricolor icons.
Shilpa Shetty tweeted late Monday, "Winning for the Tricolour with flying colours. Take a bow, @ActorMadhavan @msaru1! Job well done."
Earlier in the day, Akshay Kumar, Sidharth Malhotra, Keerthy Suresh, Riteish Deshmukh, Huma Qureshi, and Kailash Kher congratulated Madhavan and his family on Vedaant's victory. Vedaant set a new personal best in the 800m freestyle event at the Danish Open, finishing at 8:17.28 to beat local swimmer Alexander L Bjorn. At the same tournament, he had previously won silver in the 1500m freestyle.