Parineeti Chopra And Raghav Chadha To Tie Knot Soon? Singer Hardy Sandhu Spills Beans!
Parineeti Chopra's Code Name: Tiranga' co-star, Hardy Sandhu has recently confirmed AAP MP, Raghav Chadha's wedding speculations.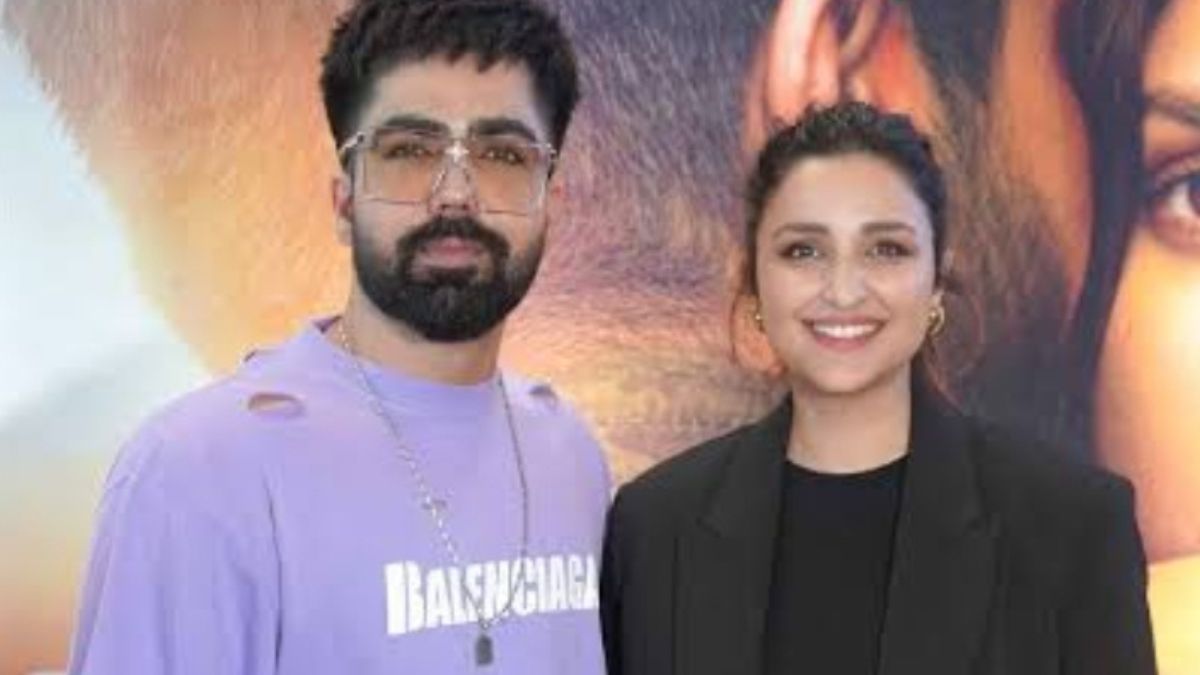 For the unversed, Parineeti's rumored fiance, Raghav Chadha is an Indian politician and the member of Aam Aadmi Party. He is the youngest member at present in the Parliament. According to media sources, the two families are in touch with one another and may set a date for their roka ceremony. Although Parineeti and Raghav have kept their relationship a secret, netizens' have not missed any of their public appearances. The duo were spotted together at a Mumbai restaurant on March 22, which was when their dating speculations arose.
Hardy Sandhu confirms Raghav-Parineeti's wedding
AAP Party Leader, Raghav Chadha are currently grabbing headlines since the duo's recent outing clip went viral. Although neither Mr. Chadha nor Ms. Chopra have publicly addressed their relationship status, AAP member Sanjeev Arora recently congratulated the pair on their "union." And now, musician Hardy Sandhu has said that the couple will tie knot soon. Hardy wished luck to 'Hasee toh phasee' actress for her married life. Although the Punjabi singer didn't revealed the name of Raghav or any information related to their wedding date, yet he released a big chunk of revelation. Well, as per Hardy's statement, it seems that Parineeti has certainly found the 'right guy' in her rumored fiance, Raghav Chadha.
Ms Chopra received a call from Hardy Sandhu as he congratulated her for the union. "I am so happy that it's finally happening. I wish her all the luck," he said during an interview with DNA. The singer worked with the actor in the 2022 spy-thriller 'Code Name: Tiranga'.
The Bijlee Bijlee singer revealed that it was during the time of shooting when they conversed regarding marriage. Parineeti Chopra responded to the discussion that she will get married only after she will find a right guy.
Raghav Chadha and Parineeti Chopra receives congratulatory tweet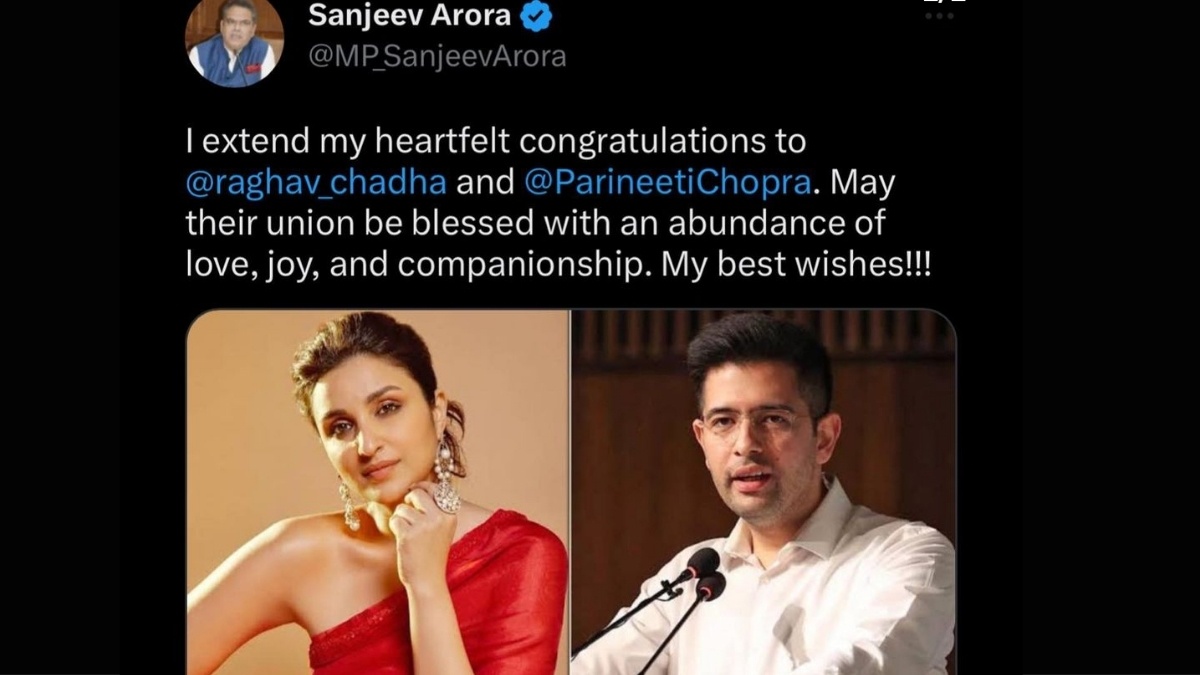 Sanjeev Arora, a member of parliament for the Aam Aadmi Party, congratulated Parineeti Chopra and Raghav Chadha before Harrdy Sandhu revealed his statement about their wedding. On March 28, 2023, Sanjeev posted a photo collage of Raghav and Parineeti on his Twitter account. The politician wrote Parineeti and Raghav an emotional note of congratulations in addition to the posted pictures. Sanjeev wished the couple nothing but love and light in his tweet. The tweet instantly grabbed netizens' attention.
It can be read as: "I extend my heartfelt congratulations to @raghav_chadha and @ParineetiChopra. May their union be blessed with an abundance of love, joy, and companionship. My best wishes!!!"
Parineeti Chopra and Raghav Chadha spotted at Delhi airport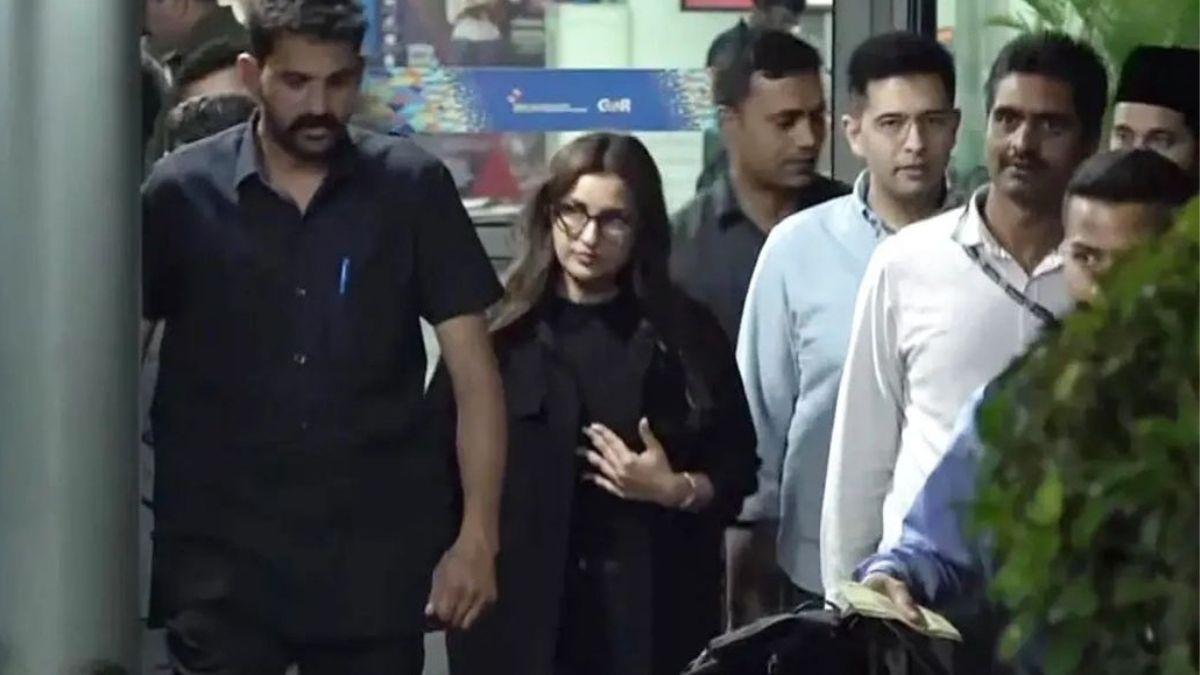 Amidst wedding rumors, both Parineeti Chopra and Raghav Chadha were spotted together at the Delhi airport on Wednesday. Both of them hurriedly entered into their car as they ignored the security staff, journalists and other people who were present around them.
Parineeti recently sparked wedding rumours when she was sighted with famous fashion designer Manish Malhotra. The Mumbai press also contacted Parineeti to inquire about her marriage rumours. The actress chose not to reveal anything by smiling at the journalists.
When VP Jagdeep Dhankar teased Raghav Chadha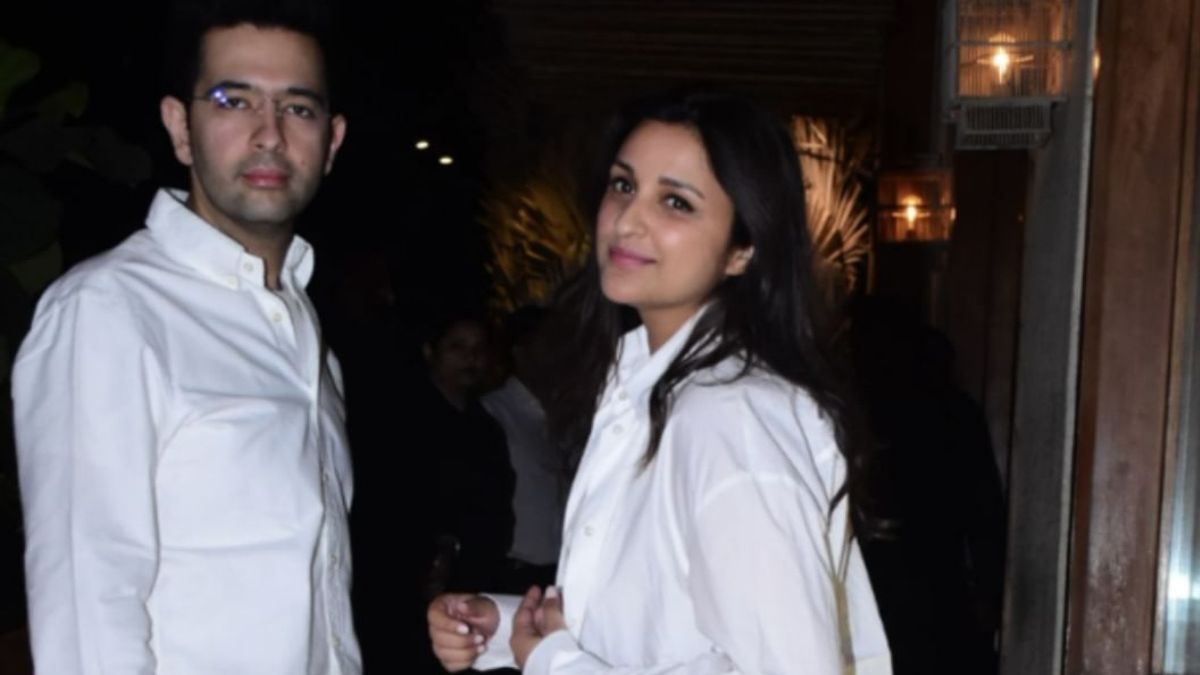 As Raghav's pictures with the "Uunchai" actor went viral on social media, Vice President Jagdeep Dhankar poked fun at him, saying, "You filled enough space in #socialmedia, this may be a day of silence for you." According to rumours, Parineeti and Raghav were classmates at the London School of Economics and have been close friends ever since. Also, Parineeti and Raghav follow one another on Instagram.
Last week, a reporter present outside the Parliament asked Raghav about his rumoured wedding. He had said, "Aap mujhse rajneeti ke sawal kariye, Parineeti ke sawal mat kariya (You ask me questions about politics, not Parineeti)." The AAP MP smiled back and said he would inform them if and when he would be getting married.
Parineeti Chopra's work front
Recently, Parineeti and Diljit Dosanjh finished filming Imtiaz Ali's Chamkila. About the biopic on Punjabi singers Amarjot Kaur and Amar Singh Chamkila, the actor had previously spoken, "I'll be singing throughout the movie with Diljit. We're performing 12 to 15 songs because the movie is about music. On the set, we are recording live. Therefore, although it's not a musical in the traditional sense, it's almost like Broadway. One of the most thrilling movies I've ever worked on, in my opinion."
More Stories:
'Kaala Jaadu…'; BJP Slams Congress Party's Black Shirt 'Drama' Over Rahul Gandhi's Disqualification!
Krishna Mukherjee's Honeymoon Highlights Go Viral; Netizen Says 'Desperate To Become Famous'