On Nov. 2nd, when team India clinched a spot in the semi-finals of the World Cup, Actress Anushka Sharma cheered the team India by posting a story on her Instagram handle to applaud the team for their stellar efforts.
Anushka Sharma, an Indian actress showed her continuous presence in the stands, cheering and supporting her husband and team India. On the occasions when she cannot turn up for the match, her unwavering support is visible on social media. last night when the team India booked a sweet spot in the semi-finals of the World Cup the actress, Anushka Sharma showed her happiness and support for the team. She lauds Virat Kohli and the Indian team as they confirm a World Cup semi-final spot.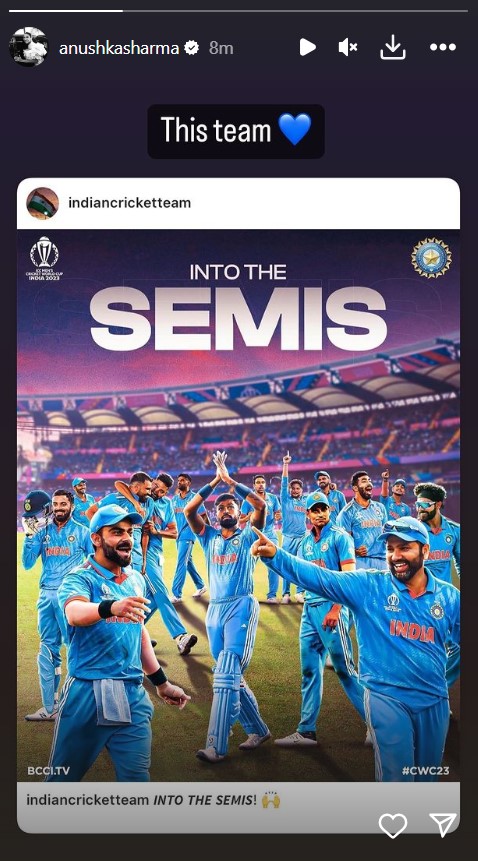 Actress Anushka lauds Virat Kohli and the Indian team
Last night, in the India v/s Shri Lanka ODI World Cup 2023, team India delivered a stellar performance resulting in securing them a spot in the semi-finals. Actress Anushka Sharma, as a supportive wife, took her Instagram Stories to celebrate the win and also the entry to the semifinals of the World Cup. With a lovely message, she wrote, "This team💙 (blue heart emoji)," expressing her love and best wishes for the triumphant squad.
Virat's commendable performance, scoring 88 in 94 balls, showcased his excellence and brilliance on the field. The team India's dominance, is marked by an unbeaten record of seven continuous wins in seven games with different teams. This is a good booster for team India as they advance into the semi-finals of the tournament. The entire country's fingers are crossed for the final match on November 19.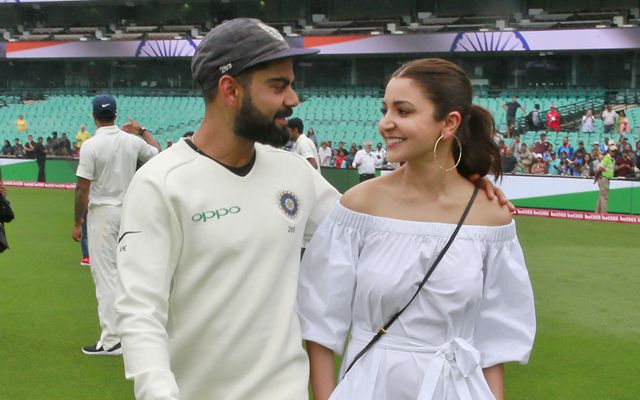 An ever supportive wife
Recently in an Interview, Virat opened up about Anushka's ability to gracefully navigate both her career and the demands of motherhood. He said, "She shot a whole film in between." Statements like these showcase his support and love for her wife. He further added that "observing your life partner transition into motherhood is a transformative experience that truly unveils the depth of a woman's strength."