Controversy: Asim Riaz Tweeted A Post Clearing The Things, Girlfriend Himanshi Khurana Gave Such A Reaction
Asim Riaz in a tweet on Monday indirectly targeted Shehnaaz Gill for partying with friends. Also, he used the Sidnaz tag in it. Asim Riaz, who was the runner-up of the last season of Bigg Boss, is trending on social media. The reason is his recent tweet, in which he indirectly targeted Shahnaz Gill. Now his girlfriend Himanshi Khurana has come to the rescue regarding this. Himanshi has given a befitting reply to those trolling her.
Himanshi Khurana Supported Asim Riaz:
Said this by tweeting Himanshi said in her latest tweet on Tuesday, "When some fans start making you easy targets, some celebs also start making fun of your life. Target Asim-Himanshi because they are talking only about you and no one can dance.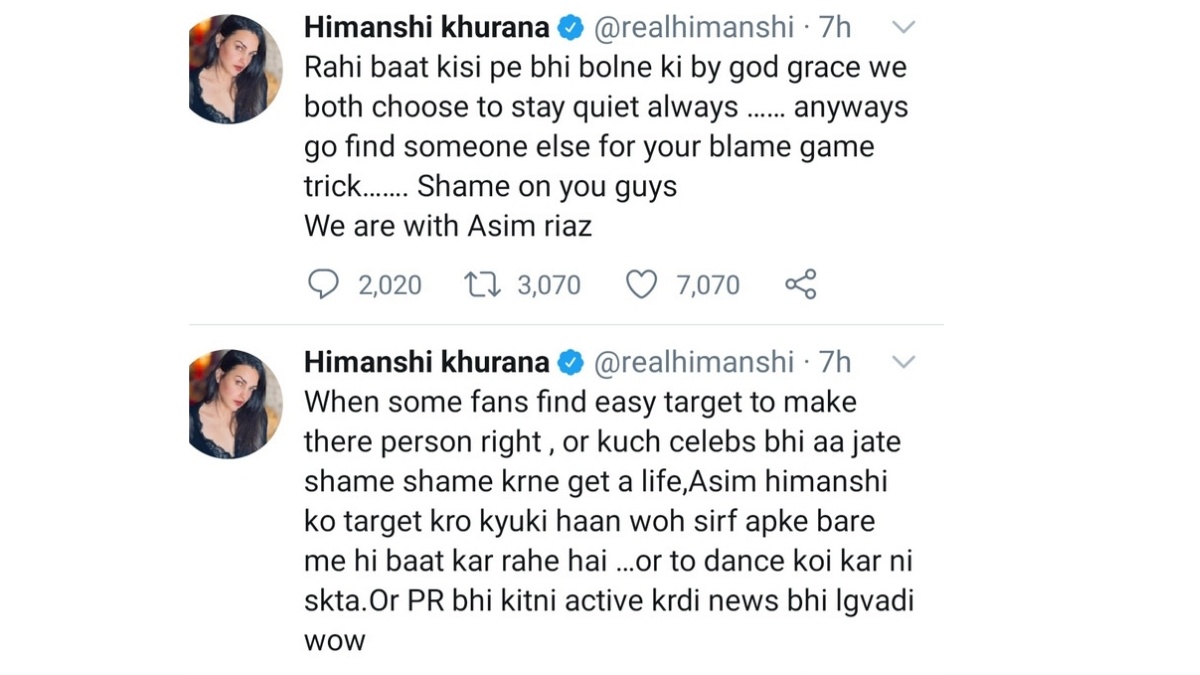 In the very next tweet, she said, "When it comes to speaking to someone, by the grace of God, both of us have always chosen to remain silent. Well now you find someone else for your blame game. Shame on you guys. We all are with Asim Riaz." Shehnaaz's fans did not like the tweet Shehnaaz's fans did not like these tweets of Himanshi. One of his fans laughed and wrote, "Hahaha…the cat has come early in the morning with her cry." On the other hand, while replying to Himanshi's targeting, wrote, "No one targets you, nor does anyone want to do it. You yourself make yourself a target for sympathy, so are you guys."
Asim Riaz clearing the matter: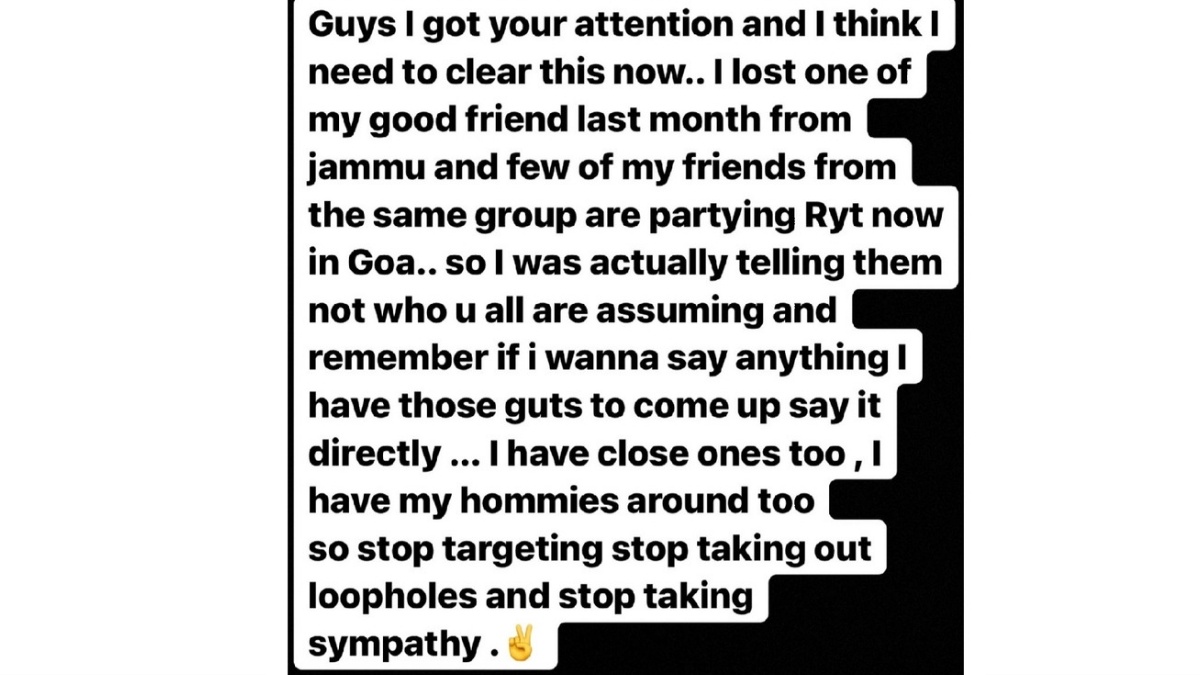 On Tuesday Asim Riaz tweeted a post on Twitter saying that the people are assuming wrong. He was not targeting Shehnaaz Gill but he was talking about some of his male friends who were dancing in Goa after a few days of the death of one of the close friends.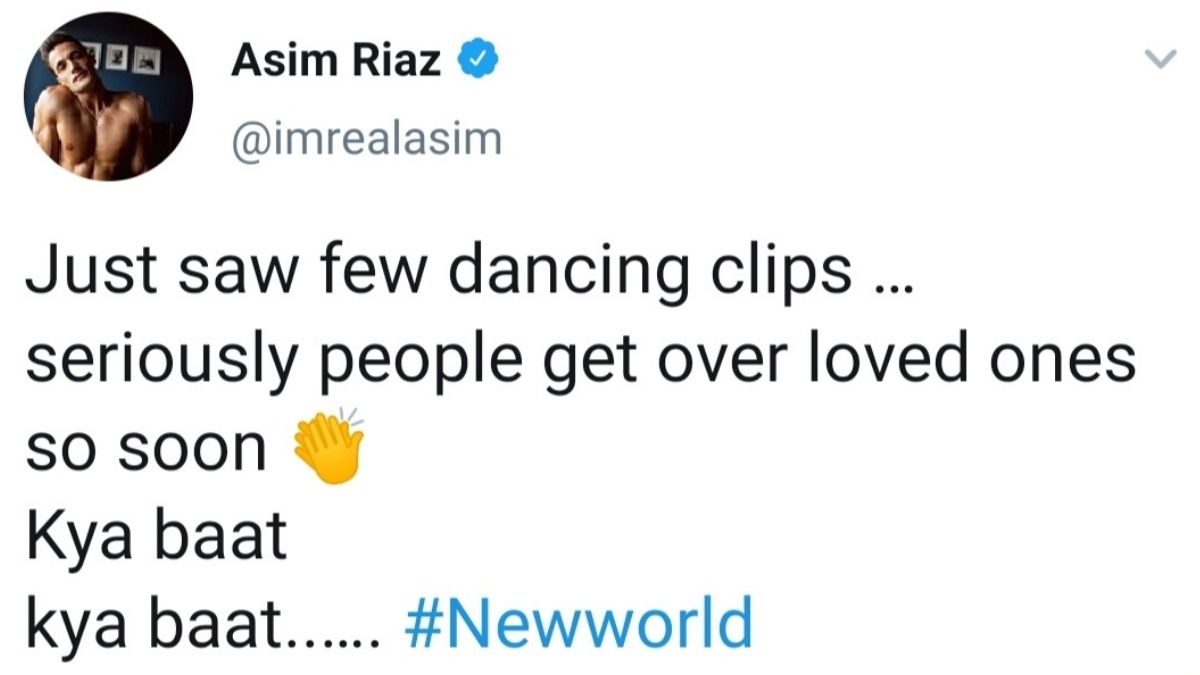 For information, let us tell you that Asim Riaz had indirectly targeted Shahnaz Gill for partying with friends on Monday. Targeting Shehnaaz, he wrote, "Just saw some dance videos.. Seriously, people can get over the pain of losing their loved ones so quickly. Wow, what an amazing thing." This tweet of Asim came immediately after the video of Shehnaaz appeared on Instagram. In the video, Shahnaz is seen dancing in the engagement of one of her friends. As soon as this tweet of Asim came, the fans of Sidnaaz started trolling him. He called Asim very bad for being so insensitive.