Arjun Kapoor Is Cheating On Malaika? Varun Revealed Big Thing About Arjun Kapoor!!
Karan Johar's show 'Koffee with Karan' is in a lot of discussions these days. All the stars who appear in this show have some secret about them. This time Anil Kapoor and Varun Dhawan are sitting on the couch of Koffee With Karan. During this, Varun Dhawan trolled his special friend Arjun Kapoor jokingly. In the rapid fire round, Varun left no stone unturned to target Arjun. In the talks, Varun Dhawan said such a thing about Arjun Kapoor, which may also shock Malaika Arora.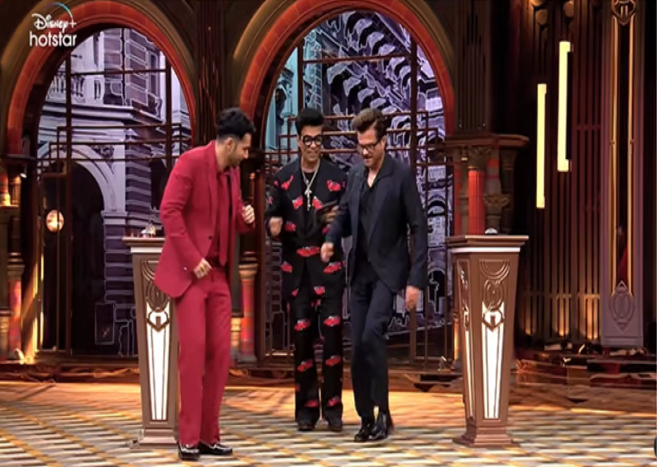 Koffee with Karan
When the star cast of the film "Jug Jug Jio", Varun Dhawan and Anil Kapoor arrived as guests at Karan Johar's show, there were many funny and shocking revelations. In the rapid fire round, Varun was asked which Bollywood celebrity boasts the most. In response, Varun took the name of Arjun Kapoor. Then Anil Kapoor said, "Do not say such things about my nephew."
Koffee with Karan
After this, Karan asked him who does the most gossip. On this the actor had said Arjun and when Karan asked who flirts with unknown people, Varun took Arjun's name on this too. After which Anil interrupted and said, 'Yaar bhatija hai mera'. Varun also told that Arjun flirts sometimes. Karan Johar and Anil Kapoor were also surprised to hear this. Then Varun said that sometimes its okay. Then Karan Johar said that he also heard that Arjun does this.
After listening to Karan and Varun, Anil Kapoor also started saying, 'Dude she will breakup'. Then Varun said, 'No-no that will not happen'. Let us tell you that Malaika Arora and Arjun Kapoor are in a relationship after getting divorced from husband Arbaaz Khan. In the year 2019, both of them had officially announced their relationship.