Checkout The Divas Who Proved That Sleek Buns Look Amazing With Gajras; Take A Look!!!
Another day in the lives of a pandemic-stricken planet makes us want to look at the brighter side of the cosmos, and the virtual wedding invitation you just received from your cousin, friend, or anybody else you consider close could be the ticket. Since it's time to dress up, we're guessing your mind has been conditioned to seek out stunning ethnic clothes. However, the suggestion we have for you today will make you believe that accessories are just as important as your clothes.
Turn back to the old way of doing things. Despite being old, it is in high demand at most weddings. Have you ever witnessed a wedding without a single flower insight? We wonder if anything could ever match its beauty and grace. We're talking about mogra, which is both compulsively cute and completely refreshing. It's that gorgeous white flower in your yard that's also always ready to complete your style. If you, like Bollywood divas, want to spice up your wedding guest look, follow this article to learn how to recreate a compliment-inducing sleek bun studded with Gajras.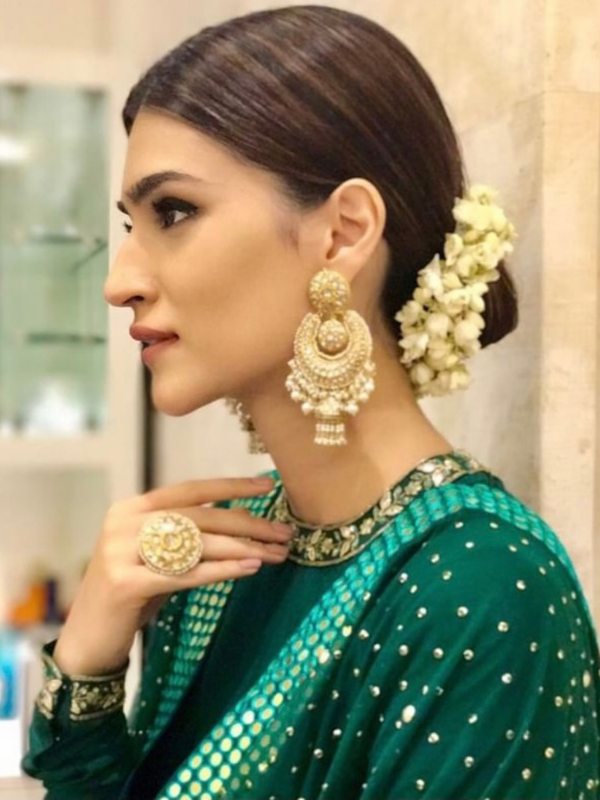 Are you all dressed up in your stunning green velvet lehenga set? Kriti Sanon wore a small gajra around her sleek bun, which went perfectly with her chandbali gold earrings, ring, and Sukriti and Aakriti ensemble.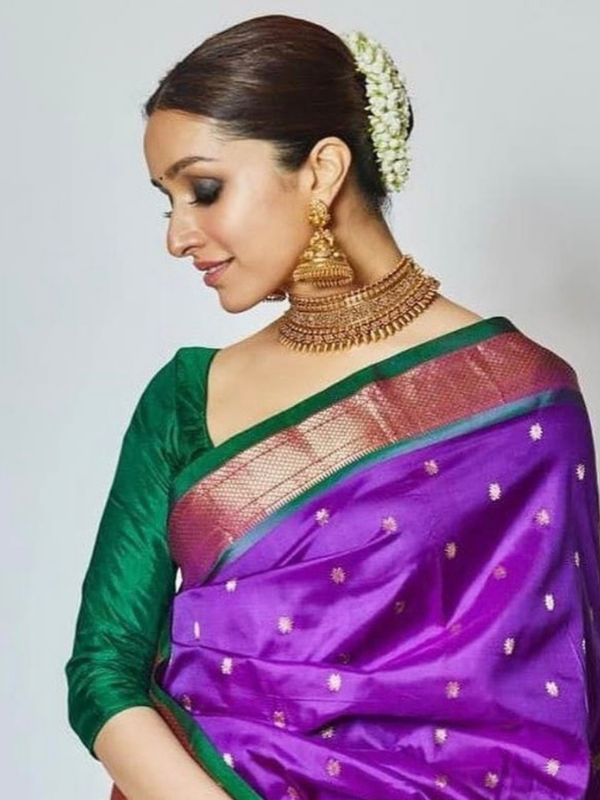 It takes two to tango, as the saying goes, and we believe this holds true for a silk saree and an accessory that can make a statement when worn together. Shraddha Kapoor accessorised her Paithani purple saree with choker necklaces, jhumkas, and a sleek bun styled with mogras.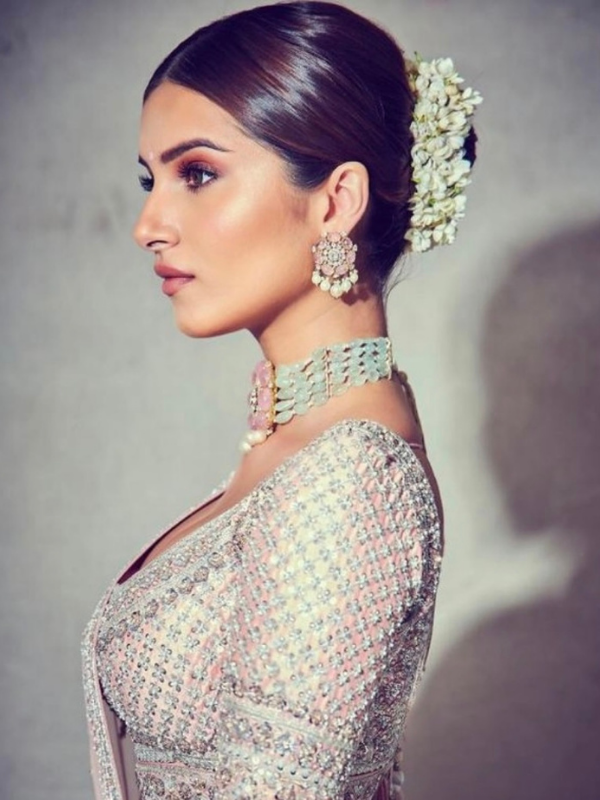 Have you had your fill of lehengas? However, our hearts tell us that these should not be worn without mogras. No doubt, Anita Dongre's Nadia lehenga exuded class and elegance, but tell us the flowers on Tara Sutaria's sleek hairdo aren't just as lovely? Her emerald green and pink quartz choker and earrings are really stunning.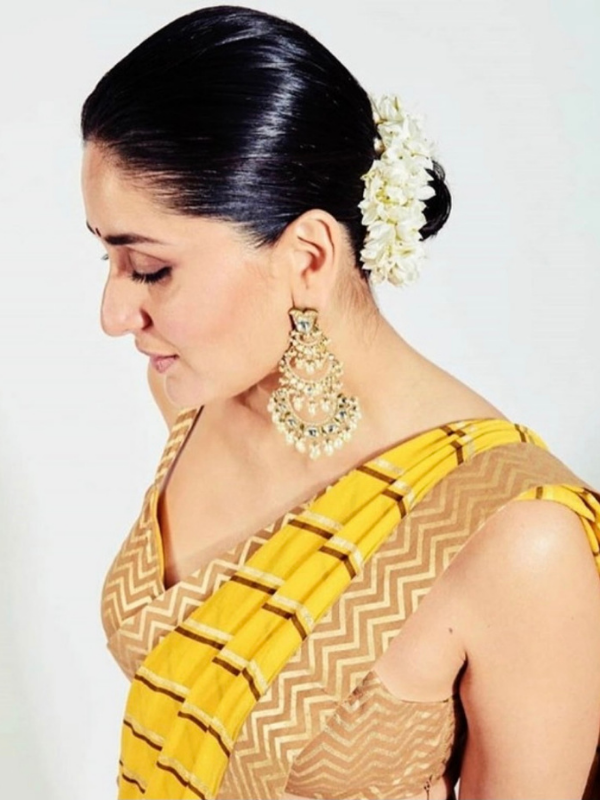 Kareena Kapoor Khan is always on the cutting edge of fashion. Nikasha's yellow saree with stripes, polka dots, and zig-zag designs wasn't the only thing that was lovely here, whether it was old or new. See how those beauties are stealing the show on her sleek bun?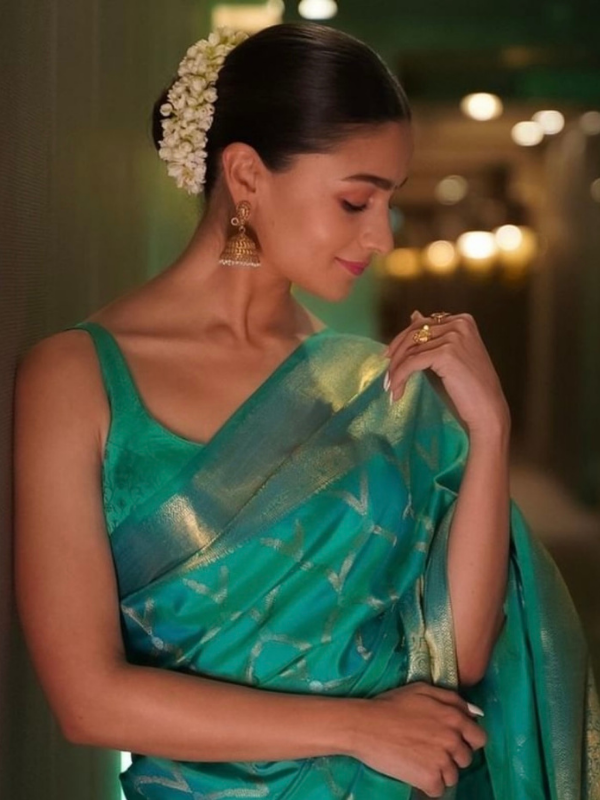 Kanjeevaram silk sarees are a tried-and-true option for any wedding, but mogras have a lot to brag about when it comes to the opulence that comes with ease. Alia Bhatt's Madhurya Creations green saree was simply magnificent, with gold jhumkas and a haircut that added to the liveliness of making this a great appearance.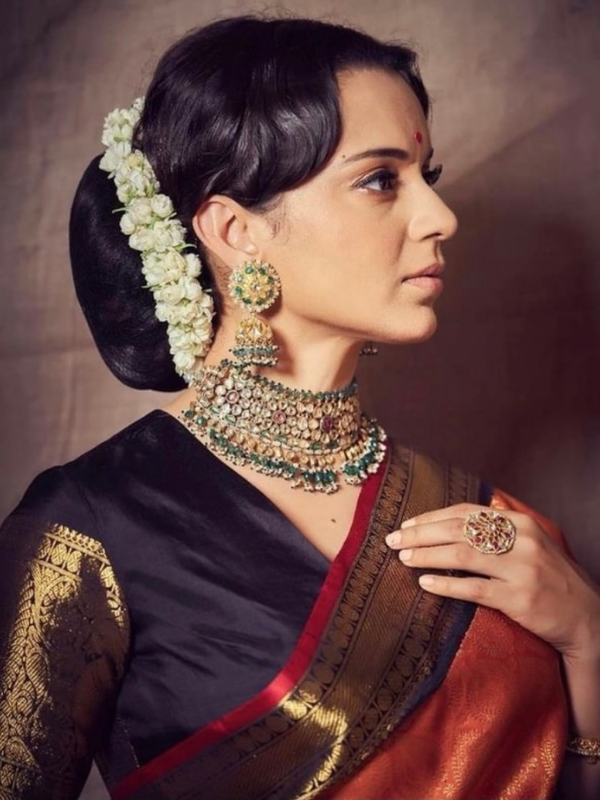 When life hands you silk sarees, make them scream of a seductive mood with something like mogra; its scent will leave an impression. Who better to show us how to pull off a desi look than Thalavii, Kangana Ranaut?