Dharmendra Used To Pay Lightman For Making Mistakes On The Sets Of 'Sholay': Deets Inside!!!
Veteran actor Dharmendra and actress Hema Malini are a perfect couple in Bollywood, but it has not been easy for them to take their love story to marriage. The biggest problem in the marriage of both was Dharmendra being already married. Dharmendra and Hema Malini's love story was interesting and controversial as well. Hema and Dharmendra worked together in many films but their love story started on the sets of the film Sholay. Their is a very famous anecdote of Hema Malini and actor Dharmendra's love story from the sets of the film Sholay.
Sholay movie is one of the hit movies of Hindi cinema. Even today people remember the dialogues of Gabbar and Veeru. Anyone who has seen the film Sholay will know that in this film Jaya Bhaduri was casted opposite Amitabh Bachchan, who is Jaya Bachchan today. Moreover, Hema Malini had played the role of Basanti opposite Veeru i.e. Dharmendra. Very few people would know that Dharmendra first wanted to play the role of Thakur in this film, but when he came to know about the role of Veeru and Basanti, he agreed to play the role of Veeru. The love of Dream Girl i.e. Hema Malini and actor Dharmendra blossomed on the set of this film.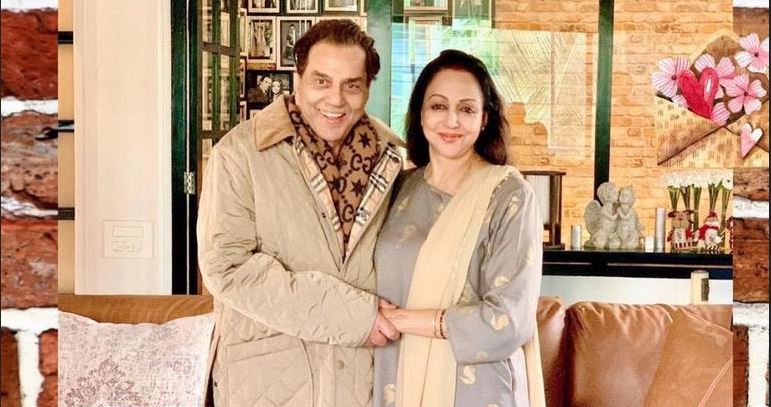 Their is an interesting anecdote related to the sets of Sholay film that Dharmendra used to pay the lineman to make mistakes during the shooting of the film – so that the scene had to be retaken again.
The reason for this was that Dharmendra got a chance to spend little more time with Hema Malini. The film Sholay was released in the year 1975. Even after so many years have passed, the popularity of this film has not diminished. The audience still love to watch this film. In Sholay, all the characters from Gabbar to Basanti, Veeru, Jai and Thakur are memorable.