Dr Sunita Dube Drew The World wide Concern On Gender Equality, And Need For A Safer World For Women & Girl Children At 10th Edition Of Medscapeindia National Awards & 13th "Save the Girl Child Program"
10th Edition of MedscapeIndia National Awards & 13th Save the Girl Child Program held on 10th October 2021 virtually, saw the presence of luminaries from across the globe who shared their opinions on saving the girl child, Women Empowerment, gender equality and having an equal ratio of both men and women in the society.
MedscapeIndia Aryan Medical & Educational Trust  has come a long way relentlessly working on the save the girl  child campaign, women health and women empowerment initiatives for last 18 years initiated by renowned Radiologist and Philanthropist and a visionary Dr. Sunita Dube. On the occasion Dr. Dube shared the 10 point program agenda for the upliftment of poor and underprivileged girl children. She also shared her dream to come up with the Statue of Immunity Research Centre.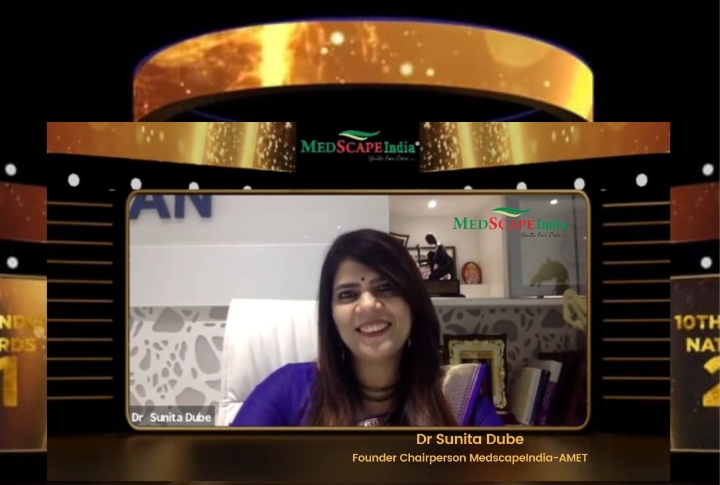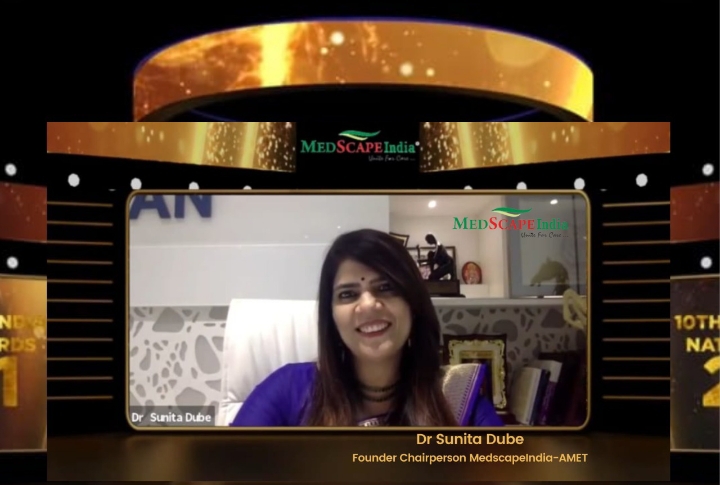 Addressing the occasion Dr Sunita Dube said, "I think setting up a role model in every field is important which can inspire women. Infact I come from a village background and was the first doctor in the school which my grandfather started. Today, more than 200 girls from that school are getting  educated and  some of them have teaching, become engineers, joined army and have become IAS officers. Today, I feel it's yet another opportunity to set another model for the future by taking the pledge to save the girl child from womb to tomb, that will empower a girl child more. I request more people to join this mission, starting from this platform today."
Save the Girl Child Campaign is in its 13th year which was launched in 2008 by renowned Radiologist, Philanthropist, and social worker Dr. Sunita Dube Founder Chairman MedscapeIndia AMET. This year the campaign has been recreated to "Save the Girl Child from Womb to Tomb" ( बेटी बचाओ गर्भ से धरा तक), which signifies the circle of a women's life from the point of her birth till the time she reaches the final stage of her life.
The 10th MedscapeIndia National awards and 13th Save the girl child virtual edition Inaugural session was graced by eminent Dignitaries from the government of India to include the chief guest of the evening the Governor of Maharashtra Shri Bhagat Singh Koshiyari, Maharashtra Health Minister Shri Rajesh Tope, Smt. Shri Harsh Vardhan, Former Executive Chairman WHO, Former Union Health Minister, Raghunath Anant Mashelkar former Director-General of CSIR. The program was indeed enlightened with the auspicious presence of the spiritual leader's Guru Sri Sri Ravi Shankar and Guru Swami Chidanand Saraswati.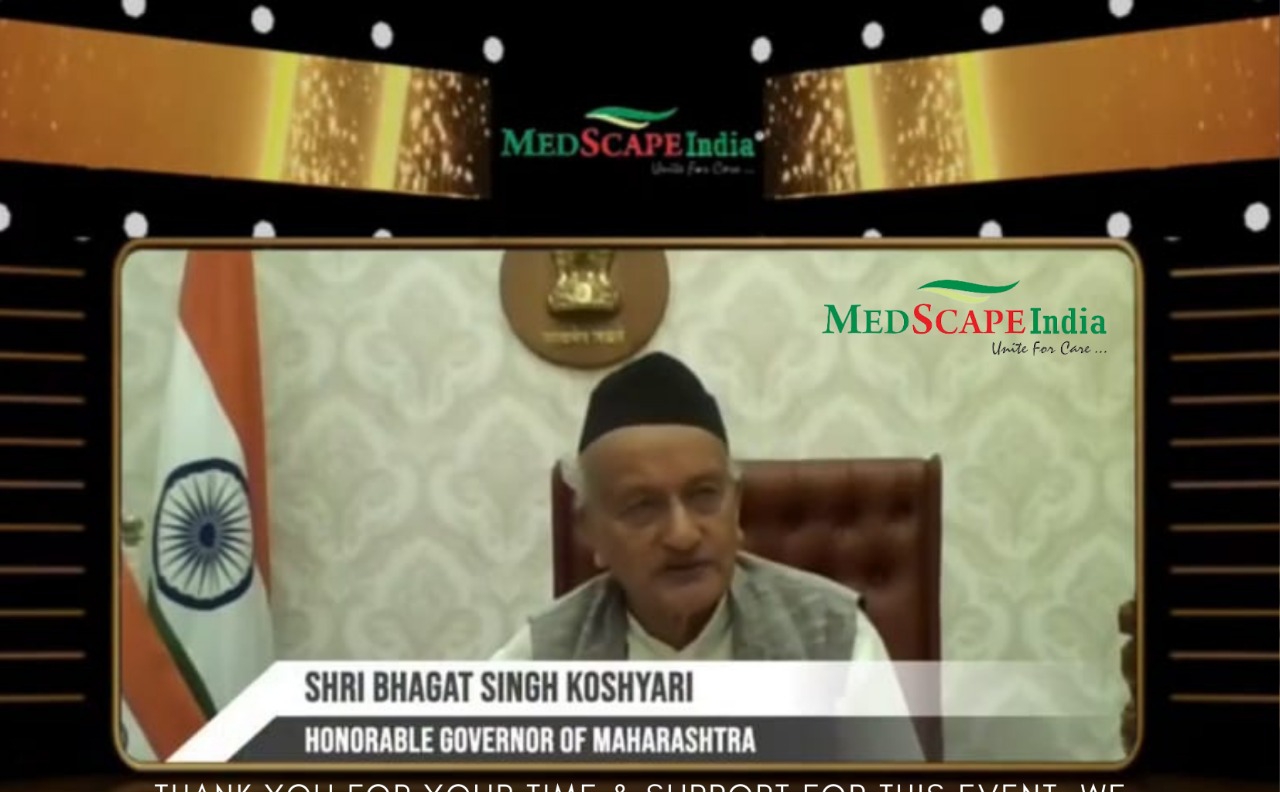 His Excellency Shri Bhagat Singh Koshyari, Governor of Maharashtra addressing the occasion said, "I would like to congratulate MedscapeIndia's initiative to save, nurture and protect the girl child through their initiative 'Save the girl child from womb to tomb'. The best part about this initiative is that India's best doctors are associated with this cause. It is the most responsible job in the world to save both mother and child after the birth. Our Prime Minister Shri Narendra Modi's dream to see every child educated is not far, thanks to MedscapeIndia. We belong to a country where girls are treated like Goddess, Medscape India has all my support."
Shri Rajesh Tope, Hon'ble Minister of Public Health Maharashtra, "A girl child deserves a life where she is treated as equal to a boy. And she should be loved and respected like others. She participates in the development and growth of the nation equally. Besides, she works hard for the betterment of society and country. They have also proven their worth and stand equal to boys in every field. Hence, they deserve to survive as their survival means the existence of the human race."
Raghunath Anant Mashelkar Former Director General CSIR, "I would like to congratulate MedscapeIndia for 'Save the girl child from womb to tomb campaign' and women empowerment initiatives. We need such causes to change the mindset of people and educate them about the importance for gender equality."
Ms. Radhika Nath Mahendra, "Save the girl child from womb to tomb and women empowerment are important issues which needs immediate attention. MedscapeIndia is doing an outstanding job at it. I request everyone to make a change at ground level because no initiative is relevant until people take it seriously."
The program began with an intriguing session on "My Daughter My State" with inputs from  Hon'ble CM of Goa Shri Pramod Sawant, Hon'ble Health Minister of Delhi Shri Satyendar Kumar Jain, Hon'ble Minister of Public Health and Family Welfare of Madhya Pradesh Dr. Prabhuram Choudhary and Honorable CM of Rajasthan Shri Ashok Gehlot. The ministers threw light on their  opinions and contribution on safeguarding women and children in their states, to providing equal work opportunities for women without the gender bias.
Hon'ble Health Minister of Delhi Shri Satyendar Kumar Jain, said, "The Delhi government has taken several steps in this direction, such as the Informal Rewards Scheme, under which the government rewards those who provide information about sex determination and sex-based abortion centers, in which maximum information can be given to prevent female feticide."
The second session on "Save the girl child from  Womb to Tomb" saw participants from all walks of life who shared there views on various issues related to women and girl child security, women rights and provision for equal work opportunity for both  genders without gender bias. Moderated by Richard Rekhy – KPMG Dubai – Board. To session includes Ms. Roya Rahmani – Ambassador of Afghanistan, Dr. Ranjana Kumari – Director, Centre for Social Research, Ms.Mrunalini Deshmukh – Renowned Advocate and Dr. Sunita Dube Radiologist, Founder Chairperson MedscapeIndia – AMET.
Mr. Richard Rekhy KPMG Dubai Board Member session Moderator said, "A Man and a women are the two wheels of nature, and it's important that we balance this chariot."
Ms. Roya Rahmani  – Ambassador of Afghanistan said," When you are looking at the equality on the issue of the girl child at its been across so many different aspects form a legal to traditions to economics to cultural, it touches everything. what is important is that you need to look at the issue from all of the aspects."
This years awards went to Spiritual Guru Shri Shri Ravi Shankar in the category of Excellence in Spiritual Health, Dr. Andy Adam – Excellence in Radiology – Global category, Dr. Jeanne Conry – Excellence in Gynecology – Global category, Dr Kumar M. Dhawale Excellence in Homeopathy, Dr. Vaidya Balendu Prakash for Excellence in  Ayurveda, Mr. Brett Lee for Excellence in Social contribution – Global Category, Dr. Chad P. Gehani – Excellence in Dentistry – Global category, Dr. Amrit Pattojoshi – Excellence in Psychiatry, Mr. Steve Waugh – Excellence in NGO in Health Care – Global category.
Please visit the digital event: