Ekta Kapoor's Black Dresses Are The Subject Of A Fascinating Story: Celebrities Special
Ekta Kapoor, known as the 'TV Queen', is celebrating her 46th birthday today. Actor Jeetendra and Shobha Kapoor's daughter have earned a lot of names from small screen to Bollywood. Ekta is a successful director, scriptwriter, and producer. Ekta is the darling daughter of her mother Shobha Kapoor. Ekta and Shobha Kapoor are also partners of Balaji Telefilms. At the same time, after getting financial help from her father, Ekta started producing TV serials. Ekta started her career at the young age of 19. Today, on the occasion of her birthday, we are going to tell you some special things related to Ekta Kapoor.
Ekta Kapoor
Ekta Kapoor is called the "God Mother" of many artists. Ekta gave break from Vidya Balan to Sushant Singh Rajput. Today, many actors-actresses who have worked in her serials are earning a name in Bollywood. Not only this, Ram Kapoor, one of the most expensive stars of TV, also got real identity by joining Ekta Kapoor's serial.
Ekta handles all the business along with her mother Shobha Kapoor. Ekta has made about 40 TV serials till now. Also, Ekta made her Bollywood debut with the film 'Kyunki Main Jhooth Nahi Bolta'. After this, she herself directed many films. Ekta's good films include 'Shootout at Lokhandwala', 'Love Sex Aur Dhoka', 'Once Upon a Time in Mumbai', 'The Dirty Picture', 'Ragini MMS', 'Shor in the City', 'Kya Kool Hain Hum'. Ekta Kapoor has also made many films with her brother, Tusshar. But more than Tusshar, Ekta has earned a name in Bollywood.
Ekta Kapoor
Ekta Kapoor's show is full of bold scenes but people also like her shows. Through her TV serials, many artists have got recognition from house to house. Ekta was selected as one of the 'Asia's Most Powerful Communicators' in Asia Week Magazine. Ekta Kapoor has been honored with Indian Television Academy Award, Indian Telly Awards, Artist Award, Asian Television Award for her success.
Ekta Kapoor
Ekta Kapoor, who has rocked professional life, is still unmarried. Once while talking about this, Ekta had said that due to the condition of her father, she has not married yet. Otherwise, she wanted to get married at the age of 22 and settle down. Ekta Kapoor had said, 'When I was 17 years old, my father (Actor Jitendra) had said that either get married or work instead of partying, as I want. He told me that he would not give me anything other than pocket money. So I started working in an ad agency to earn money.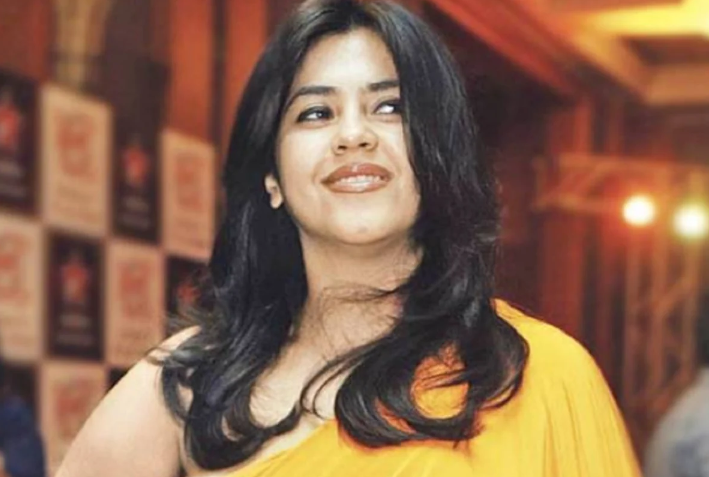 Ekta Kapoor
Ekta Kapoor further says, 'I was feeling better seeing the situation that was there and thought that my life would be fine. I will get married at the age of 22 and enjoy life. But unfortunately or luckily what we think, it never happens. I decided to shoot a pilot for a show called Hum Paanch and sold it to Zee-TV. I was 19 when it went on air. The show became a hit and all my paths changed. Ekta Kapoor became a mother in the year 2019 through surrogacy. Ekta Kapoor named her son Ravi Kapoor after her father.
One more special thing is said about Ekta Kapoor that she believes deeply in Astrology and Numerology. Some astrologer had advised her to wear black clothes since then she is always seen wearing black clothes. Most of the films and serials of Ekta start with the letter 'K' due to astrological suggestions.