Javed Akhtar Gets Trolled For Making A Mistake On The Statue Of Netaji Subhas Chandra Bose: Deets Inside!!
A hologram statue of Netaji Subhas Chandra Bose was unveiled at India Gate by Prime Minister Narendra Modi on Sunday. The statue will be installed near India Gate. This statue is being made by famous sculptor Advaita Gadnayak.
There is a discussion all over the country regarding this. Now lyricist Javed Akhtar has given his opinion on this matter. Javed Akhtar believes that the idea of installing a statue of Netaji is good but the choice of its position is not right. Javed is getting trolled after this tweet.
The idea of Neta ji statue is fine but the choice of the statue is not right all day the the traffic will be moving around it and the Statue will be standing in the pose of a salute It is below his dignity It should be either sitting or raising his fist as if raising a slogan

— Javed Akhtar (@Javedakhtarjadu) January 27, 2022
Javed Akhtar tweeted and wrote, "The idea of Netaji's statue is good but the choice about the statue is not right. The traffic is going to continue around this statue throughout the day and the pose of the statue will be saluting. This is not good for his reputation. It would have been better if he was sitting in this statue or waving his hand in the air as if shouting a slogan."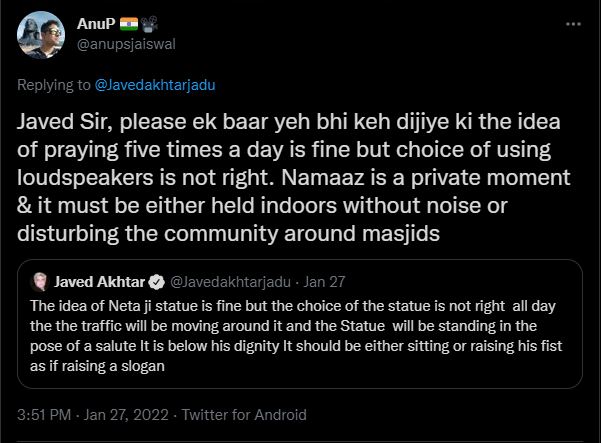 After this tweet of Javed Akhtar, different reactions are coming on social media. One user has written- "You just have to criticize Modi ji… whatever be the reason". One wrote – "Javed Sahab, once you also say that the idea of offering Namaz five times a day is fine, but the idea of reading in a loudspeaker is very bad. Keep your knowledge to yourself".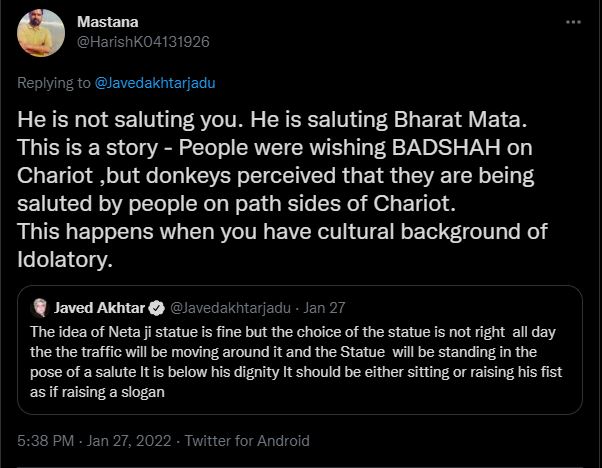 One user wrote– "He is not saluting you. He is saluting Mother India. This is a story- People were wishing BADSHAH on Chariot, but donkeys perceived that they are being saluted by people on path sides of Chariot. This happens when you have cultural background of Idolatory."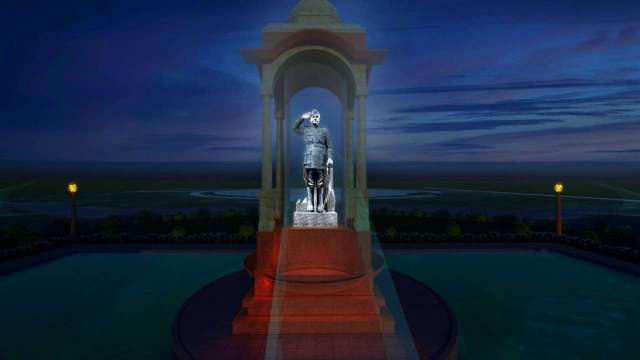 The size of the hologram statue of Netaji is 28 feet high and 6 feet wide. Prime Minister Narendra Modi while unveiling the hologram statue of Netaji Subhas Chandra Bose had told that this statue of Netaji will give a sense of duty to our democratic institution, generations and the coming and present generation will get constant inspiration from it.