Kangana Ranaut Says She's The 'Hottest Target' And Like Don "72 Mulkon Ki Police Mere Peeche Hoti"
From the last few days. Kangana Ranaut has been hitting the headlines and constantly receiving a lot of backlash due to her tweet on an elderly woman at the farmers' protest. The actress had stated that she is the same old lady from the Shaheen Bagh protest and available for Rs 100 for the protest. After receiving a lot of backlash and criticism, the actress deleted the tweet. She even got into a Twitter war with singer Diljit Dosanjh who had slammed the actress for misidentifying an old respected woman. Now, Kangana Ranaut has bashed all in her latest tweet and called herself the 'hottest target in the country'.
Yesterday, Kangana Ranaut took to her Twitter handle and stated that whoever is bashing her, will end up taking a role in the films by 'movie mafia' along with the Filmfare awards. Kangana went on to gave a reference from the film Don by saying how if she was a don, police from 72 countries would have been behind her. This was in response to a fan that supported Kangana by asking why everyone is uniting against her.
She tweeted, "What you saying ! I am the hottest target in the country right now, target me and you will become media's favourite, movie mafia will offer you roles, give you movies, filmfare award, shiv Sena tickets every thing. If I were a don you know 72 mulkon ki police mere peeche hoti."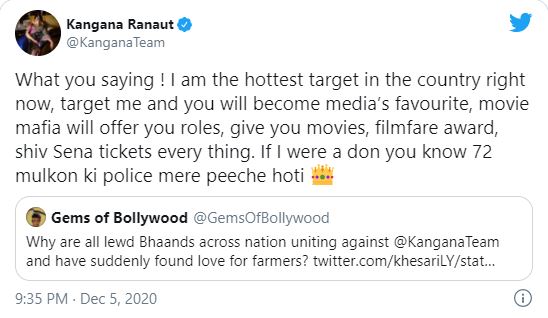 Earlier responding to a legal complaint filed against her, Kangana had tweeted, "Ha ha ha I am continuously taking about Akhand Bharat, inevitably fighting tukde gang everyday and I am accused of dividing the nation. Wah!!! Kya baat hai, anyway twitter is not the only platform for me in one chutki thousands camera will appear for my single statement. So tukde gang remember you will have to kill me to suppress my voice, and then I will speak through every Indian and that's precisely my dream, whatever you do inevitably you will make me realise my dream and purpose and that's why I respect my villains."