Neha Kakkar Announces Pregnancy After 2 Months Of Marriage With Rohanpreet Singh, Flaunts Her Baby Bump
Here's another good news for all the Neha Kakkar fans. The Singer has announced her pregnancy with singer Rohanpreet Singh within two months of her marriage. She married the Mujhse Shaadi Karoge contestant Rohanpreet Singh in October this year and has surprised all her fans by showing off and cradling a baby bump in her latest pic with hubby.
The two met in August this year and had a grand wedding during the pandemic. The song Nehu Da Vyah went viral and everyone was gazing at their wedding pics that oozed love. She shared a very adorable picture with her husband with the hashtag #KhyaalRakhyaKar. She looked glorious and extremely happy as she cradled her baby bump wearing a cute dungaree. Even her hubby commented on the pic saying, "Ab Toh Kuch Zyada Hi Khyaal Rakhna Parhega Nehuuuu."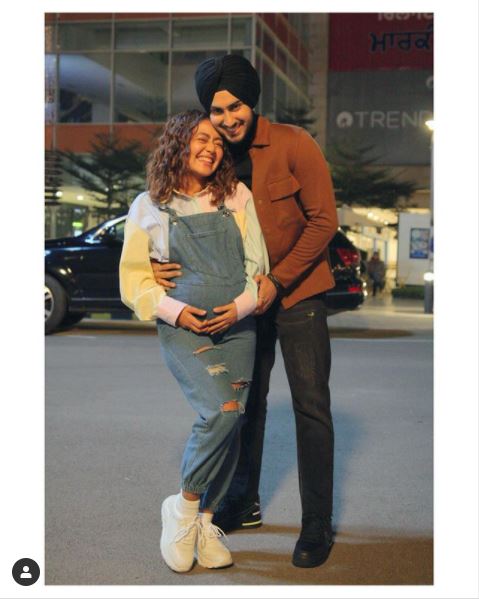 The two had a love marriage and it was quite hasty considering the two had only known each other for two months. However, now it seems it's all worth it as our beloved singer and Indian Idol judge is starting her very own family.
Neha Kakkar also made an appearance on Bigg Boss 14 a few days back and told about her marriage with Rohanpreet and the idea behind her wedding song that made everyone even more excited. Talking to Salman Khan, she said, "I wrote the lyrics of the song with a lot of heart but never thought that will play such an important role in my life. I actually met him after signing him for the song. Rohanpreet is also a very good singer."
Talking further about her beloved husband, Neha Kakkar told the host, "Rohanpreet is such a good human being that after meeting him I was like I have to marry him. Anybody will be his deewani after meeting him and main unki deewani ho gayi."
Click Here To Get Your Woman's Era Magazine Susbcription