On The Separation Of Dhanush And Aishwarya, Ram Gopal Varma Said- "Smart People Love And Stupid Marry": Deets Inside!!!
South cinema's famous actor Dhanush has separated from his wife Aishwarya Rajinikanth. On Monday, Dhanush and Aishwarya together announced their separation by releasing a statement on social media. Since then, many film stars and their fans are quite surprised. On the other hand, famous producer-director Ram Gopal Varma has given his reaction after the announcement of the separation of Dhanush and Aishwarya Rajinikanth.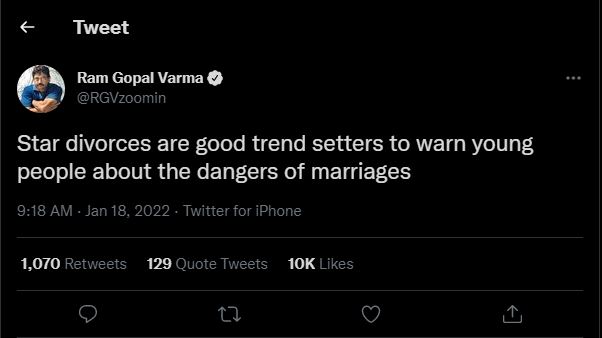 Without naming anyone, he tweeted on social media regarding marriage and divorce. In his tweets, Ram Gopal Varma described the marriage as bad. Also he told that smart people love and fools marry. Ram Gopal Varma wrote in his first tweet, " 'Star Divorces' is a good trendsetter to warn the youth about the dangers of marriage".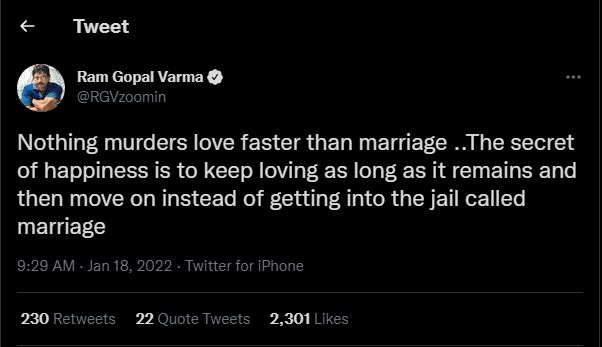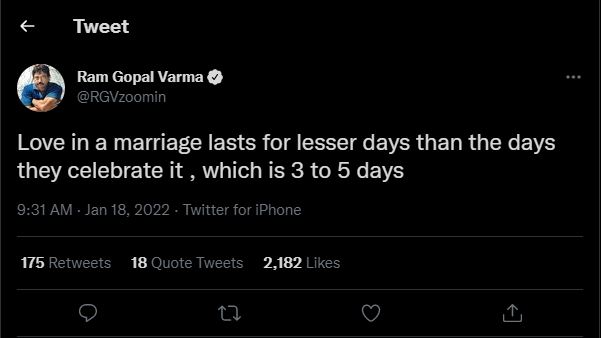 In his second tweet, Ram Gopal Varma wrote, "There is no killing of love faster than marriage. The secret of happiness is to keep loving till it is and then move on instead of going to jail called marriage." Ram Gopal Varma further wrote, "Love in a marriage is short lived, the day they celebrate it, which is 3 to 5 days". Ram Gopal Varma believes that smart people love and fools marry.
Marriage is the most evil custom thrust upon society by our nasty ancestors in promulgating a continuous cycle of unhappiness and sadness

— Ram Gopal Varma (@RGVzoomin) January 18, 2022
In his last tweet, the producer-director wrote, "Marriage is the worst custom imposed on the society by our evil ancestors to perpetuate the cycle of misery and pain." Several social media users are giving their reactions to the tweets.
https://twitter.com/dhanushkraja/status/1483128992312225792
Regarding his separation from Aishwarya, Dhanush wrote on his social media handle, "We were together for 18 years, in which we lived together as friends, parents, couples and each other's companions. In this journey, we understood each other while moving forward and saw a lot. Today our paths are parting. Me and Aishwarya as a couple are now separating and trying to understand things better separately. Please respect our decision and give us privacy".