Panipat Jail Library Celebrates Its First Anniversary
By Pavani Chandhok
Kashish is a regular visitor to the library. He is in jail and the library that he visits is in jail. Welcome to the Tinka Tinka Jail Library which was established on 8th Feb, 2021. Kashish is one of the 5 inmates who were trained as radio jockeys by Dr. Vartika Nanda, Founder of Tinka Tinka Foundation.
The conception of Jail library in the jails of Haryana  was brought into the premises of District Jail, Panipat for the very first time on this day in 2021.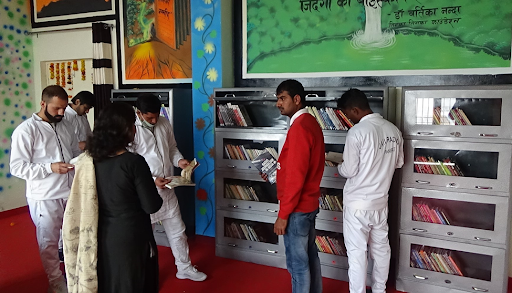 Putting books behind the bars
Libraries provide  educational, recreational, and community resource reading materials ​to the inmates. Dr. Vartika Nanda , Founder, Tinka Tinka Foundation started a grassroot campaign to build a sustainable library for incarcerated people in the jails while awaiting trial or serving their entire sentence with an aim to help them  to  ease off the stress caused by imprisonment. 
Dr. Nanda once said, "Lack of activity drives the inmates to aggression and results in irritable behaviour. Activities such as reading ensures they are engaged and also helps them to distract from their present situation. Moreover, information gained from books will offer them unique perspectives, which can help them improve their life. Reading books is also vital to their mental wellbeing."
Changes in one year
Inmates who were students prior to their brush with the law, seem inclined to read books for competitive examinations, while the elderly prisoners are understandably drawn to spiritual titles and myths including the Ramayana, Mahabharata, etc.
Enrichment of the mind appears to have ushered in peace at the Panipat Jail, where incidence of clashes among inmates has witnessed a sharp slide after a library was unveiled last year in the jail premises. Tinka Tinka foundation  decided to open a library in the premises as part of the measures to reform the inmates along with Tinka jail radio. 
One of the inmates said, "The library in this jail is the best program initiated. We look forward to getting good books to read and spend our time."
Reaction of Administrators and Jail Staff
According to Shri Mohammad Akil, IPS,  Director General of Prisons, Haryana " Prison libraries can play a major role in the reformation and rehabilitation process of inmates. Reading is very therapeutic and eases the mind when stressing over being away from home."
Shri Devi Dayal, Superintendent, Panipat jail adds, "The response from inmates has been overwhelmingly positive, with many of them spending hours together, immersed in the wondrous world of books. Now inmates are engaged and peaceful."
About the Founder
Dr. Vartika Nanda is a prison reformer and media educator. She has initiated a movement on prison reforms in India under the banner, Tinka Tinka. President of India, Shri Pranab Mukherjee, conferred the Stree Shakti Puraskar on her in 2014. Her work on prisons was taken cognizance by the Supreme Court of India in 2018. Her name has also been included in the Limca Book of Records twice for her unique work on prison reforms. Her recent research on the "Study of the condition of women inmates and their children in Indian Prisons and their communication needs with special reference to Uttar Pradesh" has been evaluated as 'outstanding' by ICSSR. Currently, she heads the Department of Journalism, Lady Shri Ram College, Delhi University.
#vartikananda #vartikanandaprisonreformer #tinkatinka #tinkamodelofprisonreforms #prisonreforms #jail #tinkajaillibrary #jailatm #panipatjaillibrary #haryanajail #prison