PM Modi's Note For Her Mother, Heeraben, The Inspiration Of His Life
"Mother" is not just any other word in the dictionary. It encompasses a whole range of emotions – love, patience, trust, and a lot more. Across the world, irrespective of country or region, children have a special affection for their mothers. A mother not only gives birth to her children but also shapes their minds, personalities, and self-confidence.
Today, I feel extremely happy and fortunate to share that my mother, Smt. Heeraba Modi, is entering her hundredth year. This is going to be her birth centennial year. My nephew shared a few videos of my mother from Gandhinagar. A few youngsters from the society had come home; my father's photograph was kept on a chair; there was a kirtan, and Mother was immersed in singing bhajans while playing the manjeera.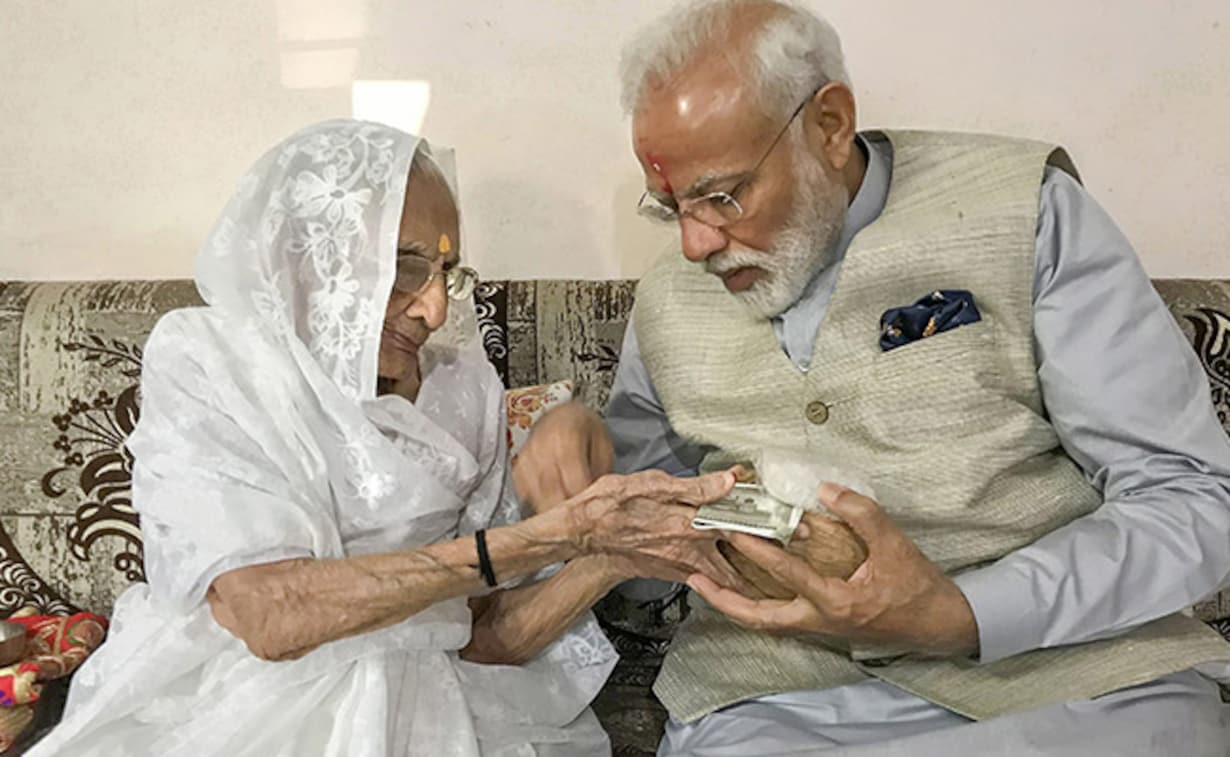 Earlier, there was no custom of celebrating birthdays in our family. However, children from the younger generations planted 100 trees to remember my father on his birthday. I'm surrounded by old memories as I sit here in Delhi right now. My mother is simple and down-to-earth. Just like all mothers. As I write about my mother, I am sure that many of you will relate to my description of her. While reading, you may even see your own mother's image. Her affection fills a child with human values and empathy.
My mother was born in Visnagar in Mehsana in Gujarat, which is quite close to my hometown, Vadnagar. She did not get her own mother's affection. At a tender age, she lost my grandmother to the Spanish flu pandemic. She does not even remember my grandmother's face or the comfort of her lap. She spent her entire childhood without her mother. She could not even go to school and learn to read and write. Her childhood was one of poverty and deprivation.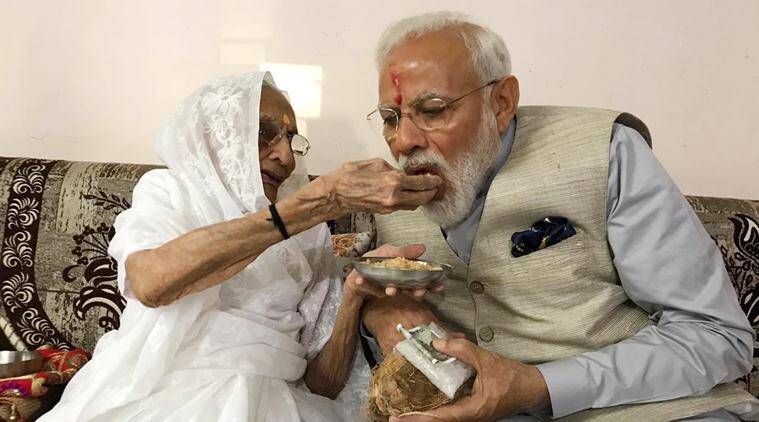 My mother's childhood was extremely difficult. Perhaps this is what the Almighty had destined for her. My mother also believes that this was God's will. In her childhood, she used to take care of the entire family and manage all the chores. After marriage, she picked up all these responsibilities. We live in a small house. My father made a machaan from bamboo sticks and wooden planks to make it easier for my mother to cook food. The mother used to climb on the machaan to cook, and the entire family would sit on it and eat together.
My father used to leave for work at four in the morning like clockwork. The sound of his footsteps would alert the neighbors to Damodar Kaka's departure for work at 4 AM. I used to really enjoy swimming in the local pond. So, I used to take all the dirty clothes from home and wash them at the pond. My mother used to wash utensils at a few houses to help meet the household expenses. She would also take out time to spin the charkha to supplement our meager income.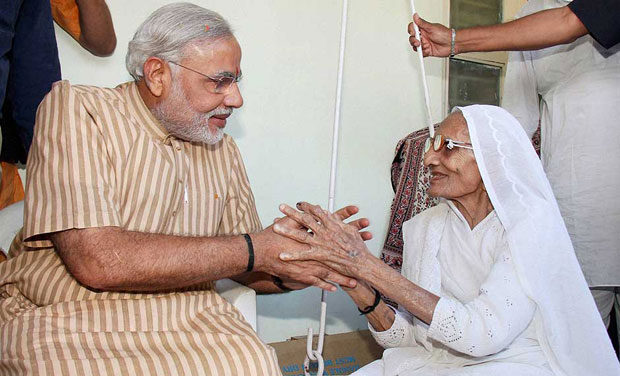 In the rain, our roof would leak and the house would flood. The mother would place buckets and utensils below the leaks to collect the rainwater. Even in this adverse situation, Mom would be a symbol of resilience. The mother loved to decorate the house and would spend a lot of time cleaning and making it look lovely. She would spread cow dung across the floor. Cow dung cakes emit a lot of smoke when burnt. My mother would prepare meals for us in our home without windows.
She would not tolerate even a speck of dust on the bed. A slight crease meant that the bed sheet would be dusted and laid again. Even today, at this age, a mother expects that there should not be a single crease on her bed. Whenever I go to Gandhinagar to visit her, she always offers me sweets made with her own hands. And just like a young child's doting mother, she takes out a napkin and wipes my face.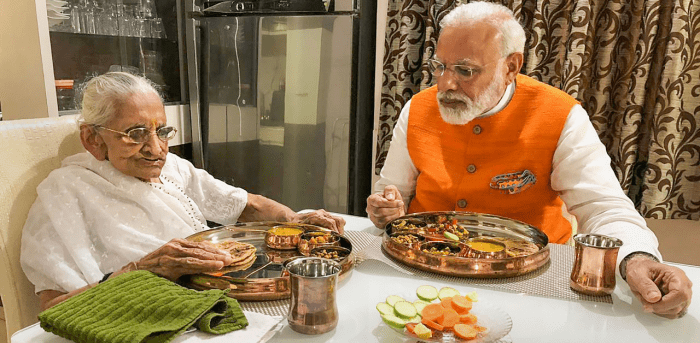 Once I finish eating. She always has a napkin or small towel tucked into her saree. I can fill many reams of paper by recalling anecdotes about my mother's focus on cleanliness. She had another quality—a deep respect for those involved in cleaning and sanitation. I remember whenever someone came to clean the drain, my mother wouldn't let them go without giving them tea. I always remember her special affection for other living beings. Every summer, she would put out water vessels for the birds. She ensured that stray dogs around our house never went hungry. My mother would make delicious ghee from the cream.
Our house may have been small, but she was extremely generous-hearted. A close friend of my father's used to stay in a nearby village. My father brought his friend's son, Abbas, to our home after his untimely death. He stayed with us and completed his studies. Abbas's mother was as affectionate and caring towards Abbas as she did for all of us siblings.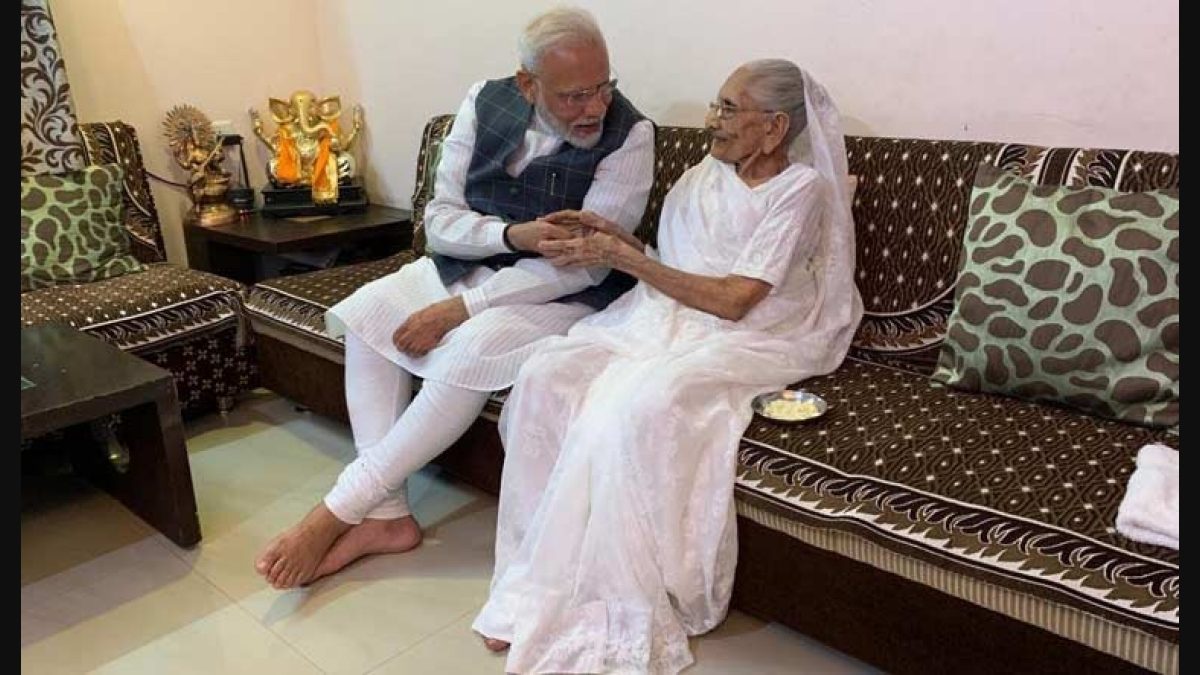 Every year on Eid, she used to prepare her husband's favourite dishes. At festivals, it was commonplace for neighbourhood kids to come to our house and enjoy her special preparations. Whenever a sadhu visited our neighbourhood, she would invite them to our humble home for a meal.  When I first took my oath as Gujarat's Chief Minister in 2001, the oath-taking ceremony, held two decades ago, was the last public event that my mother attended with me.
I remember another incident. When I became the Chief Minister of Gujarat, I wanted to publicly honour all my teachers. I thought that my mother had been my biggest teacher in life, and I should also honour her. Even our scriptures mention that there is no bigger guru than one's mother—'Nasti matr samo guruh'. I requested that Mom attend the event, but she declined. She said, "See, I am an ordinary person. I may have given birth to you, but you have been taught and brought up by the Almighty. "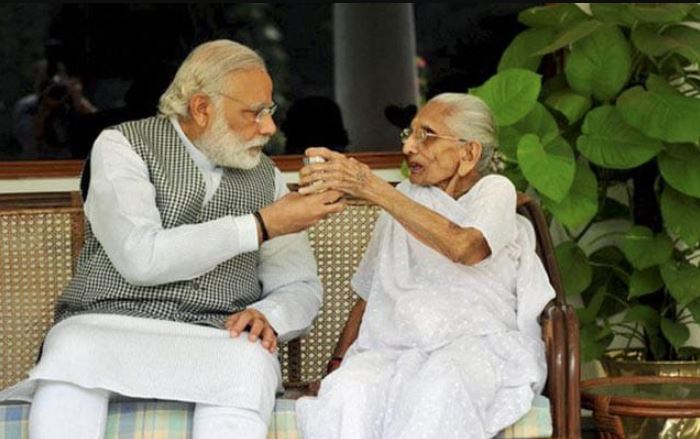 From the time elections began, she has voted in every election, from panchayat to Parliament. Earlier, my mother would strictly follow the Chaturmas rituals. She also knows my own personal habits during Navratri. I have never seen her wear any gold ornaments, and she has no interest either. Like earlier, she continues to lead an extremely simple lifestyle in her small room.
Recently, I asked her how long she watches TV every day. She replied that most people on TV are busy fighting with each other, and she only watches those who calmly read out the news and explain everything. In 2017, after campaigning in Kashi for the Uttar Pradesh assembly elections, I went to Ahmedabad. I carried some prasad for her. When I met her, she immediately asked me if I had paid obeisance to Kashi Vishwanath Mahadev. She still uses her full name—Kashi Vishwanath Mahadev.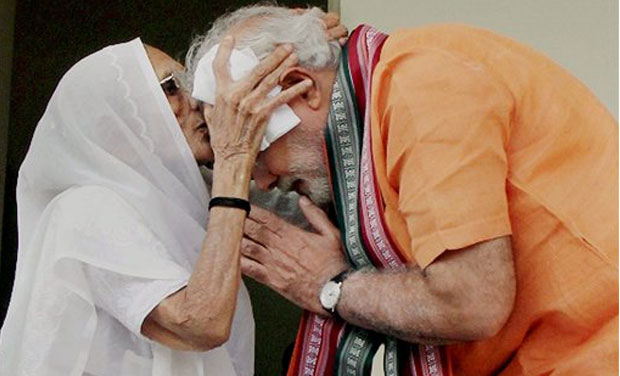 In winter, I would sleep in the open and bathe with cold water from an earthen pot. My mother knew that I was testing myself and did not object to anything. She would just say, "It's alright, do as you please." She could sense that I was going in a different direction.  Once, a Mahatma came to the Giri Mahadev temple close to our home. I started serving him with great devotion. Around that time, Mom was extremely excited about her sister's upcoming wedding, especially as it was an opportunity to visit her brother's home.
However, while the entire family was busy preparing for the wedding, I went and told her that I did not wish to go. She asked me for a reason, and I explained my service to the Mahatma. Naturally, she was disappointed that I was not going to attend her sister's wedding, but she respected my decision. She said, "It's alright, do as you wish."
She cooked food and snacks that would last a few days for me before leaving so that I wouldn't go hungry. When I decided to leave home, my mother already sensed my decision even before I told her. I would often tell my parents that I wanted to go out and understand the world. I would tell them about Swami Vivekananda and mention that I wished to visit the Ramakrishna Mission Mutt. Finally, I revealed my desire to leave home and asked for their blessings. My father was extremely disheartened, and in irritation, he told me, "As you wish." I told them that I would not leave home without their blessings. However, Mother understood my desires, and blessed me, "Do as your mind says."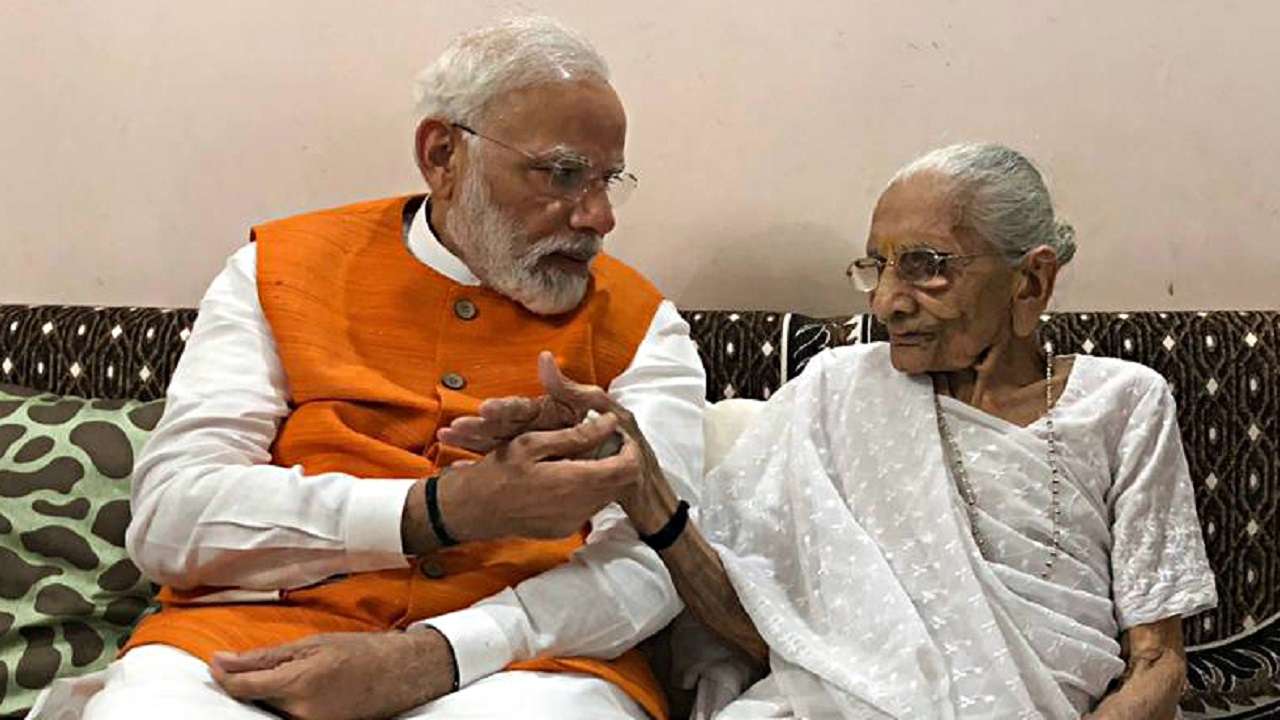 When I left home, by then, even my father had come to terms with my decision and had given me his blessings. Before leaving, Mother fed me curd and jaggery for an auspicious new beginning. She knew that my life would become extremely different henceforth. Once I left home, her blessings were the only constant that remained with me irrespective of where I was and how I was. My mother always speaks with me in Gujarati. I remember when it was decided that I would be the Chief Minister of Gujarat, I was not present in the state. As soon as I landed there, I went straight to meet my mother. She was extremely ecstatic and inquired if I was going to again stay with her. But she knew my answer.
She told me, "I don't understand your work in the government, but I just want you to never take a bribe." After moving to Delhi, my meetings with her are even fewer than before. Sometimes when I visit Gandhinagar, I call on her for a short while. I don't get to see her as often as I used to earlier. However, I have never felt any discontent from others over my absence. Her love and affection remain the same; her blessings remain the same. My mother often asks me, "Are you happy in Delhi? Do you like it? "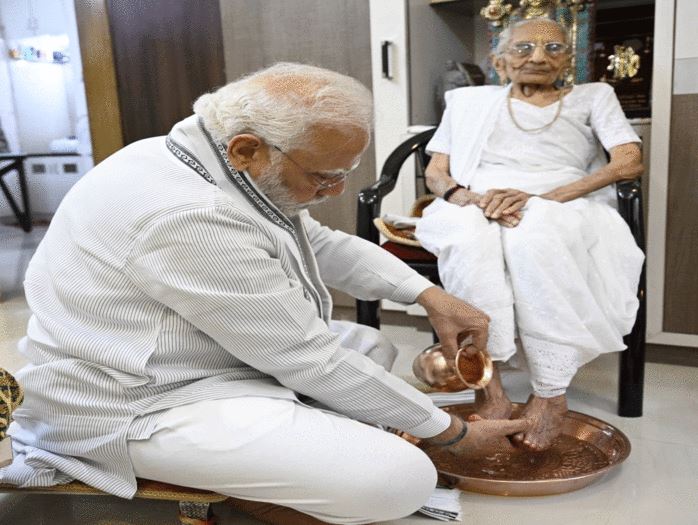 She keeps assuring me that I should not worry about her and lose focus on the larger responsibilities. Whenever I speak to her on the phone, she says, "Never do anything wrong or anything bad with anyone and keep working for the poor." If I look back at my parents' lives, their honesty and self-respect have been their biggest qualities. Despite struggling with poverty and its accompanying challenges, my parents never left the path of honesty or compromised their self-respect.
Today, whenever I meet my mother, she always tells me, "I don't want to be served by anyone, I want to go with all my limbs working." In my mother's life story, I see the penance, sacrifice, and contribution of India's matrushakti. Whenever I look at my mother and crores of women like her,  I find there is nothing that is unachievable for Indian women. Far beyond every tale of deprivation is the glorious story of a mother. Far above every struggle is the strong resolve of a mother. Ma, a very happy birthday to you. Best wishes as you start your centennial year. I have never been able to muster the courage to write at length publicly about your life until now. I pray to the Almighty for your health and wellbeing and for your blessings on all of us. I bow at your feet.
– By Prime Minister Narendra Modi