Bollywood actress Sonam Kapoor is enjoying her pregnancy period a lot these days. Sonam and Anand Ahuja will welcome their first child. Some time back, Sonam made her fans happy by giving her pregnancy news, after which she has been sharing her beautiful pictures, in which the actress is seen flaunting her baby bump. In this episode, Sonam Kapoor has shared her latest pictures, in which Sonam is seen getting romantic with her husband Anand Ahuja.
Sonam Kapoor
Sonam Kapoor has shared pictures on her official Instagram account, in which she and Anand are seen very close. It can be seen in the picture that Sonam Kapoor is sitting in her husband's arms and Anand is keeping his face toward Sonam. During this, Anand has a lovely smile on his face and Sonam has kept her eyes closed. There is a look of relief on both of their faces.
Talking about the look, Sonam Kapoor is wearing a beautiful pink color dress, in which she is looking very cute. At the same time, Anand Ahuja is also seen in a white color outfit. Sonam Kapoor has given a cute caption with these pictures. The actress wrote, 'I am obsessed with Anand Ahuja.'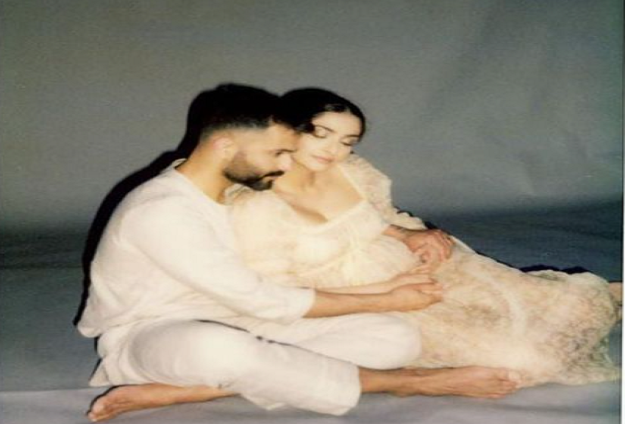 Sonam Kapoor
These pictures of Sonam Kapoor and Anand Ahuja have gone viral on the internet in no time. These pictures have got millions of likes and fans are constantly commenting and praising Sonam. Sonam Kapoor's mother Sunita Kapoor commented on these pictures. She has shared many heart emoticons on the pictures.
On March 21, Sonam Kapoor shared some pictures on social media and told fans about her pregnancy. In these pictures, Sonam was seen in her husband Anand Ahuja's lap. Along with these pictures, Sonam wrote in the caption, 'Four hands to take care of you as best you can. Two hearts that will beat along with you. A family that will give you lots of love and support. We are eagerly waiting for your arrival.'