Rajeev Sen & Charu Not Getting Divorce, Rajeev Shared A Beautiful Picture With Wife Charu, People Call It Drama!!
Like Sushmita Sen, her brother Rajeev Sen is also in the news due to his personal life. Rajeev Sen's relationship with his wife Charu Asopa keeps building and deteriorating. In the past, the fight between the two had increased so much that the matter had reached to divorce. But now once again the relationship between Rajeev and Charu seems to be getting better. Rajeev Sen has shared a beautiful picture on social media, seeing which social media users are confused. In such a situation, people are not holding back from giving their feedback on this photo.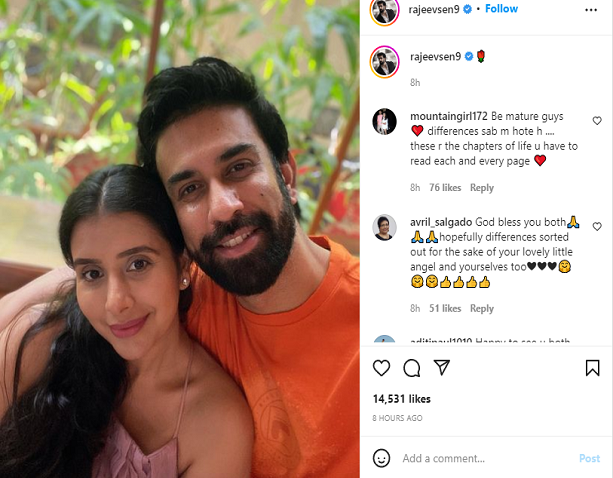 Rajeev and Charu
Actually, Rajeev Sen has shared a beautiful picture with wife Charu Asopa on his official Instagram. In this picture, Charu can be seen in the arms of her husband Rajeev and both of them have a cute smile on their faces. After seeing this picture, it would be right to say that Rajeev and Charu are looking very good together. Along with the picture, Rajeev has shared a rose flower emoticon in the caption.
Rajeev and Charu
Seeing this picture of Rajeev Sen and Charu Asopa, social media users are confused. Many people have showered love on the picture of both, while some people are also seen making fun of it. A user while advising the couple wrote, 'Be mature. Differences are there in everyone's life. This is a chapter in life and you have to read every chapter'. Another user wrote, 'Looking perfect together.' Another user wrote, 'Are you serious.' Apart from this, a user also wrote, 'What is this drama?'
Rajeev and Charu
Let us tell you that Rajeev Sen and Charu Asopa got married in the year 2019. Both have a daughter. Shortly after the marriage, both of them came into the limelight due to their quarrels. But in the past, their relationship had reached the point of divorce. Charu had said in an interview that Rajeev has many trust issues and now she cannot bear it anymore. She sent him a simple notice asking to separate, as there is nothing left in their relationship. She wants to separate because she doesn't want her daughter to grow up in a toxic and abusive environment.