Saba Ali Khan Responds To Troll Asking If Her Family Really 'Bothers' About Her
Saba Ali Khan, sister of Saif Ali Khan is quite active on her social media handle. She loves her family and this is pretty much evident as she actively posts old photos of her family. And somewhere her followers also love her for that. With her posts, Saba tries to stand out as the snaps that she shares never seen before types.
Recently Saba dealt with a troll who asked her about her relationship with the Pataudi family. Saba gave back to the troll in a subtle way and we loved her reply too.
The entire scene began when Saba shared a picture of her niece and nephew, Inaaya Naumi Kemmu and Taimur Ali Khan. With that Saba also left her followers guessing that which of them have completed four years in the world. While reacting to the same, one of the users asked Saba, "Do they all even bother about you?" to which she replied, "Why does THAT 'bother' YOU??"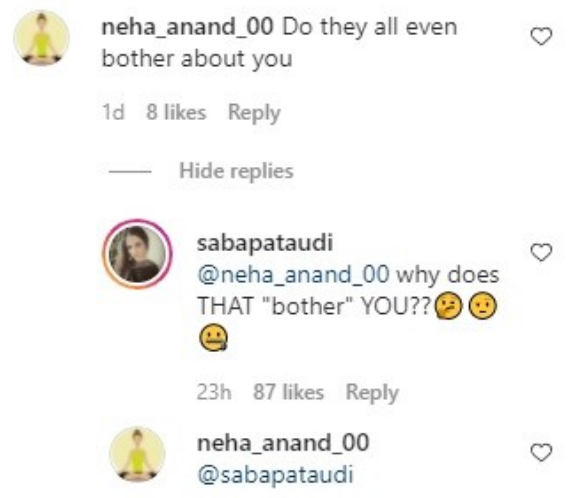 The trolling didn't stop there. Another user wrote, "They never even acknowledge u … feel sad." A third user sympathized with Saba and wrote, "I thought that too then come to think of it, it's none of our business – in private they have a strong bonding, not everything has to be shown on social media."
Another person commented, "What an absolutely unnecessary and insensitive comment. If you can't say anything nice, pls don't say anything at all."
Appreciating the same, Saba replied, "Thank you for giving that answer, if we love our family what does it matter what the result is? The point is we love and in this world, we need to give in order to receive. We are a perception of our own self. I enjoy that you are a great aunt and that you love your family, especially your nieces and nephews."
Saba has faced the wrath of the trollers in the past also. Earlier when Saba posted about her bond with her 'bhabhi' Kareena Kapoor Khan, trollers visited that post too to drop their mean comments. One wrote, "Kareena kbhi aapka comments ka reply tak nahi karti or aap uski pictures post karti rehti hein (Kareena Kapoor does not even reply to your comments and you keep posting pictures of her)." Saba who hardly keeps silent on trollers' comments replied, "@almirah_rj bec I love my bhabi 🙂 Be true to yourself."