Shabana Azmi's Reply Came After Kangana Ranaut's Reaction On Hijab Controversy- Find Out!
The controversy that started in Karnataka's Udupi Junior College regarding the hijab is not taking its name to stop. This controversy has now taken a wider political form. Now along with the politicians, Bollywood stars have also jumped in this. After Richa Chadda, Javed Akhtar, Panga girl Kangana Ranaut has also given her opinion on this issue. Although Kangana is very vocal and does not agree to any controversy without giving her side, then here too the actress of those who supports hijab has given advice. After this, Shabana Azmi has also replied to Kangana in her post.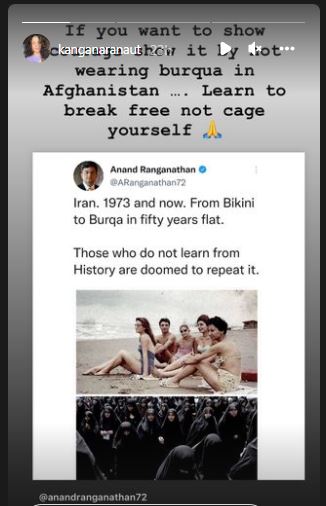 Kangana Ranaut has shared a screenshot of author Anand Ranganathan's post on her Insta story. The glimpse of Iran changing in this post has been told through two pictures. In the first picture, in the year 1973, Iranian women are seen wearing bikinis and now women are seen wearing burqas. With this picture, Kangana has written the caption that Iran of 1973 and Iran of now. Sharing the screenshot of Anand Ranganathan's post on her Insta story, Kangana Ranaut also expressed her opinion on the matter. Kangana wrote, 'If you want to show courage, then show it in Afghanistan by not wearing a burqa… learn to free yourself from the cage.'
Correct me if Im wrong but Afghanistan is a theocratic state and when I last checked India was a secular democratic republic ?!! pic.twitter.com/0bVUxK9Uq7

— Azmi Shabana (@AzmiShabana) February 11, 2022
I have never been in favour of Hijab or Burqa. I still stand by that but at the same time I have nothing but deep contempt for these mobs of hooligans who are trying to intimidate a small group of girls and that too unsuccessfully. Is this their idea of "MANLINESS" . What a pity

— Javed Akhtar (@Javedakhtarjadu) February 10, 2022
Shabana Azmi shared the screenshot of Kangana Ranaut's post and wrote, 'Correct me if I am wrong but Afghanistan is a religious state and when I last checked, I found India was a secular democratic republic? , In this controversy, famous lyricist Javed Akhtar made a tweet giving his response. In his tweet, the author wrote, 'I have never been in favor of hijab. I still stand by that point; at the same time, I condemn the goons who try to intimidate those small groups of girls. Is this what his "manhood" shows? It is a matter of regret.'
Apart from this, Richa Chadha tweeted and wrote, 'Progress your boys in a better way. A bunch of cowards is taking it as a matter of pride to attack the lone girl student.  It is a shame. In the coming few years, all of them will become unemployed, hopeless, and poor. There is no sympathy for such, no salvation. I spit on such incidents.