Sleeper's Feather Pajamas As Part Of The Signature Emily In Paris Outfits
Dive Into the World of Emily in Paris Outfits with These Feather Pajamas
When it comes to finding your style it may be a good thing to find inspiration somewhere. A lot of people nowadays get inspired by pictures on Instagram. Pinterest is another social network that can be helpful during your fashion journey. Undeniably, creating a fashion mood board with all the styles and outfits you like is an effective way to simplify and organize your search. However, there are also other ways to get inspired. For instance, some people may even find fashion insight through music. They get inspired by the style of their favorite artists, the vibes of the music they listen to, or even by the color schemes of their beloved albums. As you can see, there are a lot of opportunities out there that may give you the impulse to wear those low-rise jeans, feather pajamas suit, and find the right style in general.
Movies and TV shows are also great sources to derive fashion inspiration. Modern stylists often try to go out of their way to create the most perfect selection of outfits that represents the mood of the film or show, the depicted period, and even the personalities of the characters. In this case, the shows that touch upon the theme of the fashion world and anything related to it become especially useful. That's why such great attention was drawn to the selection of the Emily in Paris outfits. The theme of this Netflix series is directly related to style and fashion. The show started the conversation around not only French style but the general tendencies in vogue. The questions of what clothes, colors, and patterns should and shouldn't be combined quickly filled the information space. And people are still discussing the show's fashion decisions to this day.
Feathers, Camera, Action!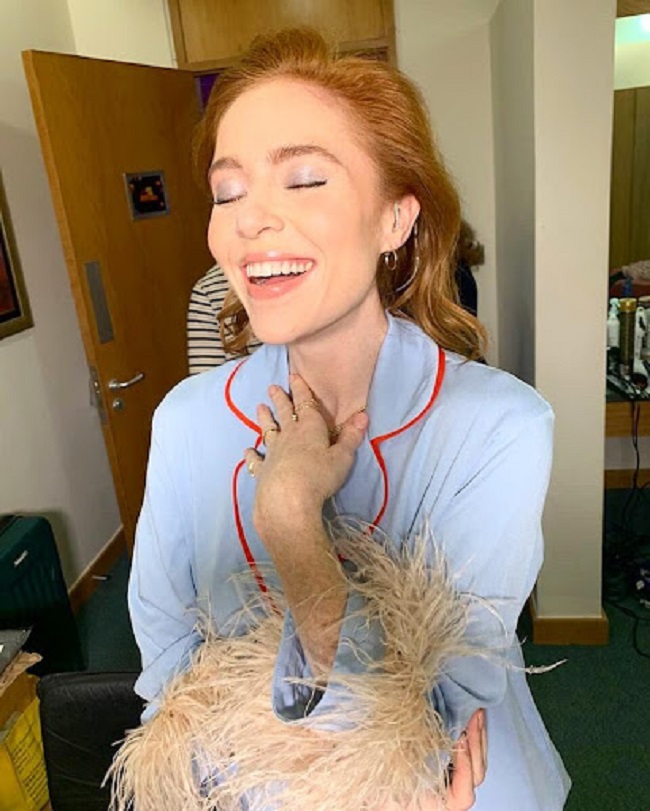 Even though there are many speculations, on whether or not the Emily in Paris fashion is representative and stylish, we can't doubt the fact that some of the outfits were specifically magnificent. One of such looks was worn by Ashley Park's character Mindy in the second episode of the second season. They were blue feather pajamas designed by the famous Ukrainian brand Sleeper. The très chic vintage-inspired suit, with lipstick red detail and milky-colored detachable feathers, is comfortable enough to be worn by Mindy at home and yet so slick that we wouldn't be surprised to see her running her daily errands wearing it. Generally speaking, this look gives off flirty vibes which perfectly fits into the plot of the show. Moreover, the outfit is so versatile, that surely even the prominent fashionista, Emily herself, would enjoy wearing it daily. 
However, this is not the only feather pajama set designed by Sleeper. The brand offers a lot of different variations, such as:
White Party Pajamas with double feathers

Classic and elegant black pajama suit with feathery cuffs on the pants

The Party Pajamas set in pink

Authentic and funky sets with feathers in Lavender and Pink Vichy
As you can see, there are a lot of color variations, so there's something for everyone. Besides being chic and sophisticated, these pajamas also offer practicality. They can be worn almost anywhere: from your bachelorette party to the New Year's Eve celebration, from the chilled-out brunch with girls and to the office. Everything depends on the way you style your set. Because even though these pajamas were only seen in one scene of Emily in Paris, they can be easily fitted in all the different social settings.
Sleeper – The Brand of Many Looks
If you got intrigued by the Sleeper fashion label, then read on. Because besides their famous pajamas, the brand has definitely a lot more to offer. For starters, their production doesn't stop on the feather pajama set. Following the brand's website, you will find a lot of dresses, lounge sets, athleisurewear, swimwear, and even shoes and accessories. That's why Sleeper can be considered a great fashion label to start your style-searching journey with. Even though you might not know exactly what you are looking for, you most probably will find something to like. Furthermore, there are a lot of different designs even within one category. Take the dresses, for example, there's the simple button-up loungewear dress, there's also the distinguishingly elegant Atlanta dress, and the simple yet cute Belle picnic gown. And that's not even the whole list. When it comes to loungewear sets, there is also a great variety of options. Sleeper offers unisex designs, sizeless pajamas of various colors, funky summer Rumba linen suits, and Weekend chic sets. As you can tell, Sleeper is unarguably the brand of many offers.
Creating Your Perfect Outfit
Sometimes it can be hard to come up with a decent fit. You might be stuck on one idea that works for you, and therefore unable to see all the other options. Or you just simply are not in the mood to think too much about what to wear. Well, some tips may ease up the process of coming up with new looks. First of all, if you are not in the mood to go for something extra, choose basic clothes. This can be a basic white oversized T-shirt, some jeans, and a pair of sneakers. Add some kind of a purse to match your shoes or any other detail of the outfit, and you are good to go! Secondly, play around with colors and patterns. Pair up green and violet or lavender clothes, or combine orange with brown – the colors will lift your mood and make your whole outfit more unique. And lastly, don't ever give up on your comfort. If you feel uncomfortable wearing tight clothes – don't wear them and vice versa. Because at the end of the day the feeling of comfort is what gives you the most confidence.