A cup of coffee and you.
"A cup of coffee, a piece of chocolate cake, some slow music with little chattering and aroma of freshly baked goodies". Well, it sounds too good to be true, it's a dream date you can have. These kinds of things make you fall in love all over again. He held the hand of your love and walked through the lanes of food and embraced the city. So here goes the list of places you can visit if you love cafes, exploring new places and eating food from different parts of the country.  
Hauz Khaz, Social …this place has earned its name as one of the most famous cafes in Delhi. It has been featured in many Bollywood movies, as well. This place has a wonderful ambiance, tempting cocktails, fabulous music8. It has a wide range of cuisines from Indian to Italian. And the view of the lake and the fort is to die for. This place is in its full swing at night … 
Nukad, SDA  This rustic theme cafe is located in the extreme corner of the SDA market, hence the name "nukad". This place is a delight to heart with twinkling fairy lights, dim lights, and of course you can't miss the amazing food. The quirky menu of this rooftop cafe in Delhi will have you coming back for more.
Rose cafe, Saidulajab … attracts people with its oh-so-pretty interior. With beautiful hues of pastel pink and bright blue, with donning lamps …all just in the right place to set the mood. Rose cafe is the best cafe for couples without a doubt. So next time you feel like romancing your partner visit this cafe.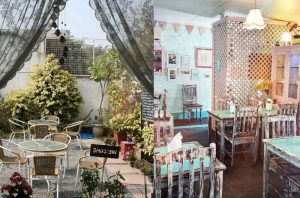 Big Yellow door, Satyaniketan…the asymmetrical, crooked yellow door leads you into this cafe. It is one of the most fun places in Delhi and a hotspot for college kids in Delhi. The best part is it serves delicious food at pocket-friendly prices.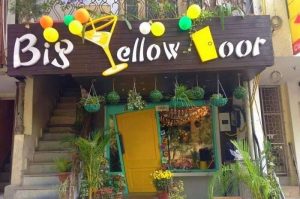 Blue Tokai, Saket is a place for coffee lovers. They probably have the widest range of coffee in the town. As soon as you enter you will be engulfed with the aroma of the coffee, and the coffee-themed interior conveys a great deal about their coffee roastery.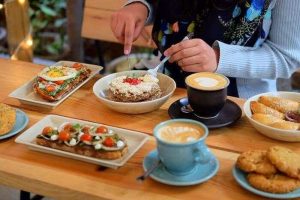 AMA is one of the major attention-grabbing cafes in the alleys of  Majnu-ka-Tila. This three-storied cafe has a great location and a mouth-watering long menu, which is wallet-friendly too. The first step inside the cafe, and you will be in love with the cafe. The sweet aroma of freshly baked goodies and the soft music will leave you awestruck. The open balcony, comfortable seats beside window walls, shelves of books, and memory wall of sticky notes. It's a whole package deal of sweetness and coziness.