Kaun Banega Crorepati 15's most recent episode enthralled us with the charming Chamatkari Chattopadhyay family from Kolkata. Along with winning our hearts with their expertise, Dhrubarub, Sunirmala, and Nandita, the finalists, also showed off their family's incredibly endearing and close relationship.
Beginner's Luck and Family Bonds
When the family correctly answered a question about the Finnish prime minister, they won Rs. 40,000 at the show's beginning. When asked to name a country where Petteri Orpo became prime minister in 2023, they correctly selected Finland. The family showed Nandita and Sunirmala's tight friendship as the game continued. Big B, also known as Amitabh Bachchan, complimented the mother-daughter-in-law pair and made light of his experience of feeling like a sandwich between family members at home.
Celebrating Diversity in Indian Families
Big B also mentioned the differences in his own family. He added that his son's bride is from the southern region of India, while his daughter married into a Punjabi household. He compared it to a little India and expressed his excitement at the cultural depth this variety gives.

A Challenging Crossroads: The Chattopadhyay Family's Decision
The Chattopadhyay family's adventure went on as they correctly answered a series of questions and accumulated Rs. 3,20,000. They stayed in the game thanks to their expertise and cunning usage of lifelines. Nandita's love of music was evident; she even sang a duet with Big B, receiving a rose and compliments from the host.
The family did, however, have to deal with a difficult Rs. 50 lakh query over a cricket player's retirement because of an eye injury sustained during a hunting trip. They were unable to respond. Therefore, they decided to end the performance. Remarkably, they predicted right—option C—after giving up, indicating that their prediction was only conjecture.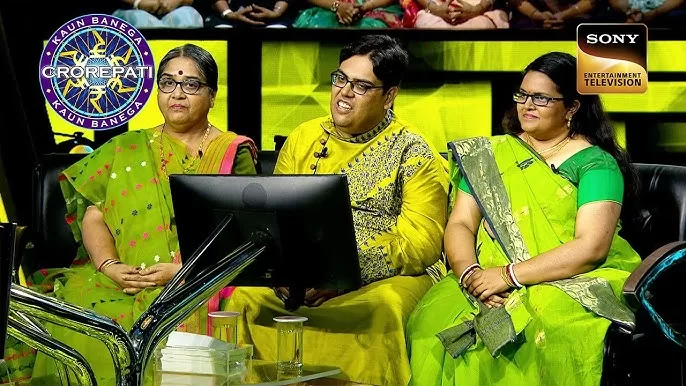 Making Their Way to the Hot Seat: Jugaadu Jains
The Jugaadu Jains became victorious in the first round of quickest fingers and were placed under the hot seat when Amitabh Bachchan advanced to the following round. They talked about their ten-year quest to be on the show, during which the husband watched KBC daily.
The Jains persisted in playing, answering questions accurately and demonstrating their love for the game. They also answered a concern regarding the language shift in cricket, using the term "batter" instead of "batsman." They could not respond to questions in the subsequent round and were awarded Rs. 10,000 instead.