Ananya Panday Praised Vijay Deverakonda & Thanked The Fans Before The Release Of 'Liger'
The much-awaited film Liger starring Vijay Deverakonda and Ananya Panday is finally ready for release. The film is going to release tomorrow i.e. on 25th August. Fans are very excited about this film. Talking about the film's actress Ananya Panday is also very active on social media. These days she is sharing a lot of posts related to 'Liger' on social media. Once again Ananya has shared a post, in which she is seen thanking the fans.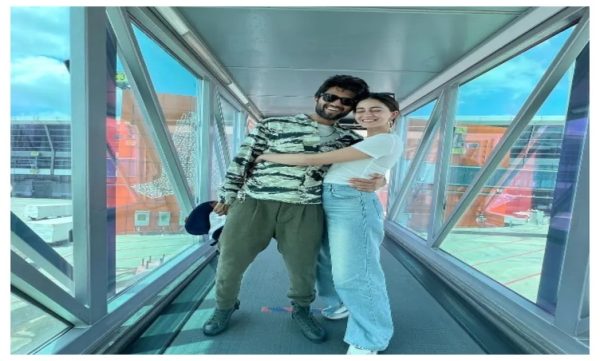 Ananya Panday has made a post from her official Instagram account. Ananya has posted two pictures and a video. In both the pictures, Ananya is seen with 'Liger' co-star Vijay Deverakonda. The look of both is looking fabulous. In the first selfie, Vijay is seen wearing an orange hoodie and Ananya is wearing a pink coloured hoodie jacket. At the same time, in the second picture, Ananya is looking stylish in blue jeans and a white top. It looks like this picture is from an airport.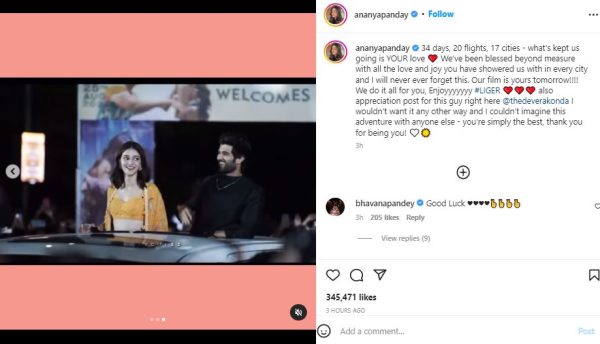 Along with the post, Ananya has also written a heartwarming caption and she has tried to tell how hard she has worked for 'Liger'. Also thanked the fans. Ananya wrote, '43 days., 29 flights, 17 cities. Your love has given us the strength to keep doing all this. We are grateful for the immense love and happiness you have given us in every city. I'll never forget it. We did all this for you. After this Ananya wrote, Enjoy Liger. With this, Ananya wrote, 'This is also a post in praise of Vijay Deverakonda. I can't even imagine this adventure with anyone else. You are simply the best. Thank you for this.'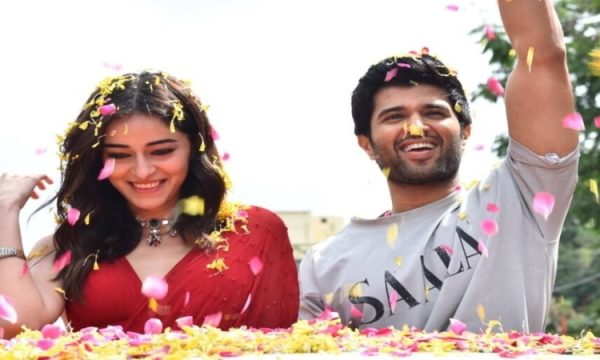 Fans have got a very good response to this post of Ananya. Sanjay Kapoor has posted heart emojis on the post. Maheep Kapoor has also congratulated Ananya and posted heart emojis. At the same time, users are also commenting funny. One user wrote, 'Both of you are the best. 'Liger' would not have become 'Liger' without both of you.' One user wrote, 'You two look so cute together. Your chemistry was superb during the film promotion.