Anjali Arora Opens Up About Boyfriend's Reaction On Her Closeness With Munawar Faruqui.
Ekta Kapoor's reality show, Lock Upp has ended with Munawar Faruqui winning the season. One of the main highlights of this season was the friendship between Munawar Faruqui and co-contestant, Anjali Arora. The duo was making headlines every day with their growing closeness during the show.  Anjali Arora has now opened up about her BF, Aakash's reaction to her growing bond with Munawar Faruqui.
During her latest interview, Anjali Arora said that it is a normal thing to get jealous if your partner starts bonding with someone else. According to her, possessiveness can be seen in friendship also. She revealed that even she and Munawar used to have problems when they would give more importance to someone else.
Talking about Aakash and Nazila (Munawar's GF), Anjali says that they belong to her and Munawar's life. While she considers it obvious for them to feel possessive, the actress revealed how understanding Aakash is. According to Anjali Arora, her bf, Aakash has handled everything in a very mature and nice way. Not only this but the actress was not asked a single question by her boyfriend, revealed Anjali Arora. The Lock Upp finalist respects her beau a lot for this.
During the interview, Anjali Arora also answered that her bond with Munawar Faruqui brought no after-effects in their outside world. She says that people around her are very understanding and they know her very well. So, she didn't need to explain anything to her people in the outside world.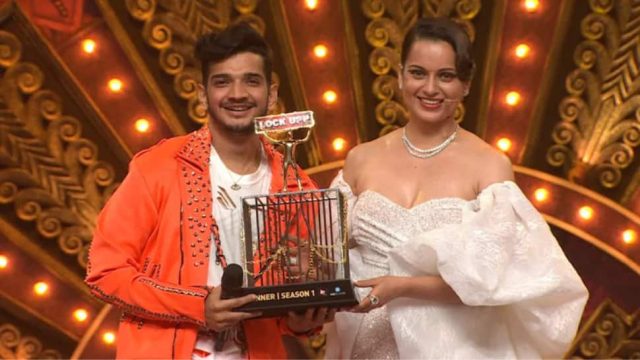 Anjali Arora has previously mentioned that she doesn't blame her bond with Munawar Faruqui as the reason for not winning the show. While she is happy about her close friend's win, another fellow contestant, Payal Rohatgi seems upset with the comedian's win. In her recent Instagram post, Payal Rohatgi has pointed out Munawar Faruqui for romancing Anjali Arora despite having a child, wife, and girlfriend.