Asim Riaz And Paras Chhabra Become Friends, Start Following Each Other On Instagram
Back in 2019, when Bigg Boss 13 was on air, Asim Riaz and Sidharth Shukla's fights were all over the place. The 13th season of the controversial reality show was undoubtedly the most entertaining season in the entire history of Bigg Boss. And what made it all the way more special was Asim and Sidharth. The two began as friends and were even called 'Ram Lakhan' of Bigg Boss house. But due to misunderstandings, they turned foes. They were seen getting into physical as well as verbal tussles very often. But besides Sidharth, the other person in the Bigg Boss house who never got along with Asim was Paras Chhabra.
Asim and Paras were seen getting into verbal tiffs every now and then. The two just couldn't stand each other. But guess what has just happened? After Sidharth Shukla's untimely demise, Asim and Paras have buried their hatchet.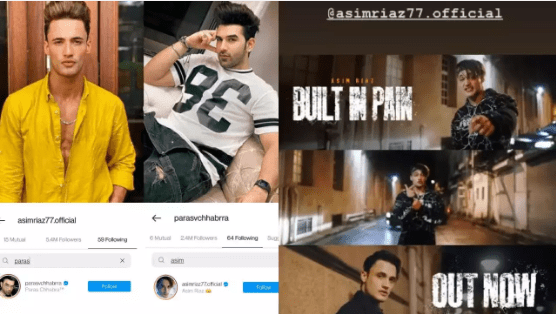 After the unfortunate incident of Sidharth's death, we saw Bigg Boss 13 contestants reuniting after a long. Asim and Paras who were close to Sidharth were also there to stand with his family during such grim times. The tragic death of Shukla has brought a sense of forgiveness and compassion in everyone, and this is why we feel thick enemies like Asim and Paras have changed their hearts for good. The two have followed each other on Instagram which in today's times is the biggest validation of new friendships and animosities. Paras was also recently seen uplifting Asim and cheering him up for his latest rap song 'Built in pain'.
In the appreciation post for Asim, Paras congratulated him for his new song and addressed him as 'Brother'. Asim also reposted the same on his Instagram handle.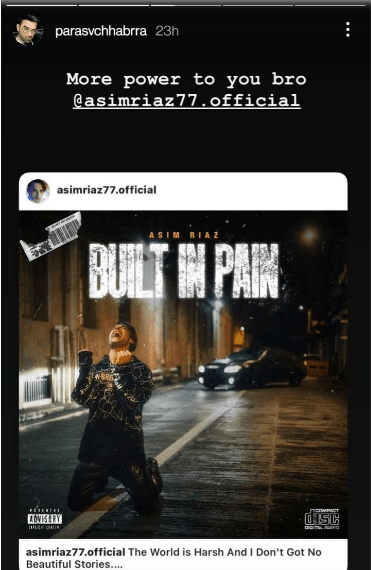 Well, all we can say is the sudden death of Sidharth Shukla not only made everyone emotional but also taught us to look at life from a different perspective. The BB13 contestants, who were at loggerheads inside the house are giving a second chance to their friendships. Apart from Paras, Mahira Sharma has also reposted Asim's rap song on her story to show her support.