Babil Khan Says, It Was Tough To Accept Myself Following "Baba" Irrfan Khan's Demise
After Irrfan's passing, Bollywood severely lacked one of its most acclaimed performers. Babil Khan, son of the late star Irrfan, clearly treasures his memories of his father and often posts them on Instagram. The time has finally come for Babil to debut with "Qala." The film's trailer has generated much interest, and Babil and the rest of the Qala cast and crew have been actively promoting the picture anywhere it may be seen. Rising sensation Babil Khan spoke candidly to a news website, Pinkvilla, about losing his father in an exclusive interview.
Interview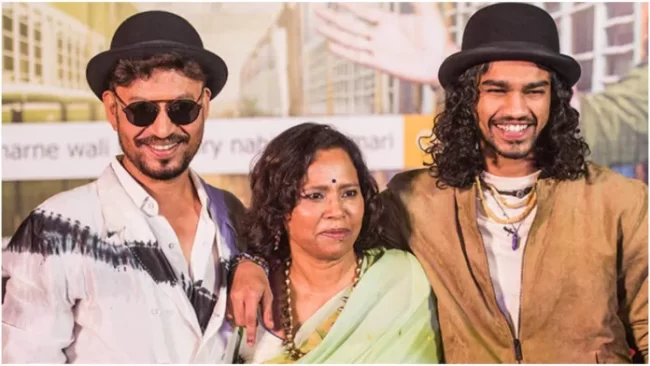 Babil said, "It was tough to accept myself and to be like yeah to embrace your shortcomings," when questioned about that period.
"And to remember who you were before Baba came around. I lost the shield that Baba had provided me with without warning. Severe difficulty resulted from my experiencing extreme fear."
Qala
Obsessed! Nirbhau Nirvair from #Qala is a symphony of perfection @itsamittrivedi @shahidmaliya Qala releases on 1st December on @netflix @NetflixIndia @OfficialCSFilmz@tripti_dimri23 pic.twitter.com/YWlbSc6Ggo

— Ashveer Singh (@ashveersingh06) November 28, 2022
She didn't want fame, glamour and success. She just wanted to make her Mumma proud. ✨@NetflixIndia @OfficialCSFilmz #KarneshSsharma #AnvitaaDutt @tripti_dimri23#BabilKhan @swastika24 @samirkochhar @amit_sial @GirijaOak @ActorKamil @nowitsabhi #AadhyaJha #ManujMittra pic.twitter.com/7OlL65CsXp

— Triptii Dimri (@tripti_dimri23) November 15, 2022
Anvita Dutt is Qala's director. Starring Babil Khan, Tripti Dimri, and Swastika Mukherjee, this film is set in Kolkata in the 1940s and explores the delicate connection between a singer and her mother.
Babil plays an antagonistic role in the film, pitted against Tripti. On December 1, it will be available on Netflix thanks to the efforts of producer Karnesh Sharma and his company, Clean Slate Filmz.
Babil Khan claimed he had no qualms about trying out for Qala and was ready to audition without hesitation. Even though he was grieving the loss of his friend and father, Irrfan Khan, Babil claims that the production company made him feel completely secure.
He spoke highly of his teammates, saying, "The love, concern, and care we had for one other gave me strength. It let me realize that everything is going to be well. Believe me. I will be just fine. Ok, let me try a take."
Irrfan Khan
Two years after being diagnosed with a neuroendocrine tumour, Irrfan Khan passed away in April 2020. Angrezi Medium was his final film, and it co-starred Radhika Madan, Deepak Dobriyal, and Kareena Kapoor Khan.