Chhavi Mittal Gave Befitting Reply To Trolls On Her Cancer Post, Said – "I Have To Save Them…."
Famous small screen actress Chhavi Mittal has recently defeated a serious disease like cancer. Ever since she won this battle of life, the actress has been inspiring everyone with her outspoken style and courage. She faced this difficult time of life with great strength. However, during this time she also had to face trolling many times. Even social media users trolled her on her cancer announcement post. Many netizens also made hate comments on his post. Now the actress has given her reaction on this.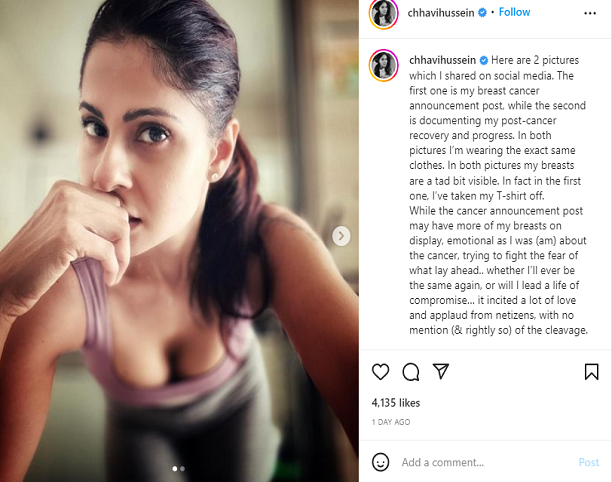 Chhavi Mittal
Chhavi Mittal recently shared two pictures of herself on her Instagram handle. The first of these shared photos is from the time of Chhavi's cancer announcement. While the second picture is after her recovery from cancer. Sharing both these pictures, the actress has given a befitting reply to the trolls. Chhavi wrote a long note saying, "I shared these two pictures on social media. The first is my breast cancer announcement post, while the second post is during cancer recovery and progress. In both, I am wearing the same clothes."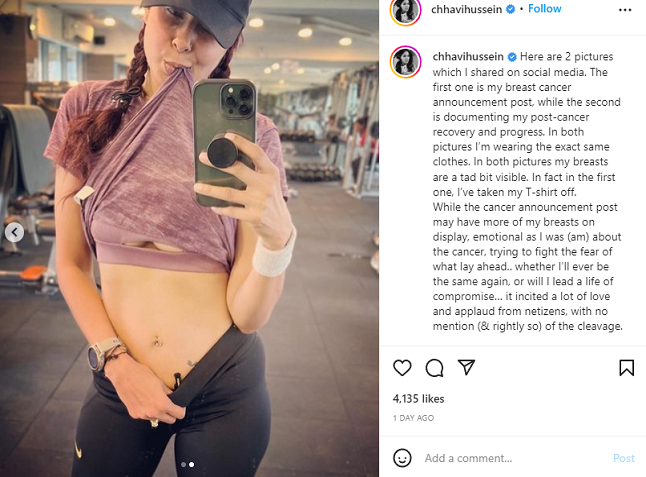 Chhavi Mittal
The actress further wrote, "My breasts are slightly visible in both the photos. In one of the pictures I have my T-shirt up. At the same time, my breasts are showing a little more in the cancer announcement post. I was very emotional about cancer. I was fighting with this fear of what would happen next. I was afraid that I would be able to live as before or I would have to compromise. Netizens gave me love after this post. During the battle with cancer, I gathered courage and decided that whatever happens, the quality of life after cancer will be better, because if I survive after this battle, I will only come out stronger, more than ever."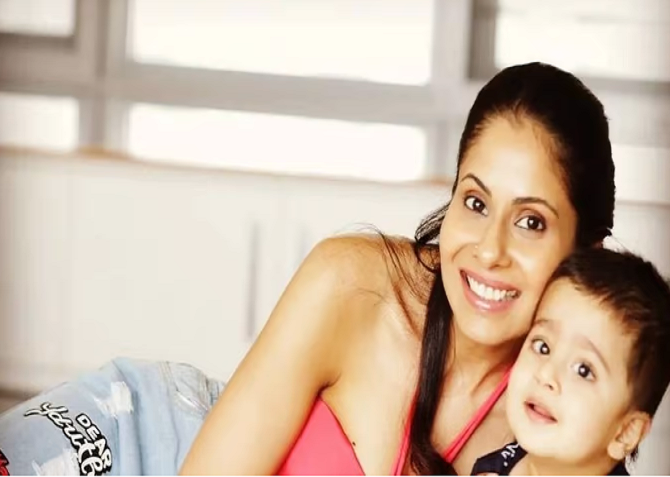 Chhavi Mittal
She further said that, while her pictures made her courageous for others, she also faced a lot of hate comments due to this. Chhavi further wrote, "On sharing the second photo, I got hate comments like "shouldn't share everything", "this is not respectable", "don't know what she is trying to be" etc. I wish you all. Let me tell you, dear ladies, this is double standard. My association with my breasts cannot be described. I have fought very hard to save them."
Chhavi Mittal, known for her roles in shows like Ghar Ki Laxmi Betiyan, Bandini and Virasat, was diagnosed with breast cancer in April. It is worth mentioning that Chhavi Mittal had gone to the hospital for treatment of a chest injury. It was during this time that she came to know about cancer. After that, she got her treatment immediately. During her treatment, Chhavi surprised everyone with her positive attitude. During this, the fans had praised the spirit of the Chhavi.