Debina And Gurmeet Chaudhary Brings Ganpati Bappa Home, Worshipped With Their Little Angel!
TV actress Debina Bonnerjee and Gurmeet Choudhary are going to become parents for the second time. Four months ago, the couple had their first child. After hard work, Debina gave birth to her first child. she was trying for 5 years to get pregnant through IVF and many other processes. Although she failed in the process five times, she said she is lucky to conceive a second baby naturally just four months after Debina gave birth to her first child.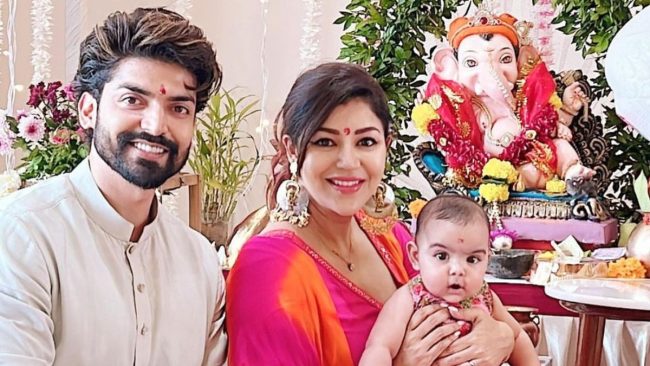 Now, On Ganpati Utsav Debina and Her husband, Gurmeet brings Lord Ganesha's murti home and offered him to pray with their little Angel daughter Liana and with the Upcoming baby who is in Debina's belly. In the photo shared by Debina, In the first photo, the family can be seen sitting in front of Ganpati Bappa while In the second the third photo Debina and her Cute daughter liana is seen posing for the camera.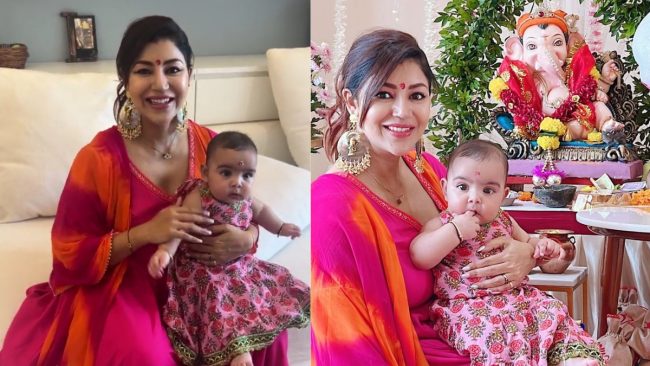 Gurmeet has also shared a video of doing Aarti of lord Ganesha. In the video, The whole family is seen doing Aarti together. Let us tell you, Debina underwent 2 IVF procedures and 3 IUI procedures for her first pregnancy but she failed. This time Debina has got a natural pregnancy, which she decided to keep.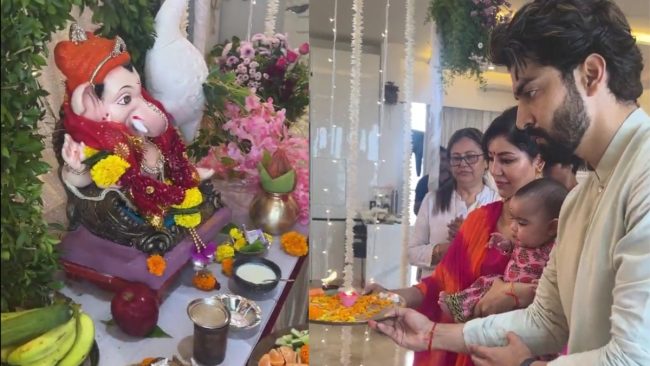 Watch video of Ganpati pooja at Gurmeet's house;
https://www.instagram.com/tv/Ch6TRGKs-wj/?igshid=YmMyMTA2M2Y=
Since Debina became pregnant naturally with her second child, she began to workouts to ensure that the baby was healthy. Debina Banerjee's video went viral on social media. In the video, Debina Bonnerjee has seen training with dumbbells and a ball in a black sports bra and jeggings.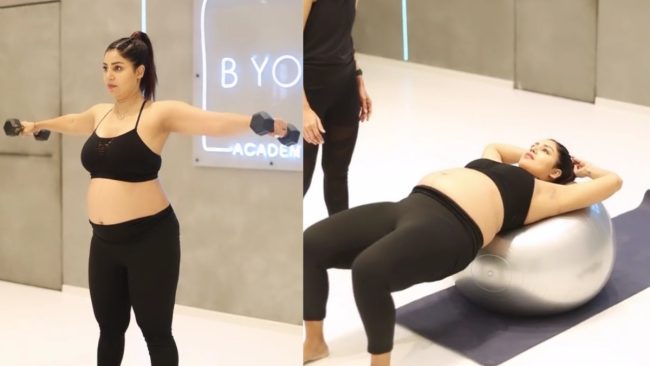 Debina Bonnerjee shared this workout video on social media, saying, " Here is a glimpse of my daily routine life during I try to manage things while doing the comfortable workout. These days, I just want to have a healthy body. Take it easy. I want to be happy and spend time with happy people around me. I am doing these pregnancy exercises to stay healthy so that My child is healthy. It will also make me healthy."
Fans find this video of Debina Bonnerjee very impressive. Many fans called her "super mom". Debina Bonnerjee wants the whole process to be natural.