The gorgeous Rakul Preet Singh dropped the most stunning photos on her Instagram. And everyone is just loving it. Rakul Preet distinguishes herself from the mass of Bollywood actresses when it comes to wardrobe choices. Her style is always distinctive and bold, and she is never hesitant to experiment. On her birthday last month, she stunned everyone with a one-of-a-kind foil-pattern shirt top.
The recent Instagram Instagram post is stunning and hot as hell, wearing a figure-hugging dress that perfectly emphasized her curves. Her fashion appearance was nothing short of a masterpiece. Let us check out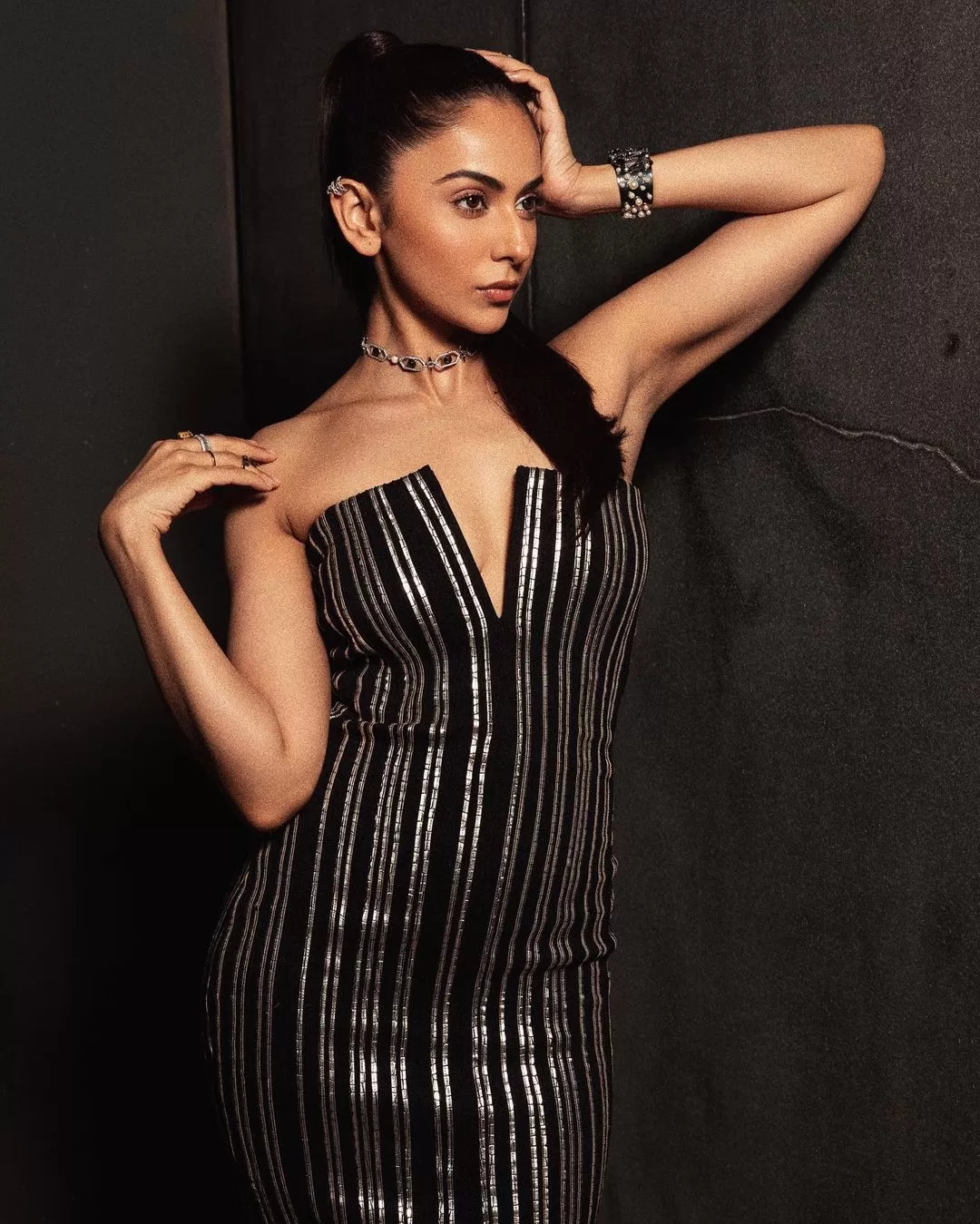 Shinny black figure-hugging gown with silver stripes steals the limelight
The Ayalaan actress made another fashion statement, this time in a gorgeous black figure-hugging gown. The strapless gown had a notched V-neckline, which added a sense of refinement to the look. The printed sliver stripes that decorated this gown made it truly stand out, changing a simple design into a mesmerizing beauty. The gown also had a short side split that revealed just the appropriate amount of leg while adding a touch of appeal. Sameer Madan, a great designer, created this intriguing piece.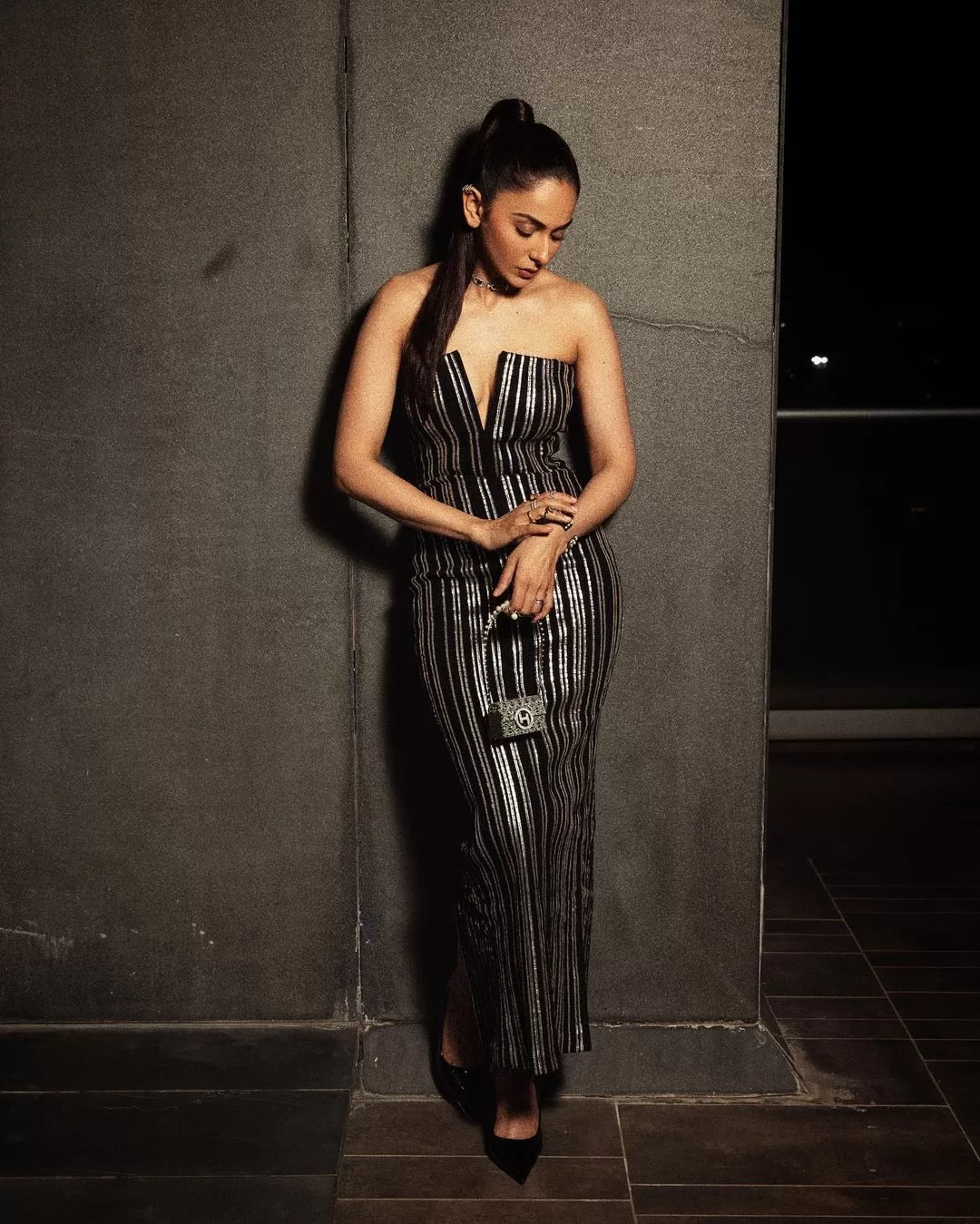 Accessories chosen for this look
Look at the gorgeous accessories, which complemented her lovely outlook. Rakul accessorized her neck with a stunning necklace that provided a touch of elegance. This eye-catching items costs Rs.15,500 and it's no wonder that it's been spotted by other fashion-forward celebrities like Ananya Pandey, Shilpa Shetty, and Manushi Chhillar. Rakul didn't stop there; she added a touch of sparkles and glamor to her ears with stone-studded ear cuffs.
The De De Pyaar De actress stacked up many fingerrings to make a fashionable and dramatic statement. The stunning black handcuff from Outhouse Jwellery was a striking item that gave a hint of edginess to her ensemble. This gorgeous bracelet is priced at Rs. 18,500, making it a must have for fashionistas.
The actress completed her look with the loveliest accessory, a minaudiere couture bag from Outhouse Jewellery, which cost Rs. 46,000. This fashionable actress added a pointed-toe black shoes, which added a touch of elegance and beautifully completed her look.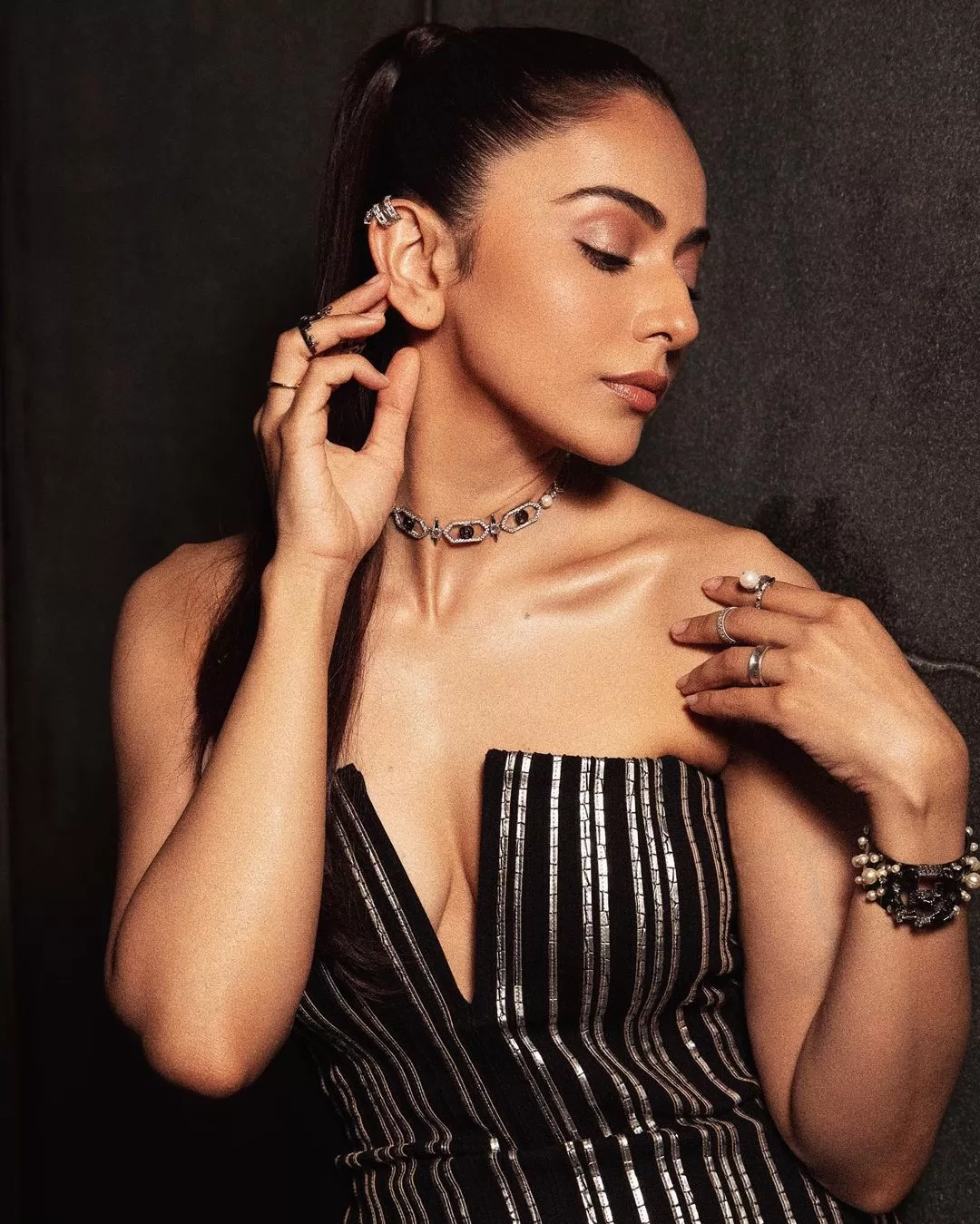 Basic yet stylish hairdo
The Doctor G actress beauty game was as enthralling as her stylish selections. Hairstylist Aliya Shaik gave her a sleek high ponytail a bit drama to her entire look. Her haircut suited her dress brilliantly, bringing her elegance to new heights.
Rakul chose a lovely sparkly silver eyeshadow with a brown foundation for her makeup. her lips were covered with brown lipstick, adding a sense of warmth and refinement to the outfit. Salim sayed, the makeup artist, deserves a praise for successfully doing Rakul's makeup.
Let us know what you think of Rakul Preet Singh's dramatic look in the black figure-hugging gown!