Fashion Diaries: Checkout Princess Of Wales Kate Middleton's Elegant Black Mourning Outfits!
Kate Middleton, the Princess of Wales, has been in mourning since the death of Queen Elizabeth II, her grandmother-in-law, and she, like other members of the British royal family, has been seen in black attire in accordance with the tradition that family members wear black outfits only in the days preceding the funeral.
The New Princess of Wales, Kate Middleton was spotted in different outfits for her recent outings ahead of Queen Elizabeth II's funeral, all of which stood out and made her look ethereal.
Kate Middleton At Queen Elizabeth II Funeral
Kate Middleton, paid a touching tribute to Queen Elizabeth at her funeral on Monday.
Kate wore a magnificent black Alexander Mcqueen coat dress, veiled hat, and sentimental jewels that belonged to her grandmother-in-law, repeating the pearl-and-diamond pieces she wore to Prince Philip's funeral in April 2021, and in Gianvitorossi black suede heels.
Bahrain pearl drop earrings were worn with the four-row Japanese pearl choker. Kate also wore it to honor the Queen and Duke of Edinburgh's 70th wedding anniversary. the necklace was comprised of pearls that "were supposedly a present from the Japanese government, presumably acquired on her official visit to that nation in the 1970s."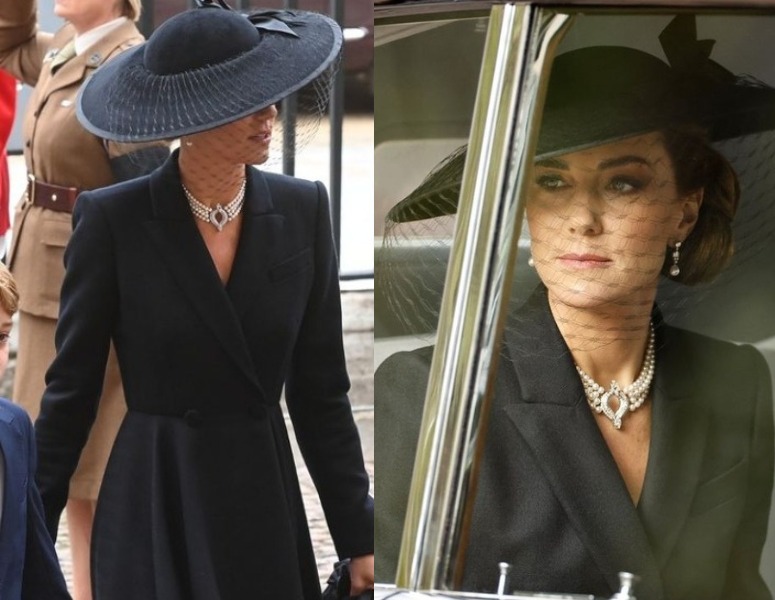 Kate Middleton At funeral Procession in Westminster
Princess of Wales Kate Middleton attended her funeral procession in Westminster wearing a Catherine Walker London black coat with a pearl and diamond brooch previously loaned to her by the Queen.
Kate Middleton, Princess of Wales, wore Her Majesty's Diamond and Pearl Leaf Brooch, which includes three enormous pearls in the centre of a diamond pavé leaf, as a memorial to the late monarch. Princess of Wales finished off her appearance with a pair of black statement Gianvitorossi Black Suede Pumps and a Mulberry England clutch.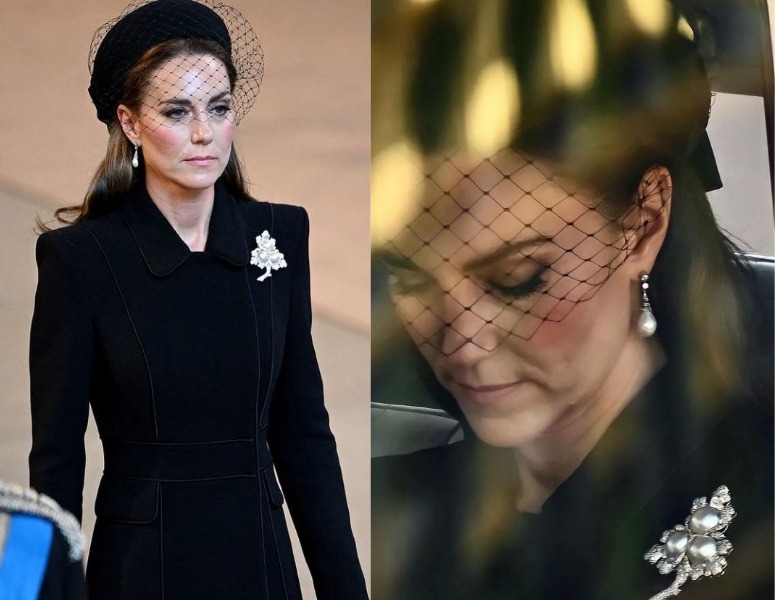 Kate Middleton At Army Training Centre Pirbright
Kate recently paid a visit to the Army Training Centre Pirbright with her husband, Prince William, to meet with troops from Commonwealth countries such as Canada, Australia, and New Zealand who will be participating in Queen Elizabeth II's funeral activities on Monday, and to thank them for their role in honouring the queen.
Kate looked stunning in a Catherine walker London coat, body-hugging, expertly-tailored black coat dress with metallic buttons, full sleeves with buttoned cuffs, and a slit, which she wore over a black dress .
Kate wore Russell and bromley striking black heels and sheer black stockings. Kate had her hair in a bun and wore a disc-shaped black hat while carrying a Mulberry England little box-shaped handbag. She finished the ensemble with a beautiful pair of pearl-drop earrings, which she has worn several times in the last week.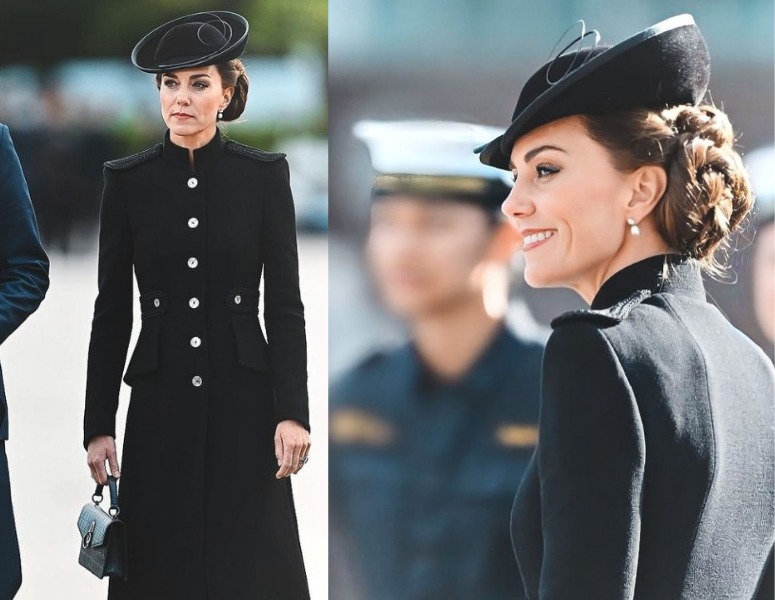 It is supposed to be her way of paying homage to the queen who actually owned them and honoring the tradition that stipulates that while in mourning, women in the royal family must wear pearls, which is even referred to as the UK monarchy's "mourning jewellery." The queen herself was an admirer of pearls and wore them on various occasions.
Kate Middleton At Sandringham House To See The Tributes
The Prince and Princess of Wales went to Sandringham to see the tributes left outside the gates of Sandringham House for the late Queen Elizabeth II.  the mother-of-three looked ethereal and graceful in a black collared coat that she put over a black Alexander McQueen dress with a pleated skirt and a round neckline.
The princess accessorized with a little Grace Han global handbag and statement pearl earrings, leaving her hair loose. She even wore a cross-shaped pendant on a chain.