Gadar 2: Sunny Deol Announces The Sequel Of 'Gadar – Ek Prem Katha' On The Day Of Dussehra
Gadar – Ek Prem Katha is one of the most popular and successful films at the box office in the history of Hindi cinema. Now 20 years after its release, its sequel Gadar 2 has been announced. Sunny Deol has confirmed the long-standing news by sharing the motion poster of Gadar 2 through social media on the occasion of Dussehra. The main star cast of the film has also been shared in the motion poster.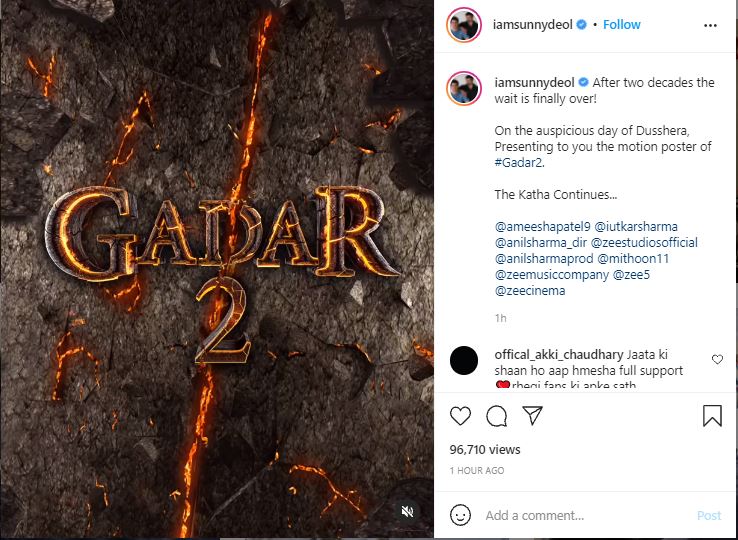 Gadar 2 will be directed by Anil Sharma. Ameesha Patel and Utkarsh Sharma are part of the main star cast along with Sunny Deol. The story of Gadar 2 is written by Shaktimaan Talwar, who is also the author of Gadar – Ek Prem Katha. The music is by Mithun. The film will be released in theaters next year. Gadar 2 is produced by Anil Sharma in association with Zee Studios. Sunny shared the poster and wrote – After two decades, the wait is finally over. The motion poster of Gadar 2 is out on the auspicious occasion of Dussehra. The story continues.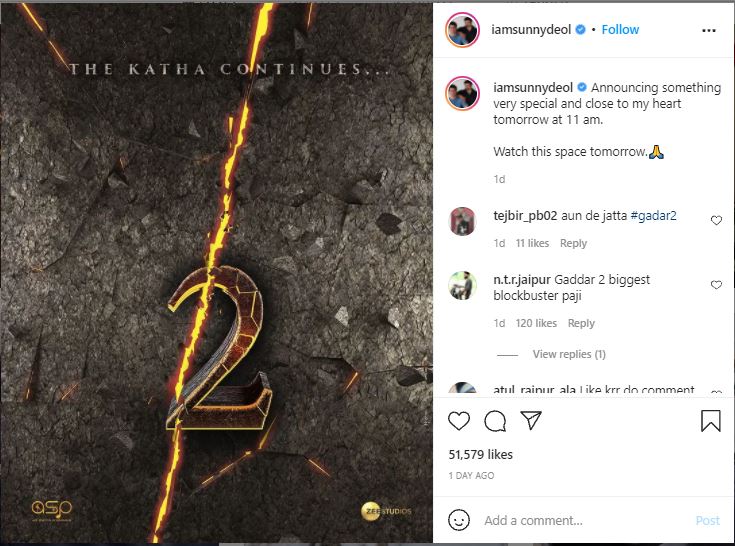 Earlier on Thursday, Sunny announced the announcement about the film by showing a glimpse of the motion poster. Gadar – Ek Prem Katha was released in 2001 on 15 June. Sunny Deol played Tara Singh, a Sikh truck driver, while Ameesha Patel played Sakina Ali, the daughter of Muslim political leader Ashraf Ali, in this love story set in the backdrop of the India-Pakistan partition. Sakina gets separated from her family in the bloody hustle and bustle of Partition. Tara Singh shelters her and they fall in love. Both get married and son Jeet is born. A few years later, Sakina learns that her parents are alive and in Lahore. Sakina goes out with Tara and Jeet to meet them, but Tara and Jeet do not get the visa. Sakina reaches Lahore, where attempts are made to get her married. Tara then embarks on a mission to bring Sakina back from Pakistan with his son Jeet.
Many scenes of Gadar – Ek Prem Katha proved to be legends, which are still viral on social media. One of these scenes is when Tara uproots the hand pump in Lahore. The character of Tara-Sakina's son Jeet was played by Anil Sharma's son Utkarsh Sharma, who made his lead actor debut in the film Genius and is now a part of the sequel. Amrish Puri gave a memorable performance in the character of Ashraf Ali. Gadar – Ek Prem Katha also scripted phenomenal success at the box office and is one of the most successful films of Sunny Deol's career.