Mouni Roy's "Grihapravesh" To Her In-laws' House, Also Won The Ring-finding Ceremony!
Mouni Roy and Sooraj Nambiar recently tied the knot. The couple had a Goa destination wedding among family and friends. The wedding pictures of the couple made a lot of headlines. On Sunday, Mouni Roy returned to Mumbai with Sooraj Nambiar after the destination wedding in Goa.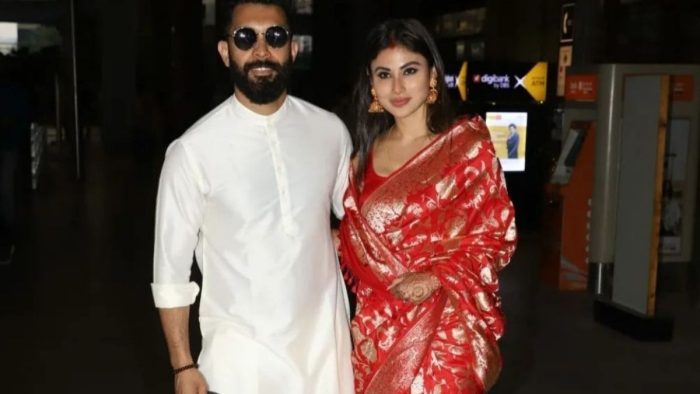 The couple was spotted at the Mumbai airport on Sunday evening. Mouni Roy, who returned to Mumbai, had a grand entrance in her in-laws' house with her husband Sooraj. During this time all the customs were fulfilled according to the rules. Mouni looked a bit emotional during the Grihapravesh.
Many videos have surfaced during this period. In one of the videos, Mouni can be seen leaving Alta's footprints at her house. During this, Mouni performed the rituals of Griha Pravesh. While Suraj was dancing behind him with his friend.
Talking about the look, Mouni is looking very beautiful in a red Banarasi saree. At the same time, the mehndi in the hands and the vermilion decorated in demand were adding to the beauty of Mrs. Nambibar. Big earrings and minimal makeup are making Mouni's look perfect. At the same time, Sooraj was seen in white silk kurta-pajama during this time.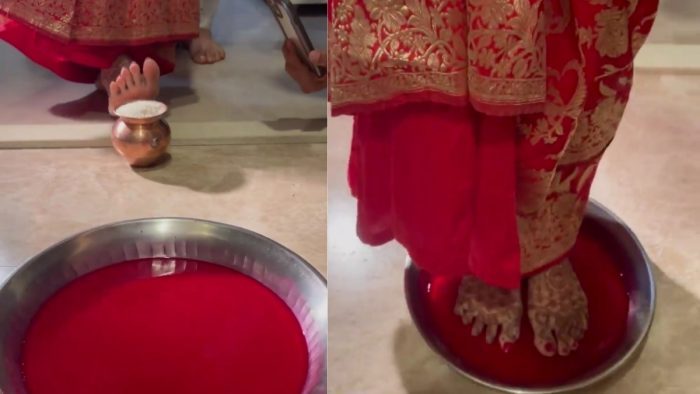 ring finding ceremony
After the Griha Pravesh Mouni and Sooraj can be seen in the video pouring water in a big pot decorated with flower petals in which the ring is thrown. Putting hands in this water, the newlywed couple is seen playing Kangana ie looking for the ring. Mouni and Sooraj try to find the ring and finally Mouni wins the game. During this, the faces of both of them are seen blooming with happiness.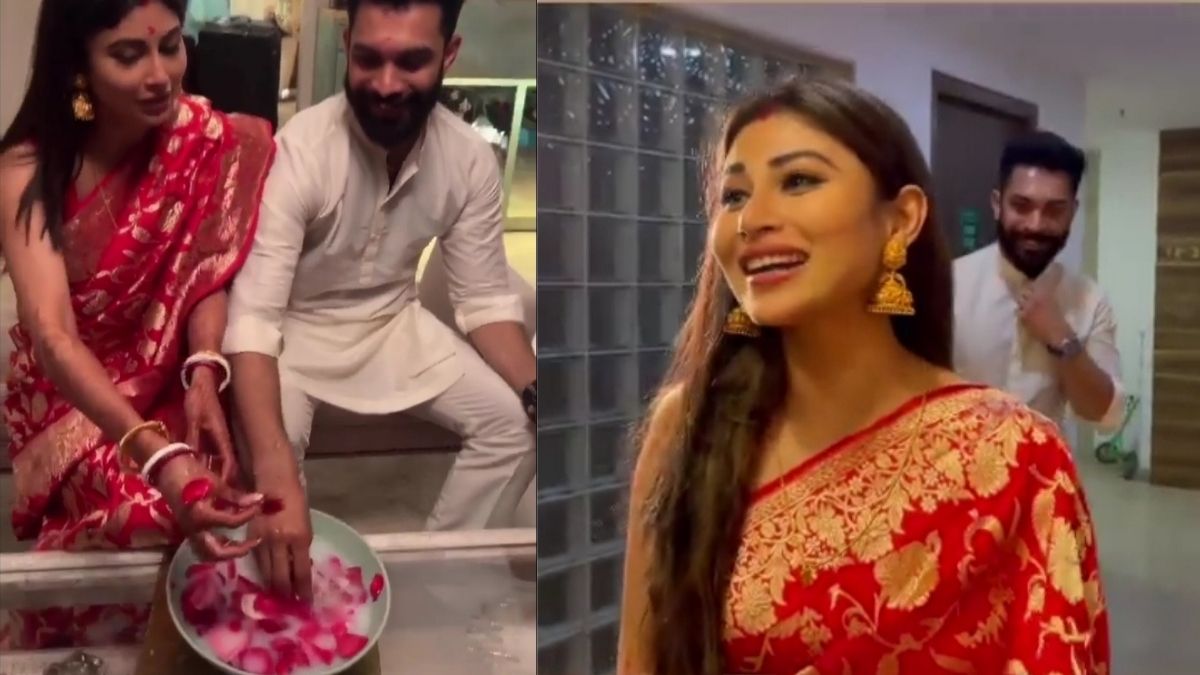 Lovebirds Mouni Roy and Sooraj Nambiar got married on Thursday (January 27) at Hilton Resort in Goa. Where the couple did South Indian Wedding in the morning. At the same time, by taking 7 vows from Bengali customs, they became each other. The best part is that Mouni Roy and Sooraj Nambiar got married keeping in mind each other's culture which is the hallmark of a sensible couple.