Just five days after his father, Bishan Singh Bedi's untimely passing on October 23, 2023, Angad Bedi achieved an extraordinary feat in athletics. Bedi's remarkable resilience and determination shone through as he competed in the 400-meter race at the Open International Masters 2023 Athletics Championship in Dubai, where he clinched the gold medal.
A Dedication to a Beloved Father
Despite the overwhelming grief that enveloped him, Angad Bedi displayed unwavering determination on the track and ultimately secured victory. His gold medal win was not just a personal triumph; it was a touching dedication to his late father, a man who profoundly influenced his life.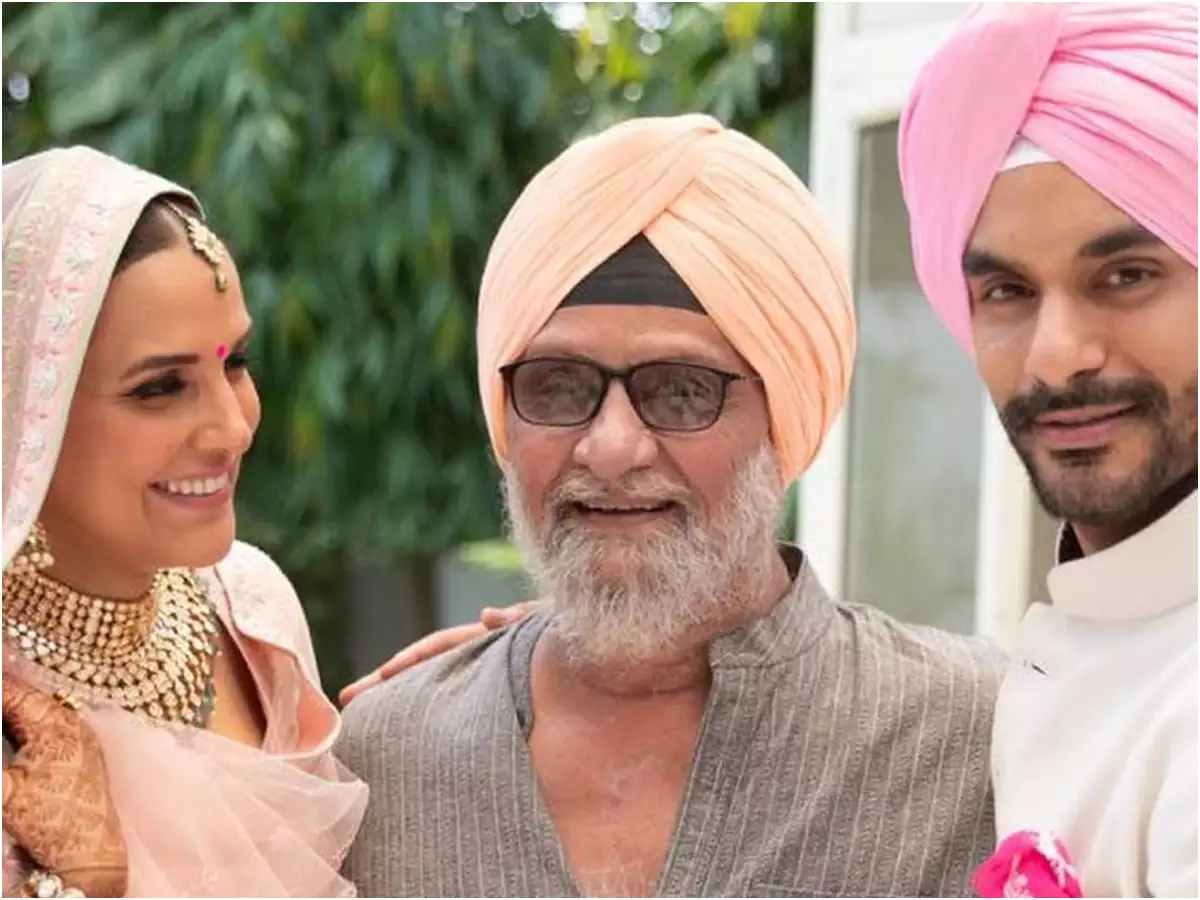 The Joyful Reunion with Neha Dhupia
Upon returning to India on October 30, 2023, Angad Bedi's loving wife, Neha Dhupia, welcomed him at the airport. A poignant moment ensued as Dhupia embraced her husband, her emotions bubbling to the surface. But her tears quickly transformed into joy as she celebrated Bedi's extraordinary achievement. She proudly placed the gold medal around his neck, a testament to her unwavering support and love.
A Heartfelt Expression on Social Media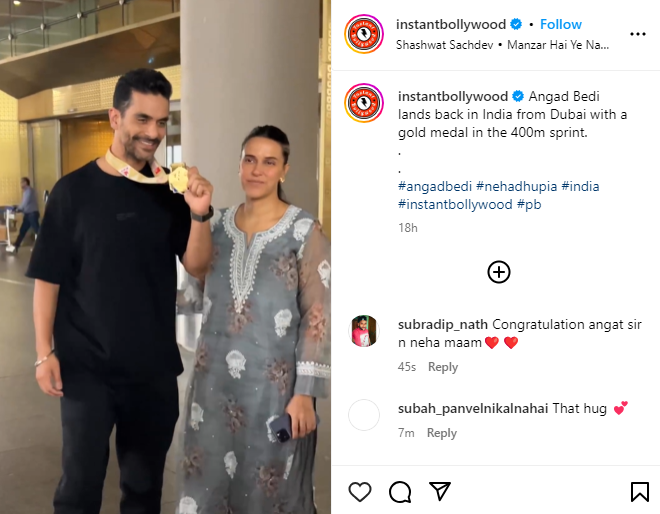 Angad Bedi, never one to shy away from expressing his feelings, took to Instagram to share a video of his victorious race. In his heartfelt message, he confessed to lacking the strength and courage to compete after his father's passing. He credited an "external force from up above" for enabling him to push through the pain and turmoil. In his poignant words, he wrote:
"Didn't have the heart.. didn't have the courage. The body wasn't willing.. Nor was the mind. But an external force from above made me pull through.. not my best time. Not my best form but somehow we did it. This gold medal will always be my most special. Thank you Dad for being with me. I miss you. Your son."
An Inspirational Journey
Angad Bedi's victory serves as a beacon of inspiration to all. His story highlights the indomitable human spirit, capable of surmounting the most formidable challenges and achieving greatness. It is a testament to the extraordinary strength and determination that Bedi possesses.
The Importance of Family and Love
Bedi's dedication to his late father underscores the profound influence that family and love can have on an individual's drive and determination. His father's legacy and the desire to make him proud were powerful motivators in his journey to triumph.
A Message of Resilience and Courage
Bedi's narrative is not just an athletic achievement but also a reminder to those facing adversity that courage can enable one to conquer seemingly insurmountable obstacles. It is a testament to the human potential to overcome trials and tribulations.
Sport's Unifying Power
Furthermore, Angad Bedi's victory emphasizes the unifying power of sports. It brings together people from diverse backgrounds and walks of life, celebrating the shared values of competition, determination, and the pursuit of excellence.