Prithviraj Slammed For Age The Difference Between Akshay Kumar And Manushi Chillar,Know Full Story Inside!!
When the trailer for Akshay Kumar and Manushi Chillar starrer Prithiviraj, released on November 15th, netizens reacted strongly to it and even a few Twitter users mocked the filmmakers too. Several users expressed their discontent with this huge age gap between Akshay and Manushi. This is not for the first time Bollywood has been criticized because of its age gap theory among its actors.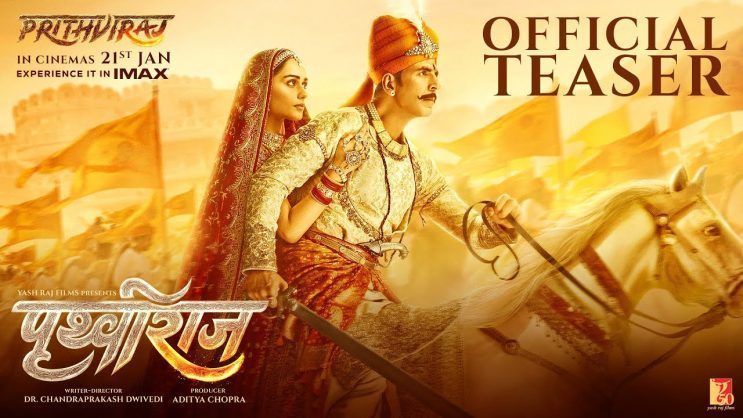 Akshay's Prithviraj
There is a long list of actors who were casted in various pictures against really younger actresses for example, Salman Khan, Ajay Devgn, and Aamir Khan, all in their late 50s, have been placed with younger female leads in their recent past, and Akshay-Manushi just added to the same list as well. Bollywood has been criticized for various issues, including colorism, misrepresentation, sexism, and racism, to name a few. Despite the fact that Bollywood is growing, issues like these continue to trigger a mass outrage on social media one or the other day.
Akshay and Manushi
However the teaser of the picture got widely appreciated by the fans of Akshay, but the netizens couldn't resist noticing this huge age gap between Akshay and Manushi. While Akshay is 54-years-old, Manushi who has stepped into Bollywood after being crowned Miss World 2017, is 24 years old, 30 years younger than her male counterpart in the movie. Earlier, when Disha Patani who is 29 years old was made to romance a 55-year-old Salman Khan in 'slow motion,' now there is an outgoing discussion over social media that how young female actors continue to be typecast in romantic roles opposite male actors almost 30-35 years elder to them.
Have a look what netizens are talking about this huge age difference romancing couples over the internet.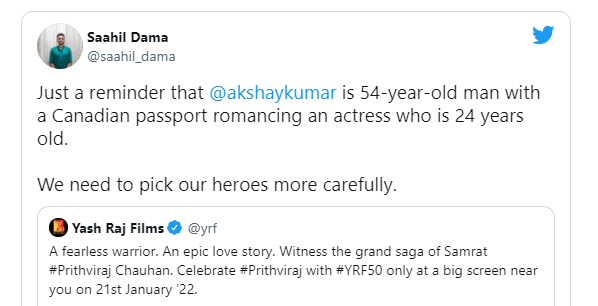 People's Reaction
Another user commented, "Prithviraj Chauhan died at the age of 43, and the actor portraying him is 54. Sadly Bollywood has no actor below 50. However, Ms. Chillar, the actress portraying, Sanyogita is 24. Bollywood's another misfortune, no actress around 50, so the kid had to do it. #Ageism rocks"