Renowned for their expertise in orchestrating spectacular Diwali festivities, Priyanka Chopra and Nick Jonas orchestrated a lavish celebration this year, hosting a Diwali dinner at an upscale Los Angeles restaurant.
The gathering included an intimate circle of friends and family, with notable attendees such as Nick's brother, Joe Jonas, Bollywood luminary Preity Zinta, accompanied by her husband Gene Goodenough, and other close companions.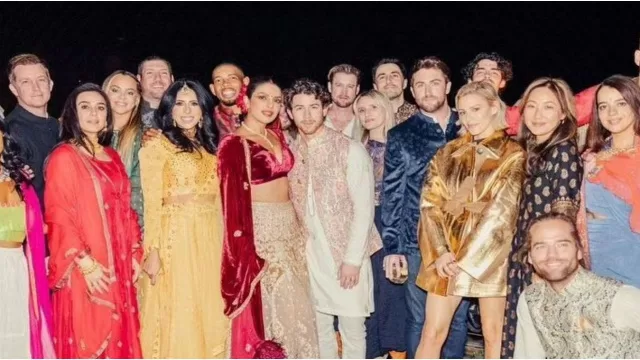 Exclusive glimpses from the soirée have emerged, painting a vivid picture of the joyous and memorable moments shared by all.
Social media has become a canvas for the captured essence of the Diwali celebration, showcasing Priyanka Chopra engaged in lively interactions with the guests. The initial image depicts her and Nick Jonas striking a pose alongside friends Joe and Sarah Haden, as well as Gennaro and Jess Disilvio. Another snapshot captures a collective moment featuring Priyanka and Nick in a group picture, joined by Joe Jonas, Preity Zinta, Gene Goodenough, and other cherished attendees.
Priyanka's sartorial elegance took center stage during the celebration, adorned in a maroon velvet blouse paired with a matching dupatta and a resplendent golden lehenga. Her carefully arranged hair, adorned with delicate flowers, added a sublime touch of grace to her overall ensemble. In contrast, Nick opted for an off-white kurta-pajama paired with a stylish printed jacket, showcasing a perfect blend of traditional and contemporary attire.
A particularly captivating moment immortalized in a photograph captures Priyanka, Nick, Joe Jonas, and their close-knit group of friends joyfully raising a toast, encapsulating the vibrant spirit and camaraderie that defined the Diwali celebration.
Shifting gears to a few days earlier, Priyanka Chopra shared an enchanting glimpse into her creative pursuits, unveiling a beautifully crafted rangoli design on her Instagram stories. The intricately designed pattern featured vibrant floral motifs, with a central diya, evoking a sense of traditional charm and artistic expression.