R Madhavan Gets Trolled For Misquoting Number Of Twitter Users In India, Actor Says He Is 'Sleep-Deprived'
Coming under the radar of trolls is nothing new for actors. With the advent of social media, it has become a part and parcel of their profession. They are judged for their fashion choices, public statements, and whatnot. Recently, south sensation and Bollywood's heartthrob R Madhavan received flak for claiming that the Mars mission of the Indian Space Research Organisation (ISRO) was successful because they used the Hindu calendar or the Panchang for launching it. After being tagged as a 'Whatsapp Uncle' for his statement, Madhavan was seen accepting his mistake by saying that he deserved to be trolled.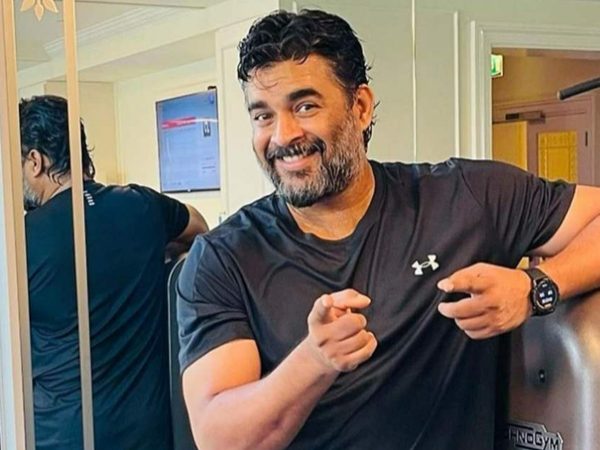 But now, seems like the actor has landed himself again in the ocean of trolls. He is getting mocked by netizens for misquoting the number of Twitter users in India.
An eye-catching tweet on the matter, which has now been deleted stated the actor's quote. In the shared video, Madhavan could be heard saying that only 25 lakh people in India are on Twitter. It read, "Madhavansplaining: This @ActorMadhavan is spewing non-stop nonsense to promote his film and it is only getting more and more laughable with every passing day. Isn't there any other way to promote his film than this?"
When Tanu Weds Manu actor took notice of it, he was quick to respond to it in a witty way. He told the user to go easy on him as he is exhausted and sleep-deprived. In the tweet, Madhavan wrote,  "Easy bro.. you are a sportsman.. I am exhausted sleep deprived .so said less than 25lakhs instead of 250 lakhs .. but the point was it still less that 1.7% of the population – which was my point .. why so much venom bro.. not good for your sport…"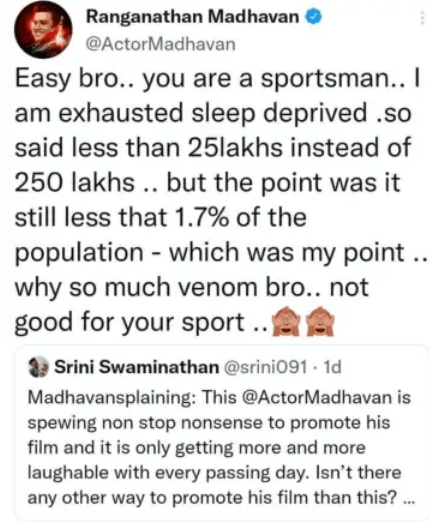 Well, seems like Madhavan has learned the art of dealing with trolls. Currently, the actor is all set to release his directorial debut Rocketry: The Nambi Effect. The film is a biography of former ISRO scientist Nambi Narayanan, who was falsely charged with espionage in 1994. The film is scheduled to hit the screens on Friday. It will be released in Hindi, Tamil, and English simultaneously. The dubbed version of the film will be in Telugu, Malayalam, and Kannada.