Rhea Chakraborty Reacts To Sushant's Sister Priyanka's Allegations On Her; Says 'They Can Only Point Fingers'
Back in 2020, Bollywood lost the talented actor Sushant Singh Rajput. Post his mysterious death, his girlfriend Rhea Chakraborty tolerated a lot of backlashes, trolling, and hatred for being the reason behind Singh's untimely demise. Some accused her of making Sushant a drug addict, others said that she was carefully planted in his life to destroy his career.
Recently, the Narcotics Control Bureau (NCB), in its draft charges filed against Rhea, claimed that she bought ganja from the co-accused, Showik Chakraborty, Samuel Miranda, and Dipesh Sawant multiple times, and these were handed over to late actor Sushant Singh Rajput. Following this revelation, Sushant's sister Priyanka Singh, who is still hopeful to get justice for her brother, blasted Rhea. She said that Chakraborty ruined Sushant's life, and created rifts between him and his family.
On national television, Priyanka claimed, "2019 mein Rhea Chakraborty uski zindagi mein aayi aur ghus gayi thi. Aur pehli baar mere aur mere bhai ke beech mein usne 6 din ke andar ek vivaad paida kar diya tha." (Rhea entered Sushant's life in 2019 and for the first time there was a rift caused by her between me and my brother within just 6 days.)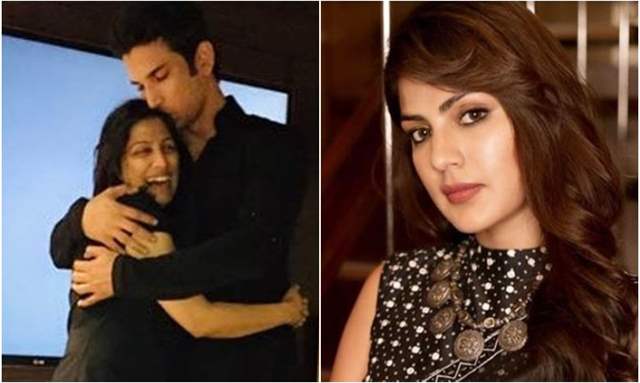 After remaining silent for over a week now, Rhea has shared a cryptic post on her social media handle. Using some strong words of wisdom that seem to be directed toward Priyanka, the actress penned in her Instagram story, "Rise above the noise, Rise above the ego, Rise so far above that they can only point fingers at you. Because you are where they could never be. You are at peace. You fly with love. You feel compassion even when they give you no reason to. Let them wonder…You are enough. You are complete. You are lovely the way you are. Don't let them tell you otherwise."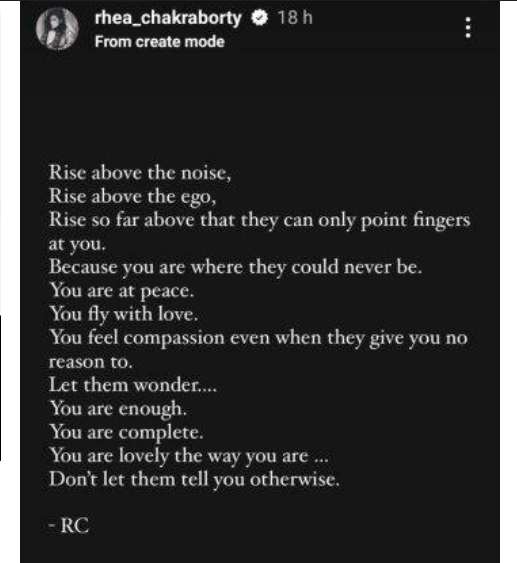 Since 2020 Rhea is suffering a lot on the professional front after coming in a negative light. She appeared last alongside Amitabh Bachchan and Emraan Hashmi in the film Chehre.