Smriti Irani Gave This Advice To People Planning To Get Married, A Post Went Viral. Have You Seen It Yet?
Union Minister Smriti Irani is very active on social media and often shares many interesting posts. On Friday, Smriti Irani shared advice on Instagram Story, in which she wrote something for the people getting married that people were forced to think about.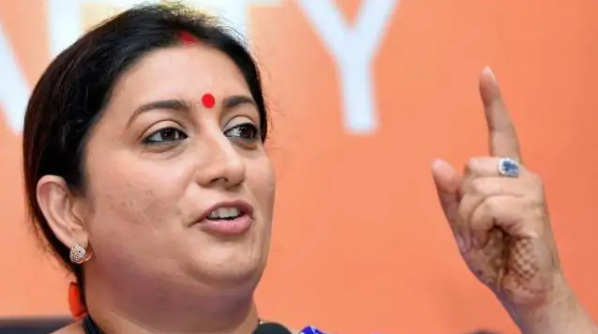 Smriti Irani
Actually, Union Minister Smriti Irani has put two stories on her Instagram. In one, she quoted a famous line from American actor Will Ferrell, writing that 'before marrying a person, you must give them access to a computer that has slow internet access to know that they are really Who am I?'
https://www.womansera.com/tulsi-shared-selfie-after-loosing-weight-ekta-kapoor-made-this-comment/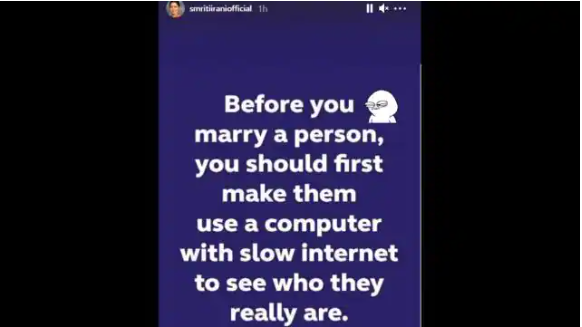 Smriti Irani
Smriti Irani shared another story in the name of 'Advice Aunty' and wrote that 'it will never be perfect, make it workable'. Through this story, Smriti is trying to tell that nothing is perfect, just keep improving it.
Smriti Irani
https://www.womansera.com/actor-kushal-tandon-suffered-a-loss-of-25-lakhs-a-restaurant-broken-due-to-heavy-rains-in-mumbai-check-the-post-to-know-more/
Let us tell you that Smriti Irani often shares videos and posts with funny and important messages. Recently she shared a picture on Instagram, she shared a picture of a small devotee holding an umbrella over an idol. Earlier, Smriti Irani shared an animated illustration of a little girl. Through this post, she had urged to educate daughters. In this, she also wrote the hashtag "Beti Bachao Beti Padhao".