The Trailer For Yami Gautam's "A Thursday" Leaves Husband Aditya Dhar Scared Of Sharing Home!
What can a single school teacher do in a single day? With her powerful performance in A Thursday, Yami Gautam is going to leave your spine freezing. Her spine-chilling performance is what has everyone fascinated in the trailer of her new production. I couldn't take my gaze away for even a second, and at the last time, she left me stunned, much like her husband, Aditya Dhar.
The Trailer
In the trailer, Yami Gautam plays a schoolteacher who kidnaps 16 children and wants 5 crores for each child. She then demands to speak with the country's Prime Minister, Dimple Kapadia.
Yami has received a lot of praise from her friends and admirers online due to the teaser. One compliment, though, stands out. Aditya Dhar, her husband and the director of URI: The Surgical Strike, had an amusing reaction to Yami's teaser, dropping his compliments for his ladylove in a tweet (sic.)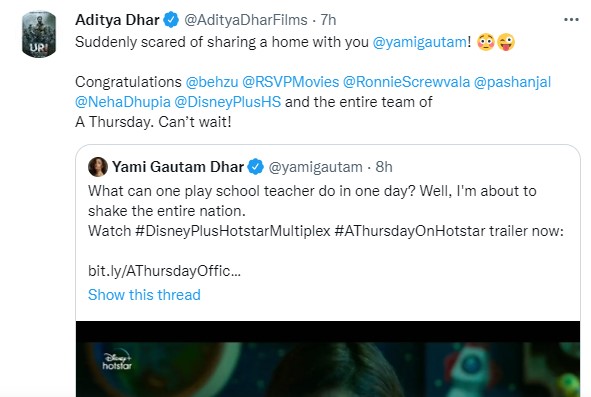 Yami Gautam and Aditya Dhar saw each other on the set of Uri: The Surgical Strike. The pair married in June of 2021. "Today, with our family's blessings, we tied the knot in a bit of wedding ceremony. We celebrated this blissful occasion with our direct family. We request your prayers and best wishes as we start on this path of love and friendship. Aditya, Yami, and Love, "Along with a photo from their wedding, Aditya and Yami wrote (sic.)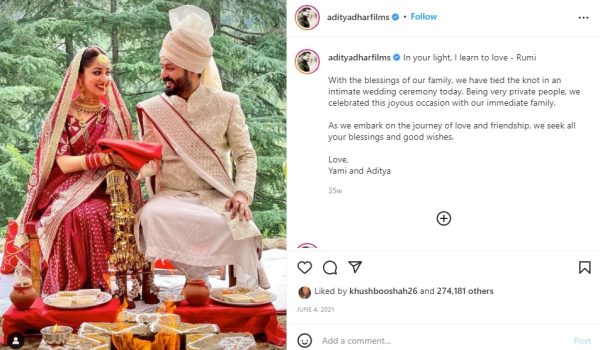 Apart from Yami Gautam, we may also see Neha Dhupia in the character of a pregnant police officer. She, too, wowed us, while famous performer Atul Kulkarni, as always, wowed us. He did a fabulous job here, and we can't wait to see more of him.
Overall, the trailer is IMPRESSIVE, and we proudly award it a 5-star rating.
The Star
RSVP movies produced the picture, which Behzad Khambata directed. It's a suspense thriller. Yami shared the film's trailer on Twitter: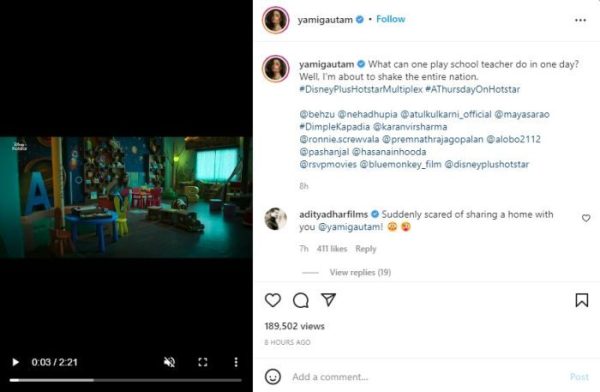 After A Thursday, She will also appear in Ajith Kumar's Valimai and Akshay Kumar's Oh My God 2.
Have you watched the trailer yet? Please don't fail to remember to let us know what you think in the comments section below.