'These Gangsters Are More…'; Shekhar Suman Reveals Secrets About Bollywood Industry!
Shekhar Suman is a respected actor in the Indian entertainment industry. He has been in the film industry for several decades and has given many memorable performances in movies and TV shows. His work in popular TV shows like "Dekh Bhai Dekh" and "Movers and Shakers" earned him a lot of love and admiration from the audience.
Apart from his acting skills, Shekhar Suman is also known for his wit, humour, and social activism. Overall, he is a well-respected figure in the Indian entertainment industry. Shekhar regularly tweets about issues in the Bollywood industry. This time he tweeted something about him and his son Adhyayan facing a hard time in Bollywood. Read the story to know further.
Bollywood Ganged Up To Remove Him and His Son From Many Projects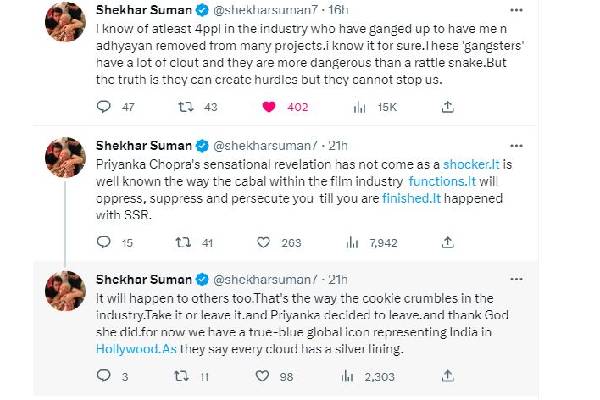 Recently Priyanka Chopra was in the news for sharing how she suffered because of dirty politics in Bollywood. Shekhar Suman supported Priyanka Chopra and he expressed his opinion on how the Bollywood industry ganged up against him and his son too.
Shekhar said that he knows that the 4 people in the industry removed his son from many projects. Shekhar thinks that these people are more horrible than a rattlesnake. But Shekhar also believes that they can create hurdles in his path, but Shekhar says nothing can stop him from achieving his goals.
Shekhar Suman will not reveal the names who have caused harm to his family. He is worried if he ever discloses the names, then Adhyayan's career will be at risk. He is patiently waiting to get justice for innocent people like him.
Fans Support Shekhar Suman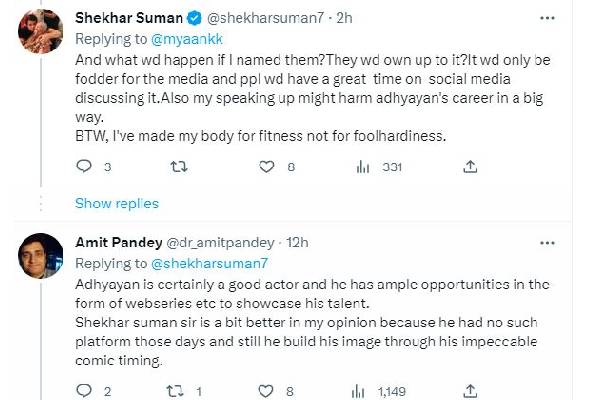 One user wrote that "Adhyayan is a good actor. He has ample opportunities to showcase his talent." Other fans wrote, "it is sad to see that legends like him and his talented son are facing so much issues". When will all these things stop?